aside from our 10 day trip to western new york, august was pretty uneventful. leading up to the trip, we were getting ready for it. and when we got back, we moved into back to school mode. nothing very exciting, so proceed at your own risk (of boredom).
firstly, in baking related news, anna has been keeping busy with her little cookie cake biz. i talked her into testing a new recipe and that's her new go-to for chocolate chip cookie cakes. i also did a bit of testing, for an upcoming cookies and cream cake order. apparently i didn't take a pic of the finished cake, but it was delicious. i did, however, take a pic of a practice cake i decorated to prepare for a little job interview audition type thing i went to. i went with a #vintagecake style, which is all the rage these days. my traditional skills could use some work.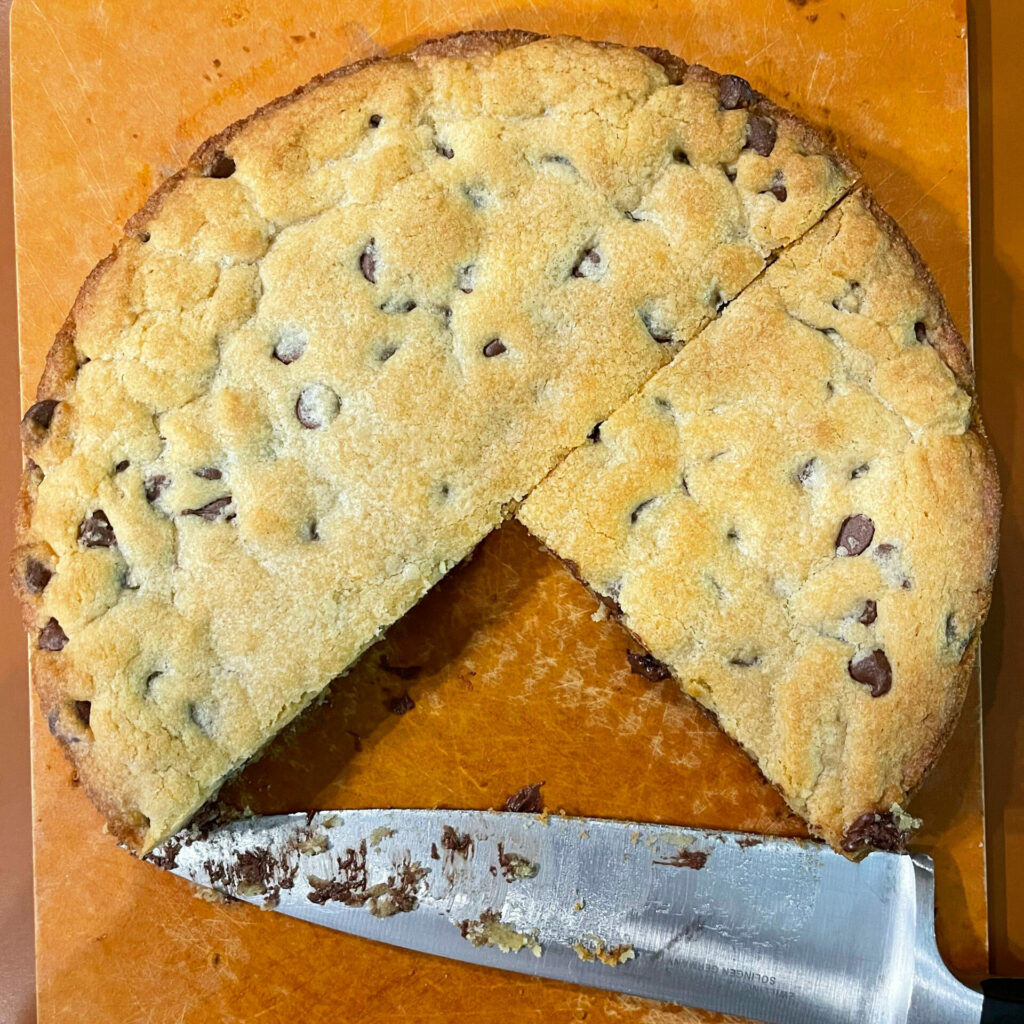 i guess there was SOME excitement. my friend heather was getting rid of her kids' trampoline and offered it to us for freeeeee. i picked it up, derek had it put back together in no time, and the girls were hop hop hopping away for three straight days.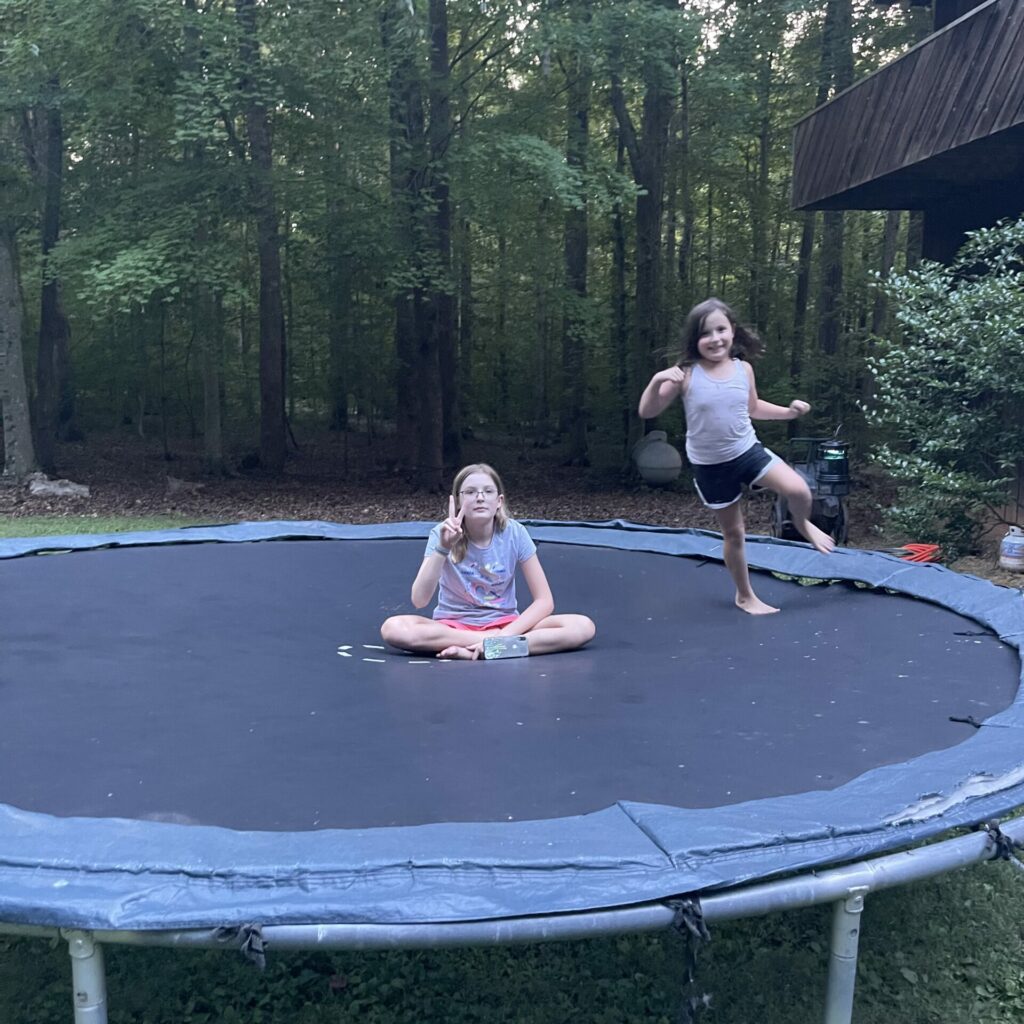 as previously mentioned, our time after the return from new york was spent preparing for school. trying to adjust schedules. clothes and supply shopping. open houses. etc.
this year, hazel will be joining the big two lidkids in the public school system. last year, without them, was a lonely one for her, so she's looking forward to making some new friends. she was so excited for her very first ever open house, where she met her teacher and got her bearings.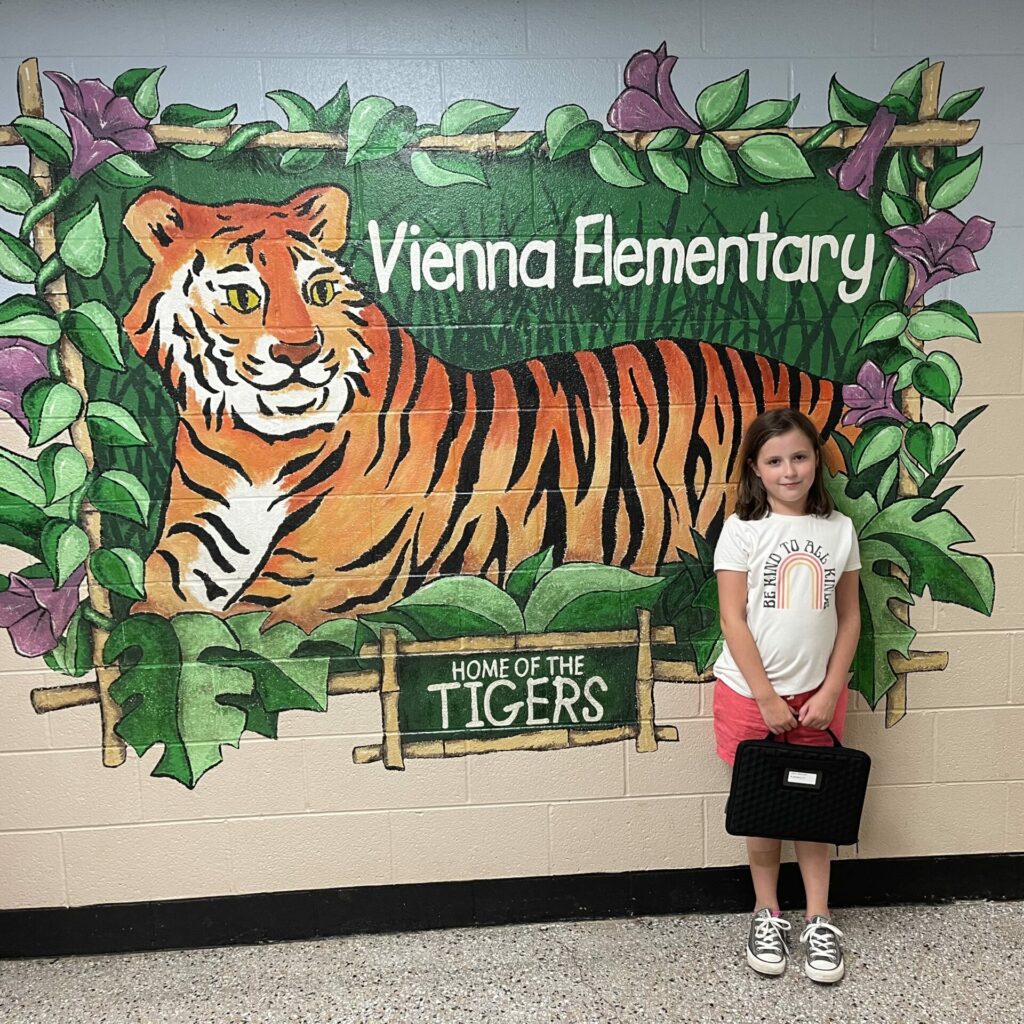 we met up with her pal maddie, who is a year older and glad to show her around. and anna tagged along, for moral support. of course we all hit up a new ice cream place afterward.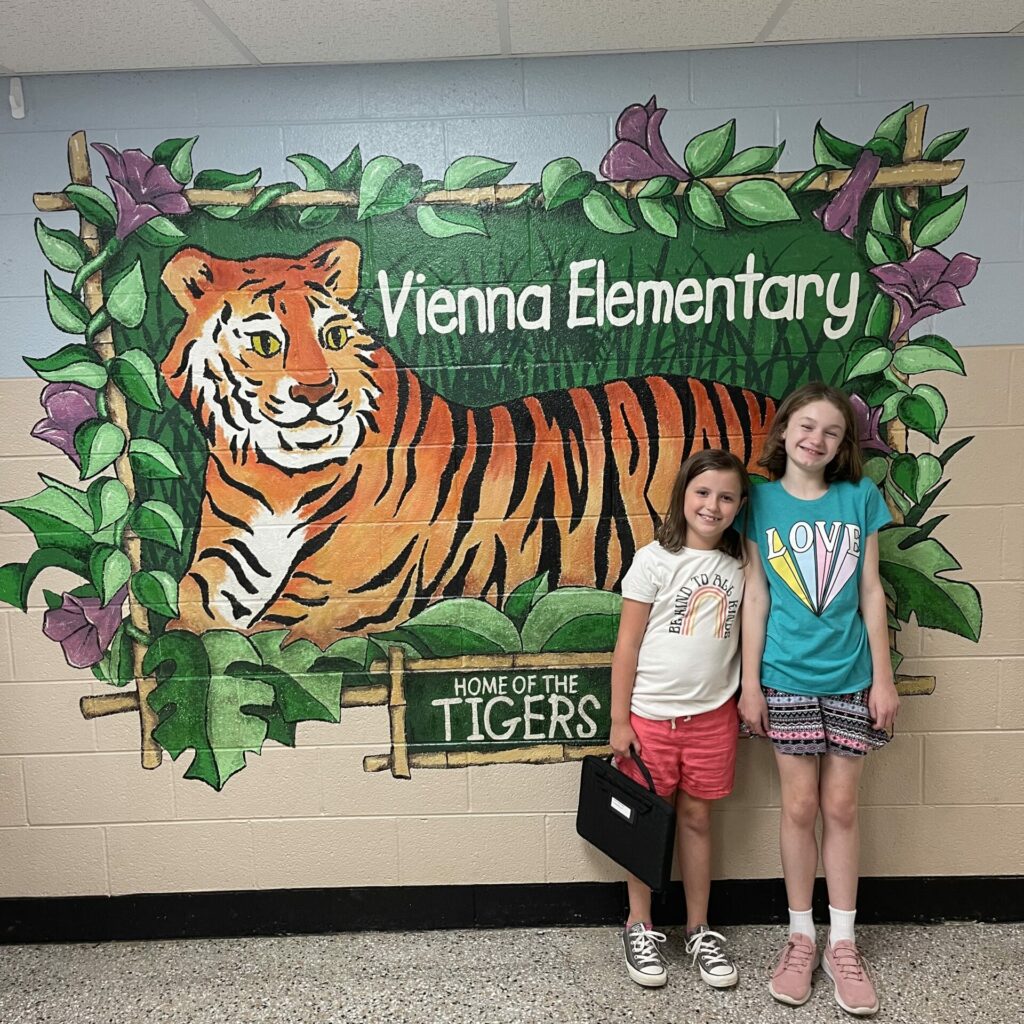 on day one, both girls were up and at 'em before i came downstairs at 6:15am. we weren't sure what sort of car rider line fiasco awaited us, so we left a little early, and hazel came along for the ride, just in case i had to shoot straight to her school and didn't have time to go home and get her ready and back to school. anna's middle school was once again blasting copious volumes of water from two firetrucks to welcome back the students, a practice i'm pretty sure i'm not on board with.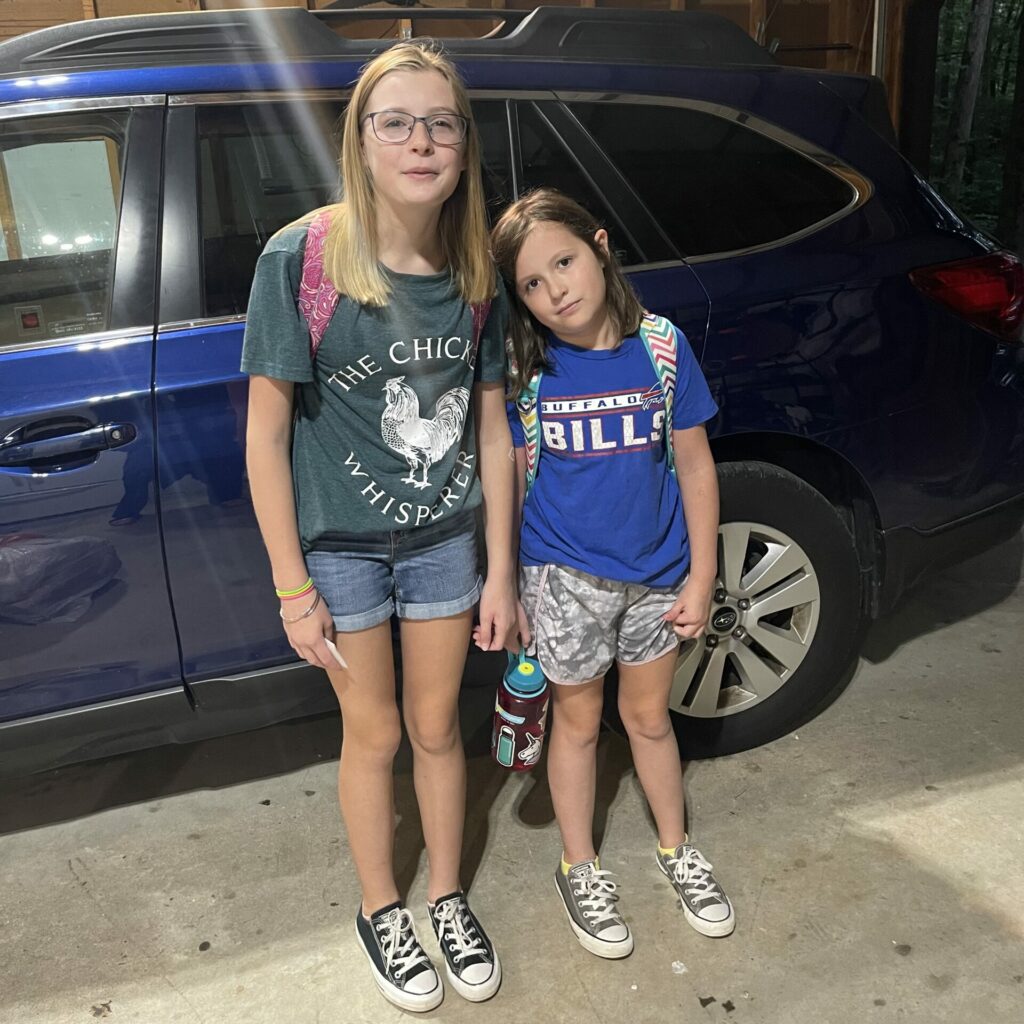 day one was good. for the girls. isaac had a rougher time getting up and moving and off to school. based on his temperament that morning (and in general lately), i opted not to request a photo. anyhow. day two for hazel was not as lovely. she was tired. and overwhelmed with the prospect of doing this whole thing day in and day out. the promise of ice cream (with friend maddie) helped get her moving. it's a big transition for her. there have been some tears, both at school and at home. hopefully she'll get into the swing of things soon.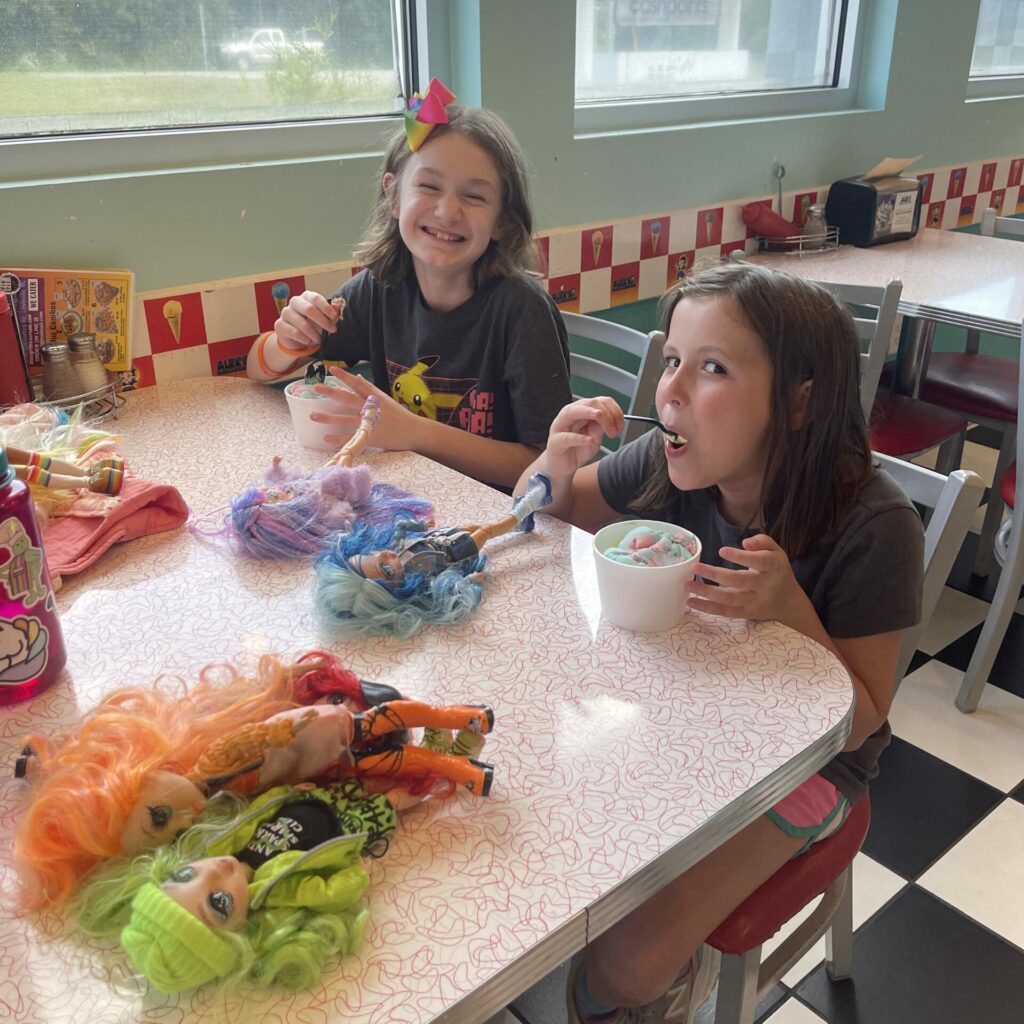 lastly. for some random things. as usual. some light reading about josh and diggs for hazel, to prepare for school and the 2022 nfl season. and her attempt at a newsletter. a runaway volunteer gourd situation in my front year. a clay representation of a stranger things character by anna, who is obsessed with said character (eddie munson). and a sweet thrift find for my resident lisa simpson-esque child.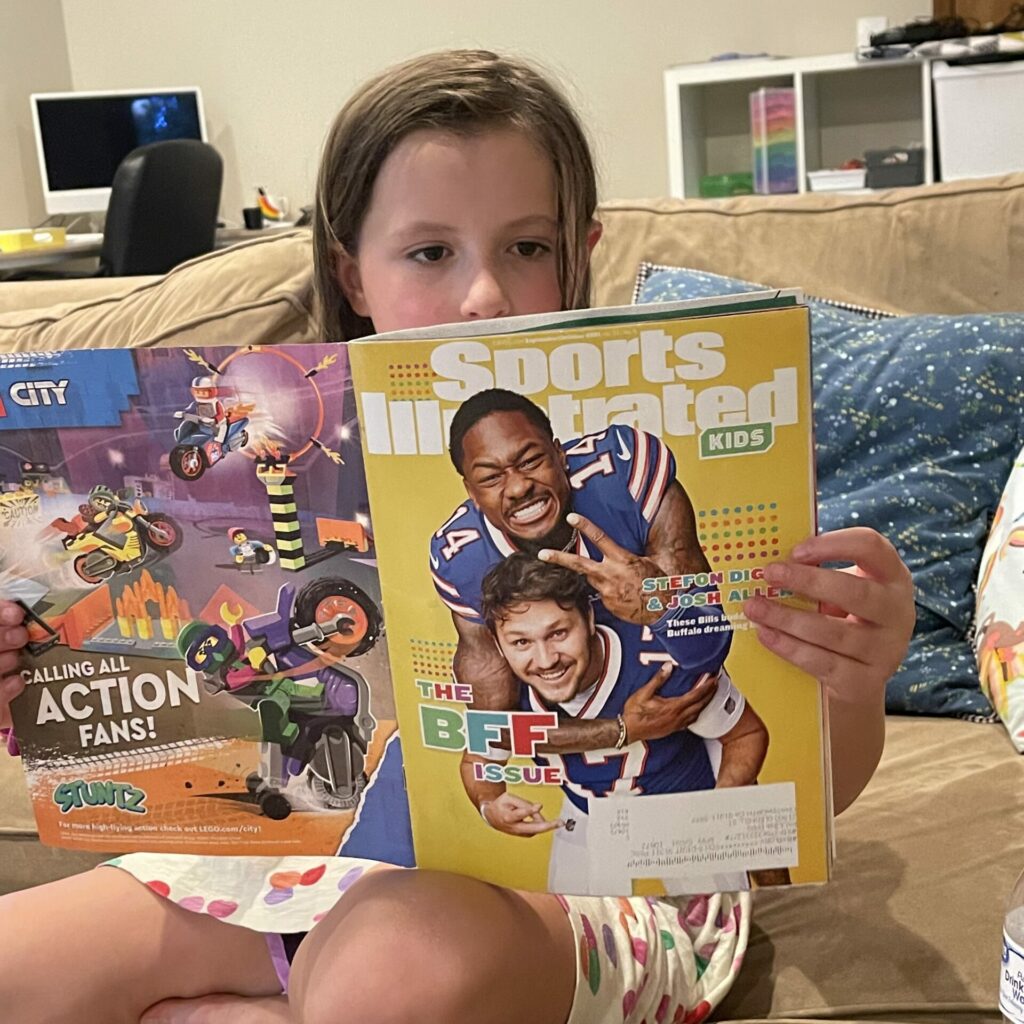 we are finally getting new carpet upstairs, and while i was at the store to select samples, i spotted this ad with a ruby lookalike. our ruby could be famous, except she doesn't obey/respond ever. she's the best though.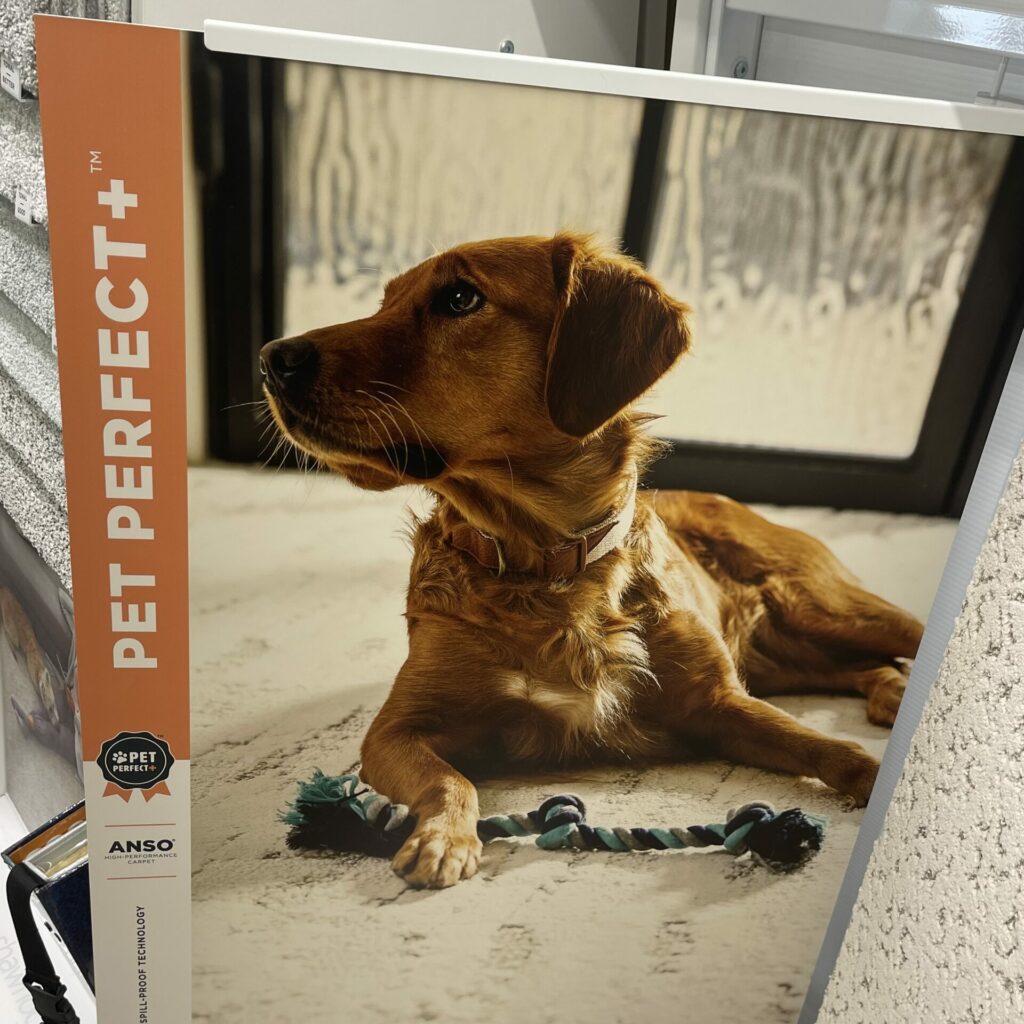 in chicken news, upon our return from the wedding in new york, we moved the babies into the big coop and run. it's sort of an ordeal, because the bigger chickens can be quite mean about it. but the babies have the numbers. and we introduced them slowly in a series of steps. the big chickens still don't love them. but they all just seem to keep to their respective age groups. they are free ranging now, so they can avoid each other even more, but hopefully when they are full grown, they will intermingle. we still love this floofy one the best.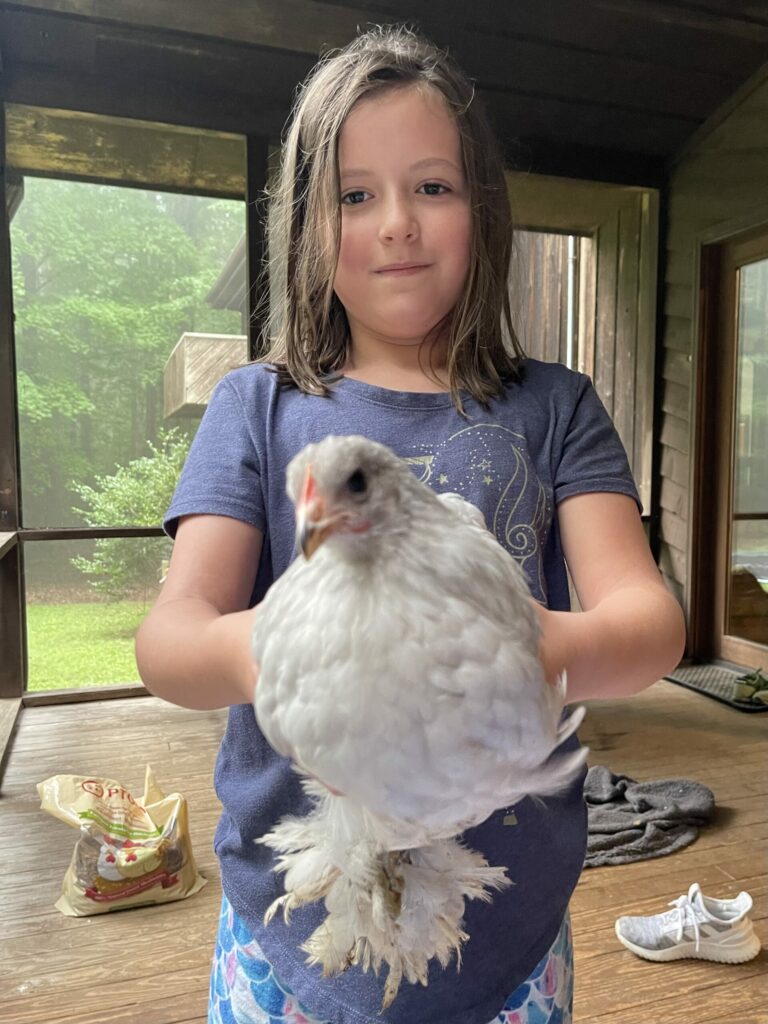 it's august 31st as i type this. i suspect there will be not much more to document before days end, so i am possibly prematurely about to post this august summary. onto september!! pumpkin spice season!!