so. the room that is currently the quilt room has seen many iterations. it started as a disgusting, carpeted, animal pee stained dining room, when we bought the house. we tore out the carpet, put in some cheap flooring and painted a chalkboard wall and made it into the homeschool room. then, anna wanted her own room, so hazel moved out into ikes room, and ike took over my quilt room, and this room became homeschool/craft/quilt headquarters. when the kids started public school and we removed the WET BAR from the living room area, we made a little office space out there, and this room became a quilt room only.
awhile back, we had the popcorn ceilings removed, and prepped for painting, but that painting part had been neglected until now. derek had to use a bunch of pto days or lose them and i wasn't on the work schedule much for that same week, so we tackled some home projects, and my big project was getting this room updated.
so, before i start, even though you've likely seen glimpses in past posts, here's a before photo. chalkboard wall. unpainted ceiling. brown trim. and bland taupe paint on the non-chalkboard walls. (and a disastery cluttery quilt room with a thumbtacked design wall).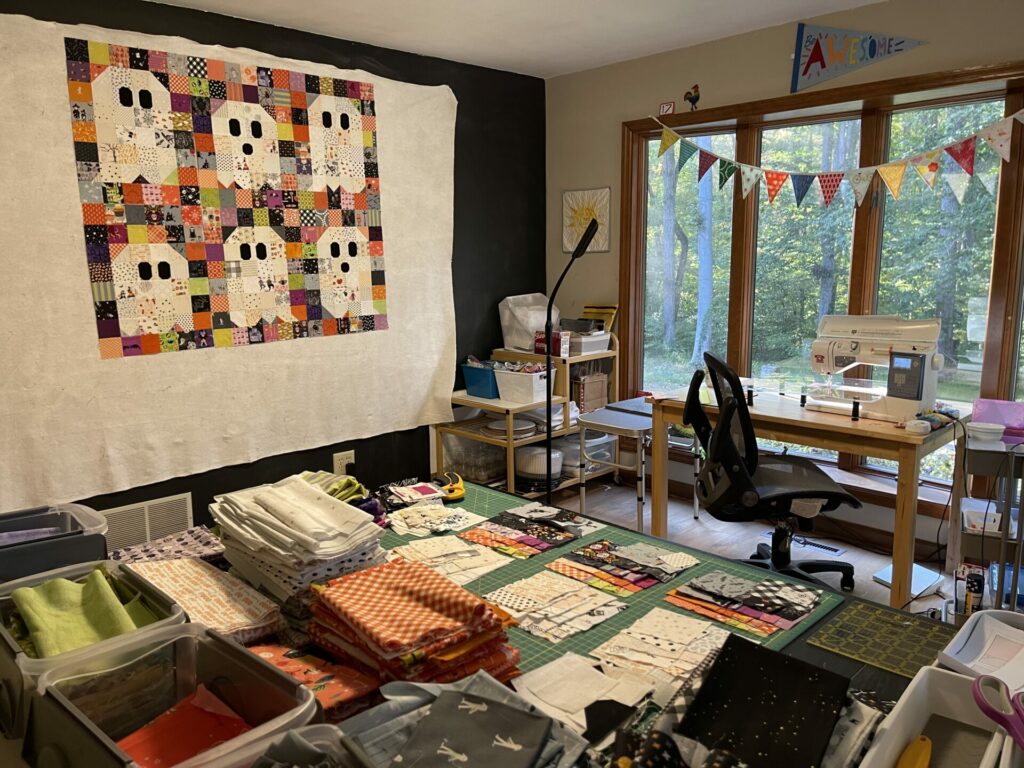 first things first. move everything out/into the middle. cover it up. and take a before pic.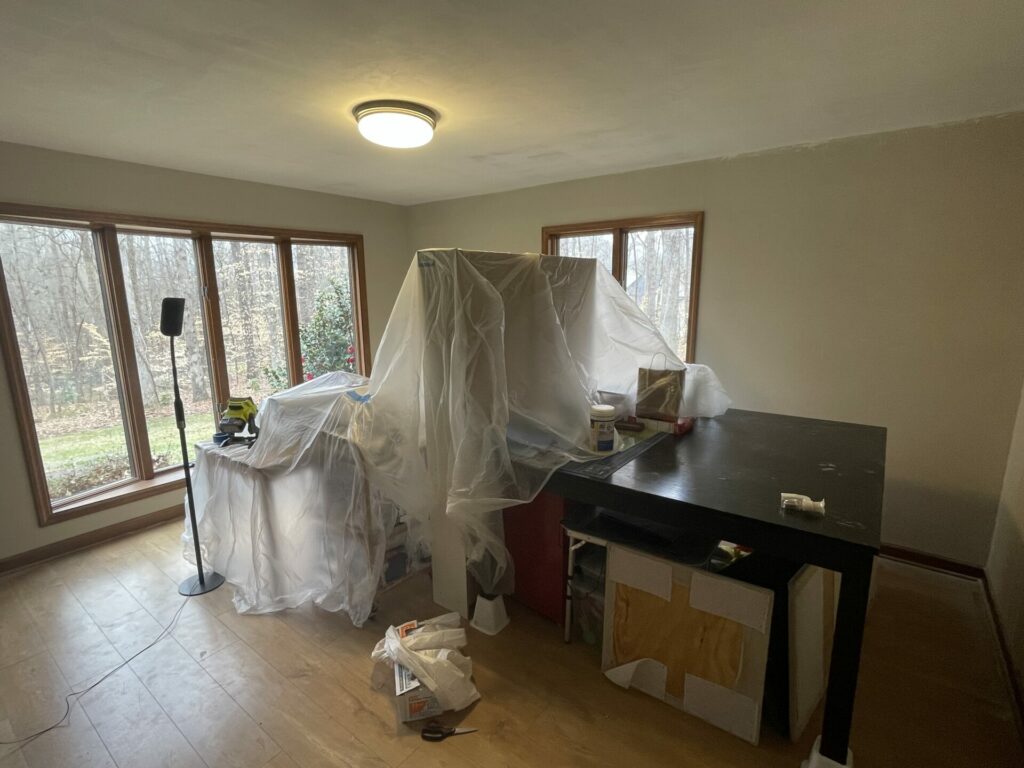 derek handled the ceiling touch ups and painting. and then we began on the walls. derek is the roller. i am the cutter inner. i can't believe the difference the lighter color makes.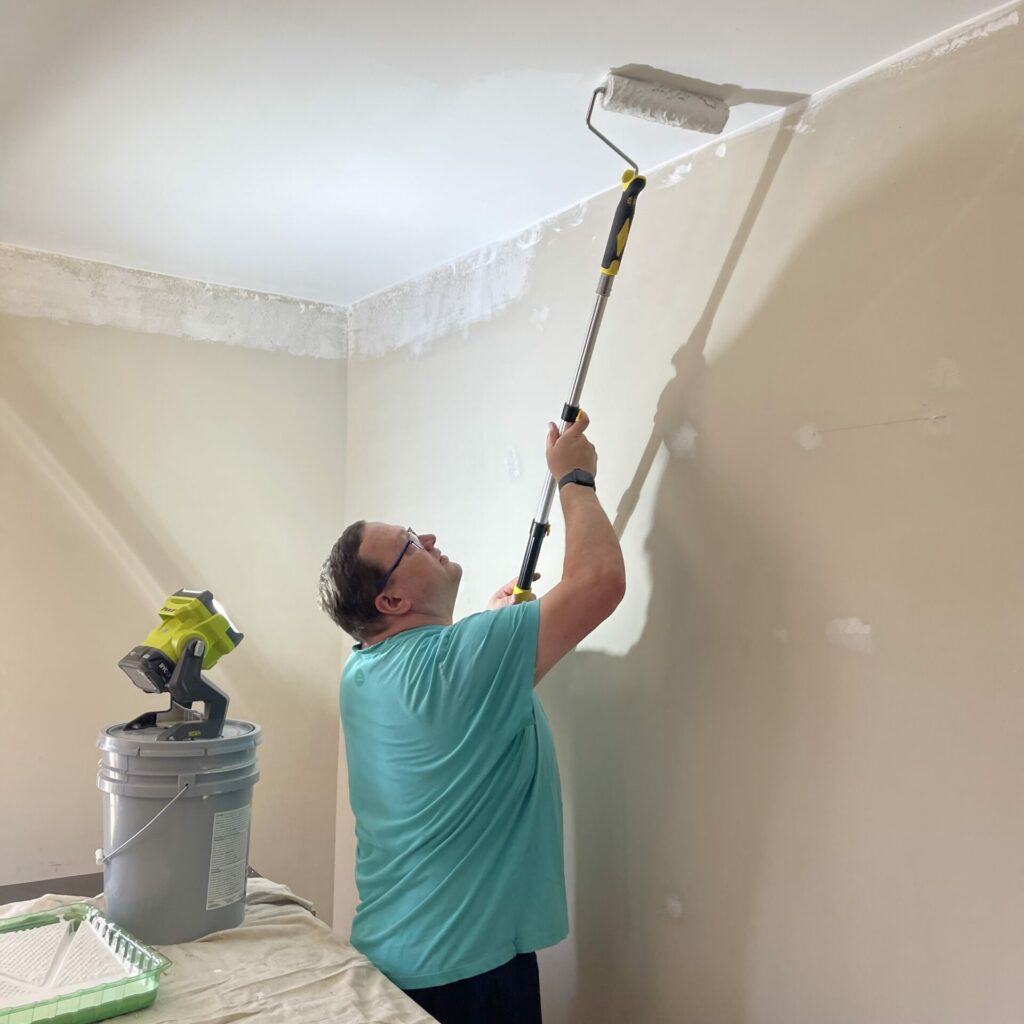 the walls took three coats (and one more for the chalkboard wall) and things were already brighter and happier. i knew i wanted at least the baseboard trim and door to be the same white as the walls, but i wasn't sure about the windows yet. so, i got started on the baseboards. which took four coats, i think. it was worth it though.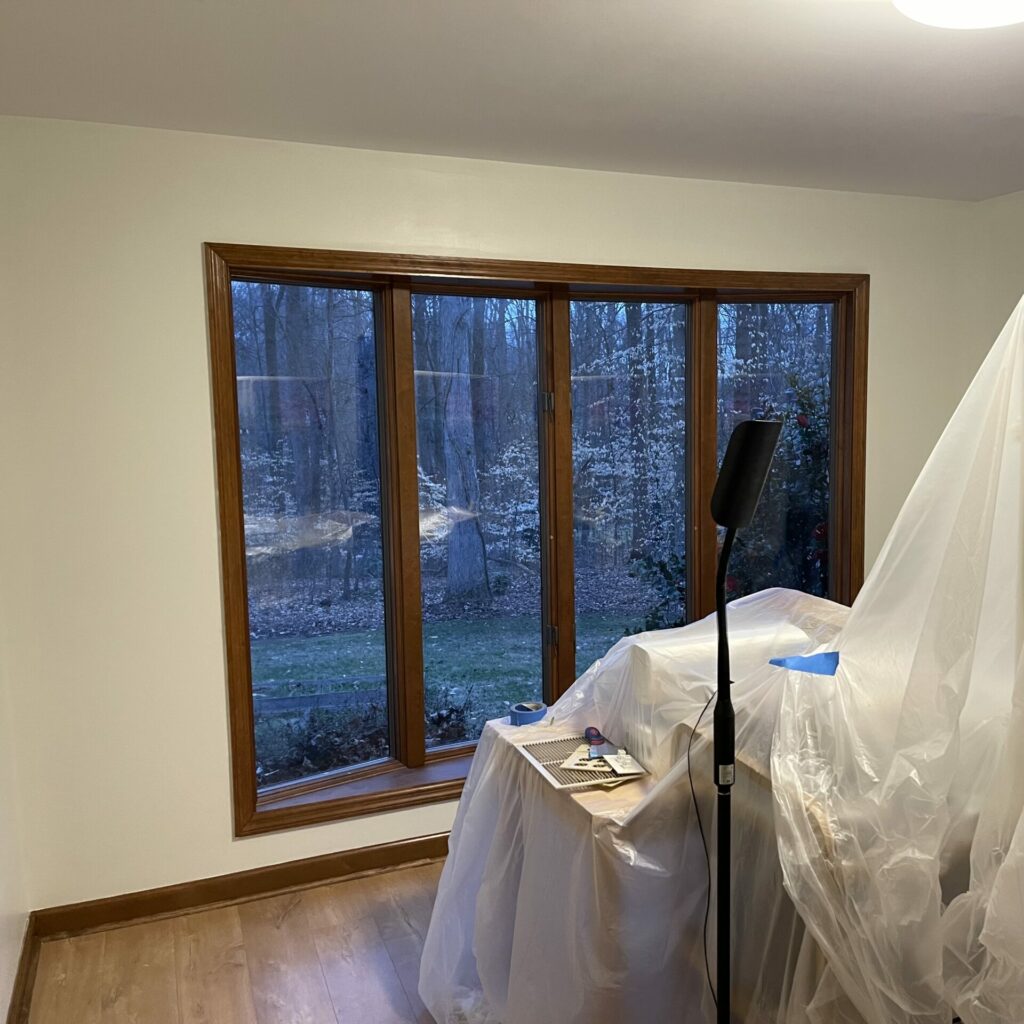 then it was time to make a decision on the windows. i really really really hate all the brown in our house. like it's not quality wood or anything. just builder grade crap stained a reddish brown. i thought a dark gray could be fun, but not too fun, and since this room is an actual room (not open floor plan), it didn't have to track through the entire house if i hated it. so. off to the paint store for swatches. turns out. there's a LOT of gray colors.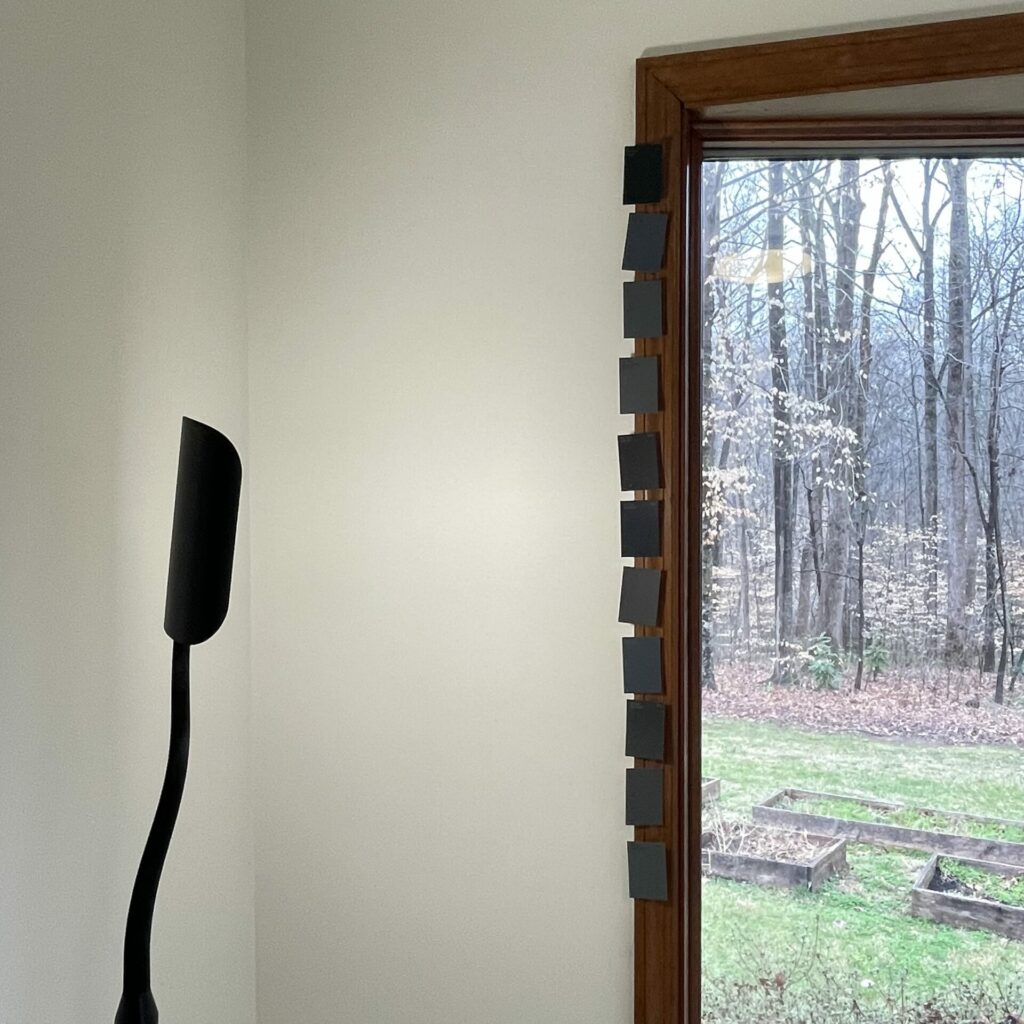 after agonizing for a ridiculous amount of time about the perfect shade, i settled on rock bottom, which is somewhat poetic, i think. but mostly i chose it because it was super dark, but a little on the warm side. also. it's just paint, right?
omg. after just one coat, it looked so good. and this color only took two coats total, which after the four coats of baseboard paint, left me pleasantly surprised/relieved.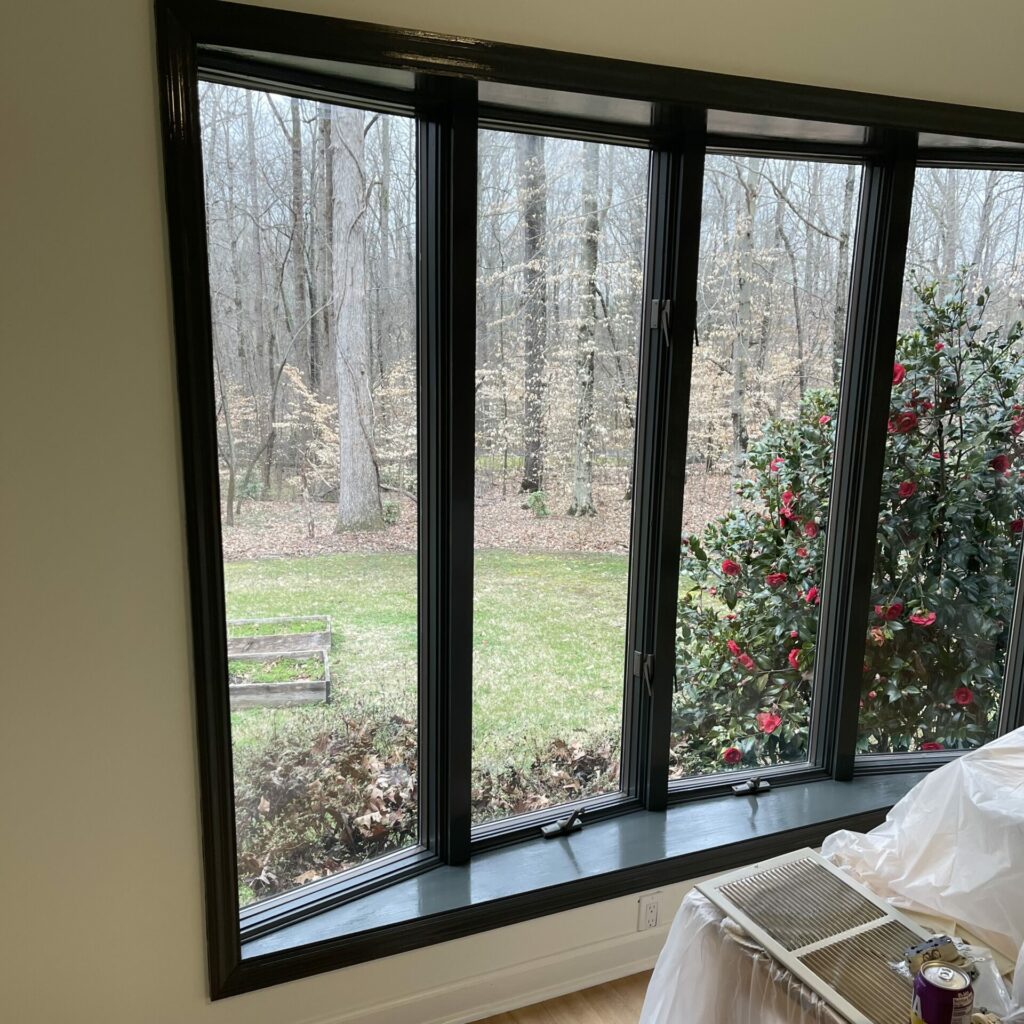 finally, the makeover was complete. derek ordered me a new bright shiny overhead light, and i was back in action. when i moved everything back in, i did a bit of purging, and the room feels less cluttered and minimalist. i also picked up a new big sewing table and moved a few things around and i love it again. i still have some organizing to attend to, but that will have to wait for now. 🙂
anyways. here's some updated photos, and i'm sure there will be many more to come as i post quilty progress pics.