let's see. when i left off, we were still at yellowstone, having completed an epic day at grand prismatic and old faithful. the rest of our time there was a little more laid back and/or disappointing, so i'm cramming it all into this post. (and as for the long blog break, we were without good internet (and power, water, sewer) for the last week or so, so i'll be playing a pretty good game of blog catch up.)
so, let me take you way back. to the day we rolled into west yellowstone. we parked. set up. and then went into town, to get the kids junior ranger books, get some dinner, and do a bit of grocery shopping. when we returned to our campsite, there was water dripping out of the side. we jumped out, turned off the water and began our investigation. thankfully, we quickly determined that the fitting where the water comes into the camper had loosened (probably my fault) and the leak was under the couch. so, we tore up the carpet under the couch, dried everything as best we could, set up the fans and crossed our fingers that it would all dry out.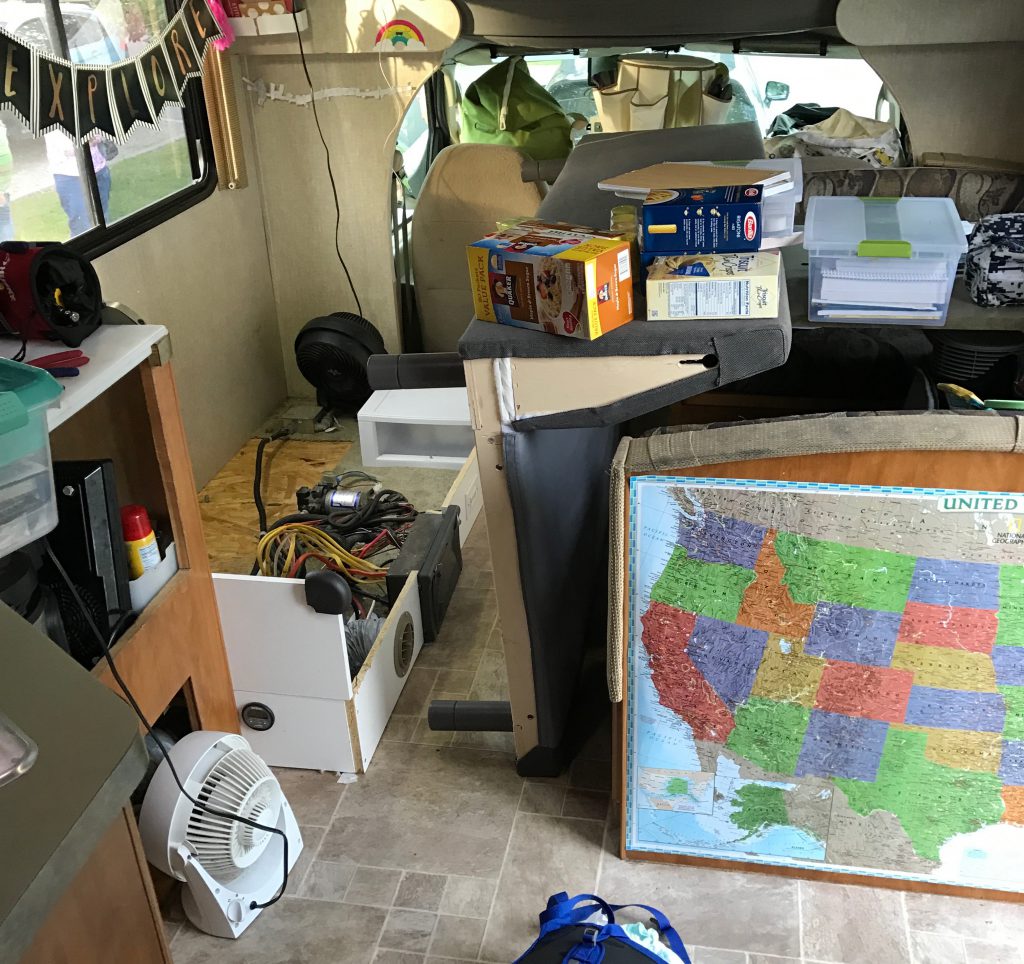 with our camper completely tore up, we spent the evening outside, getting started on planning our week (grownups) and the junior ranger books (kids).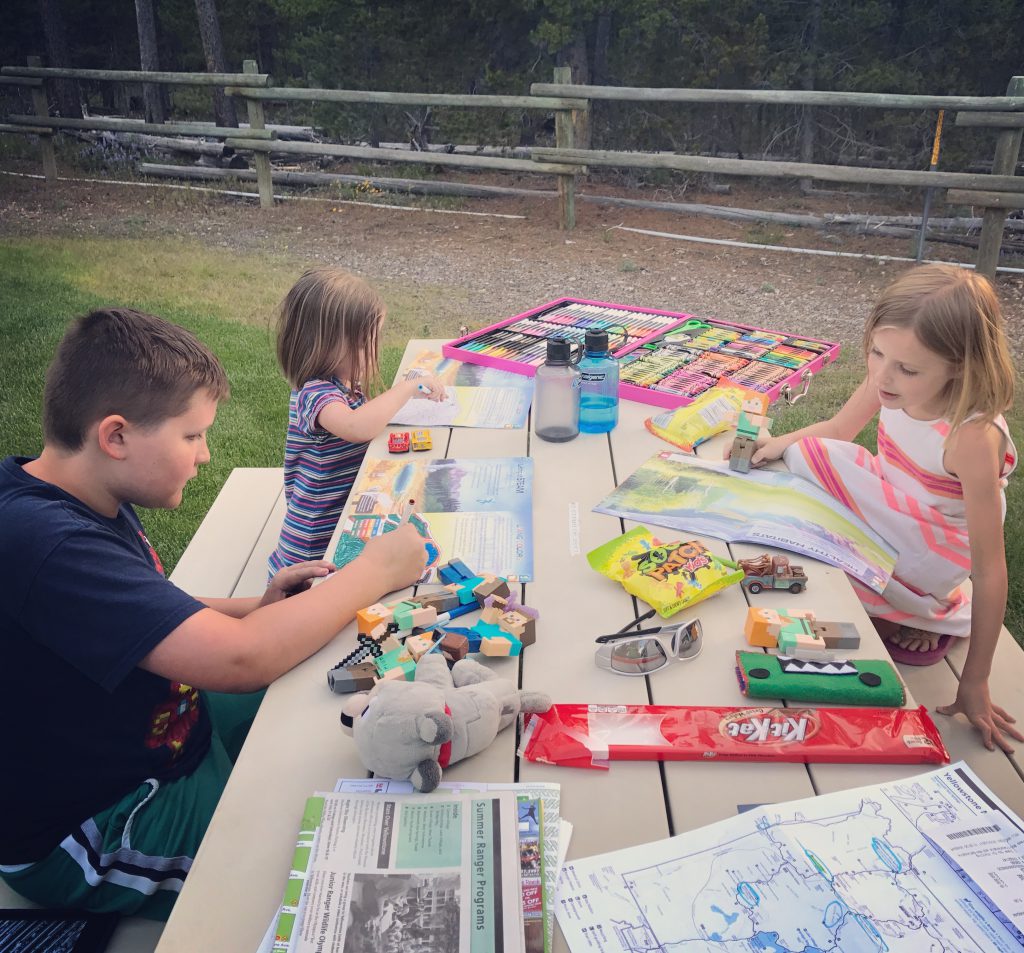 jumping ahead a few days (after our mammoth springs adventure and the artist paint pots day), our friends from a few campgrounds ago stopped by for a quick visit. the kiddos were so glad to see each other again.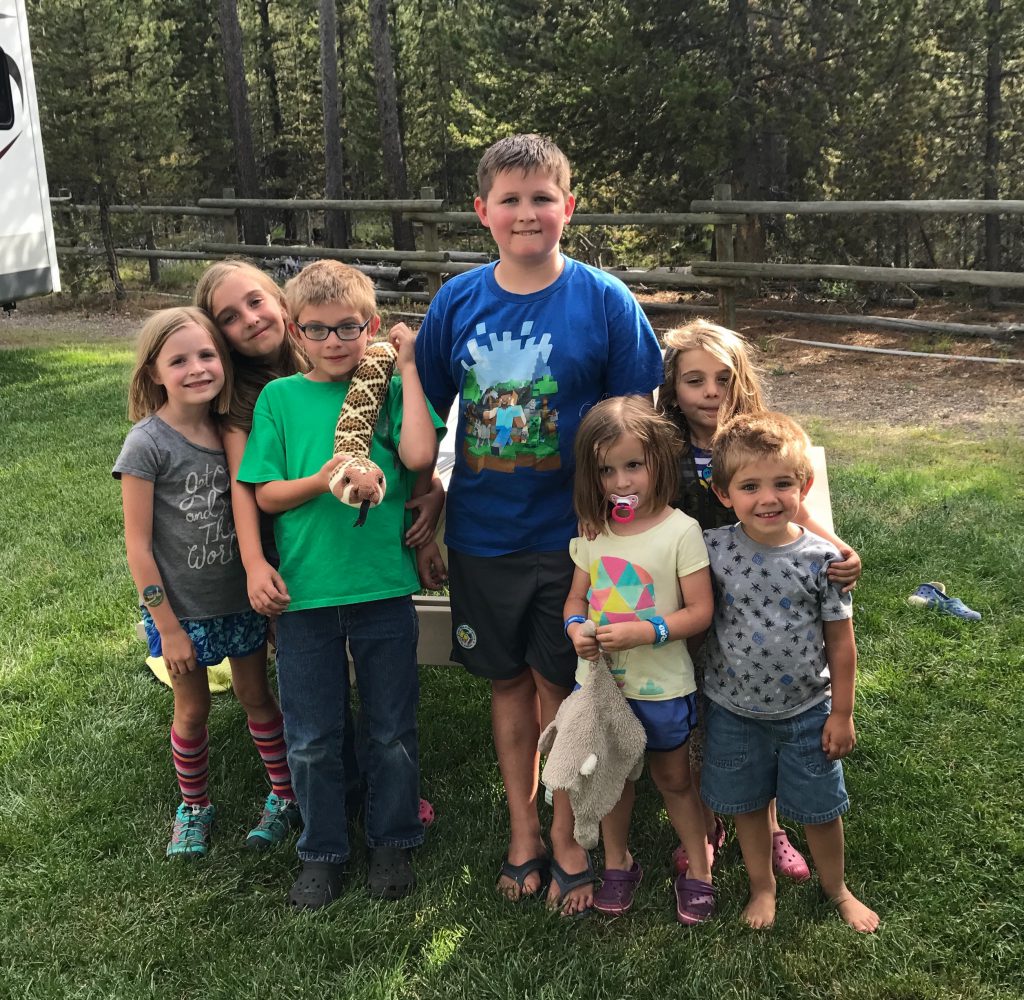 fast forward again. the day after old faithful, we headed into the park for a quick stop, just to get our junior ranger badges.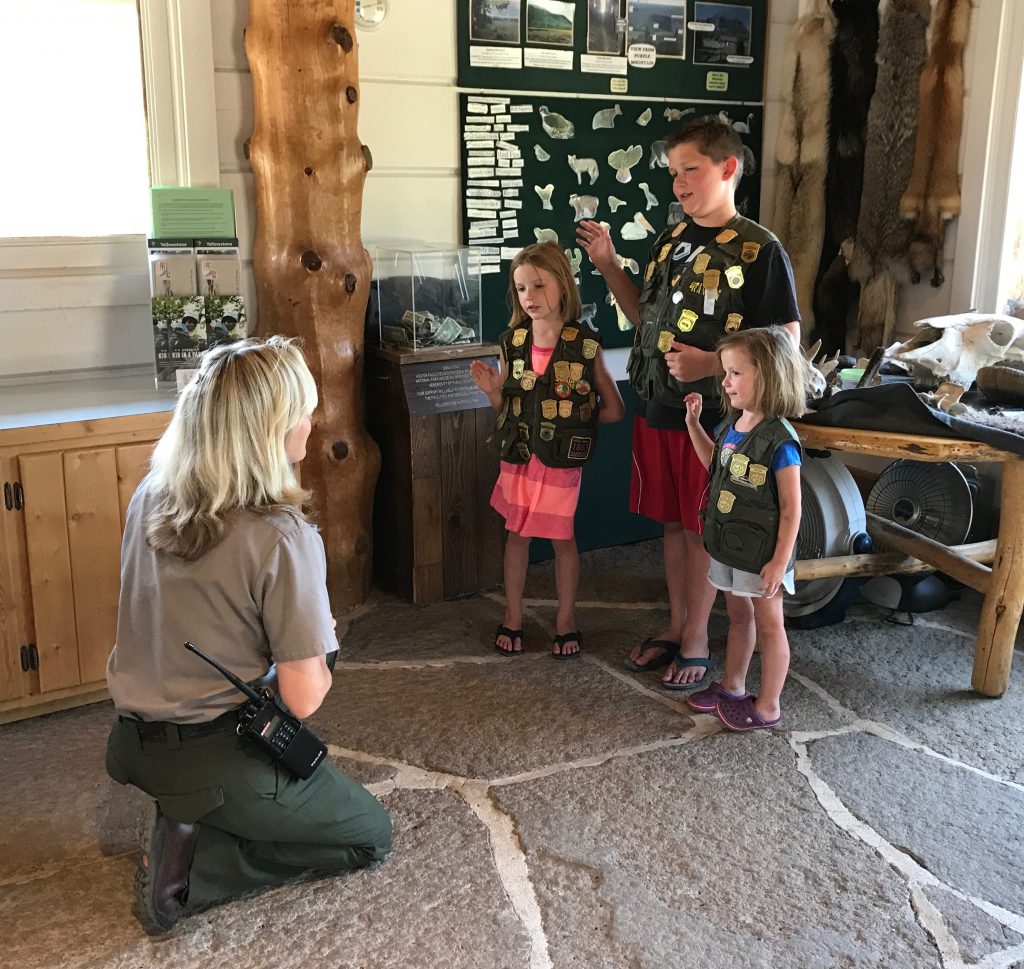 all of the adventures were catching up with this girl.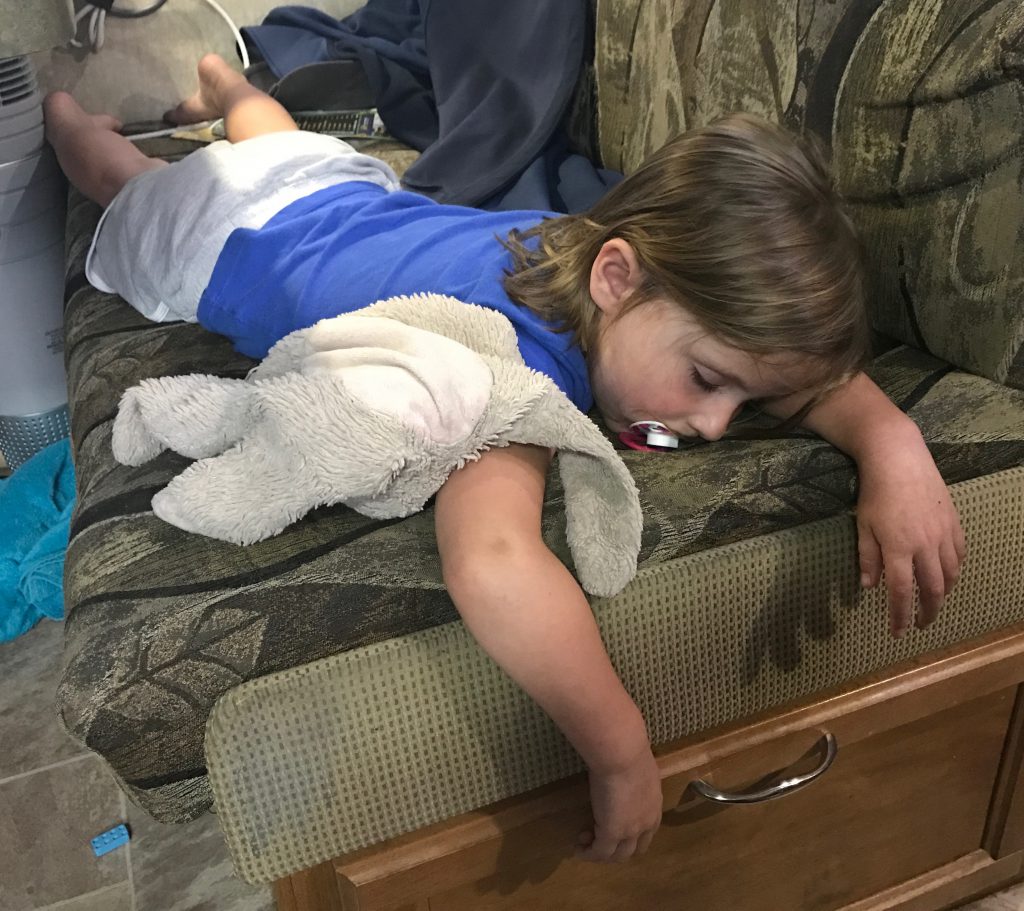 an interesting sign in the toilets. i assumed this was directed at stupid girls, who don't like their butts to touch the seat, so they squat over it and, with insufficient parts for aiming, end up contaminating the entire stall. but i was wrong. derek informed me that it was directed at asian tourists, because they have different public bathrooms than us.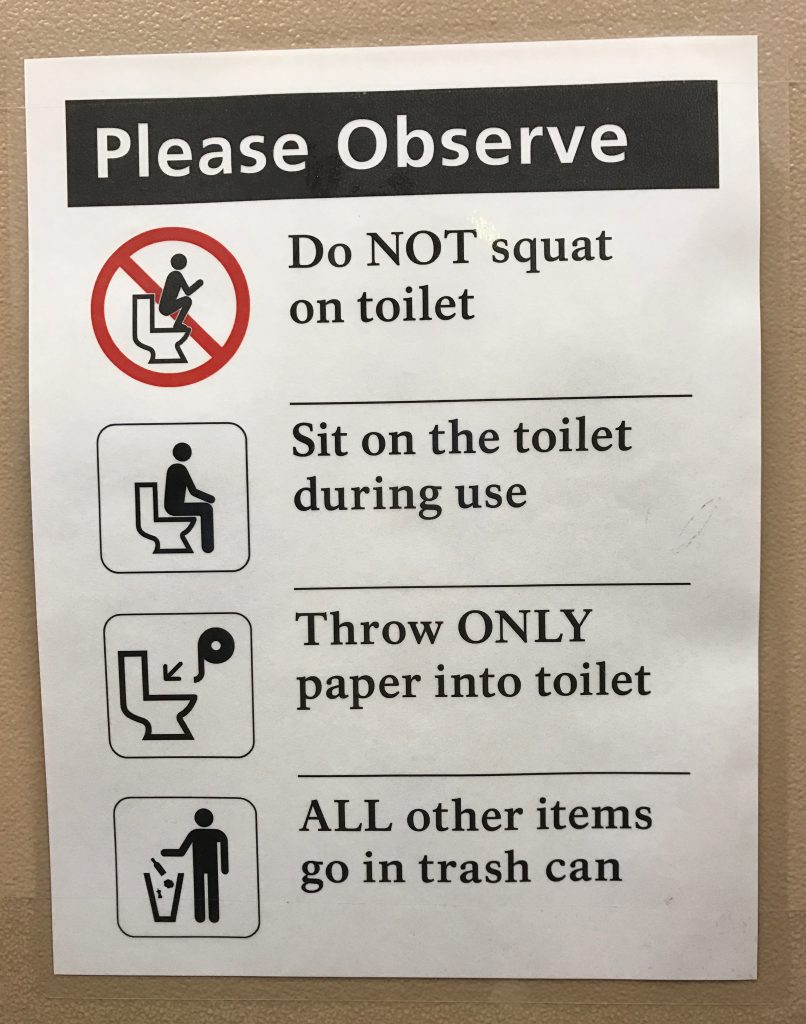 on derek's last day off, we debated and debated what to do. we finally settled on driving over the canyon area to see the yellowstone river and "the grand canyon of yellowstone". after a long, long drive to get there, a stop at the visitor center and a ridiculous wait for a parking spot, we were at artist point, and not very motivated.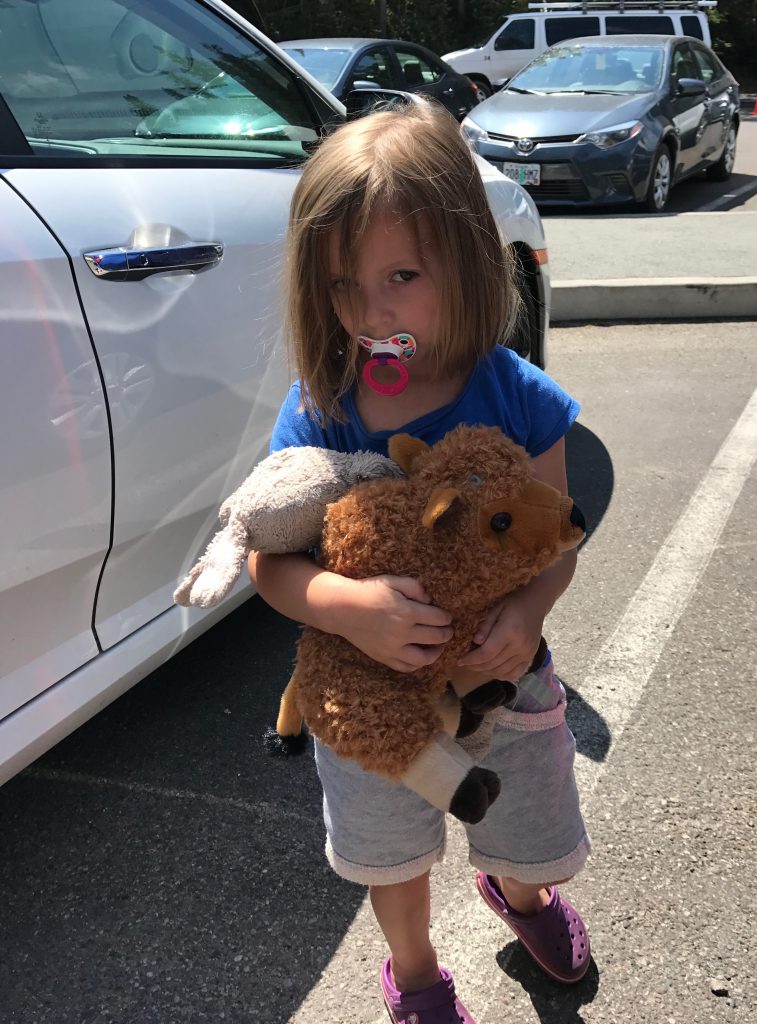 the walk out was short. and there were so many people. some nice folks offered to take our picture.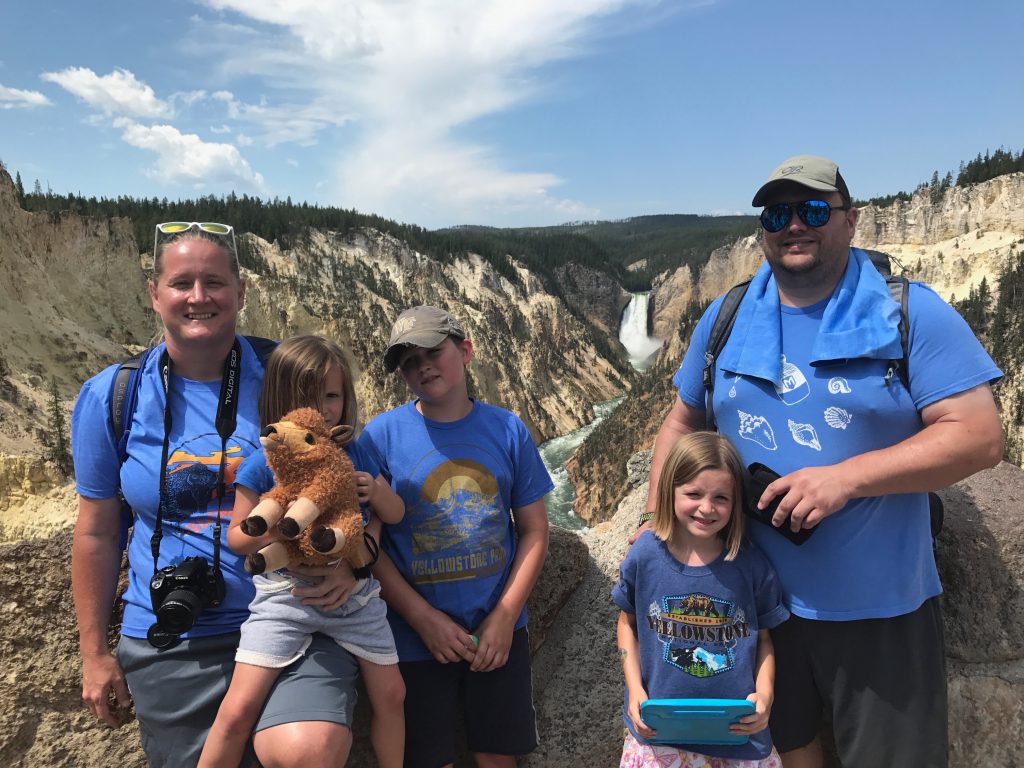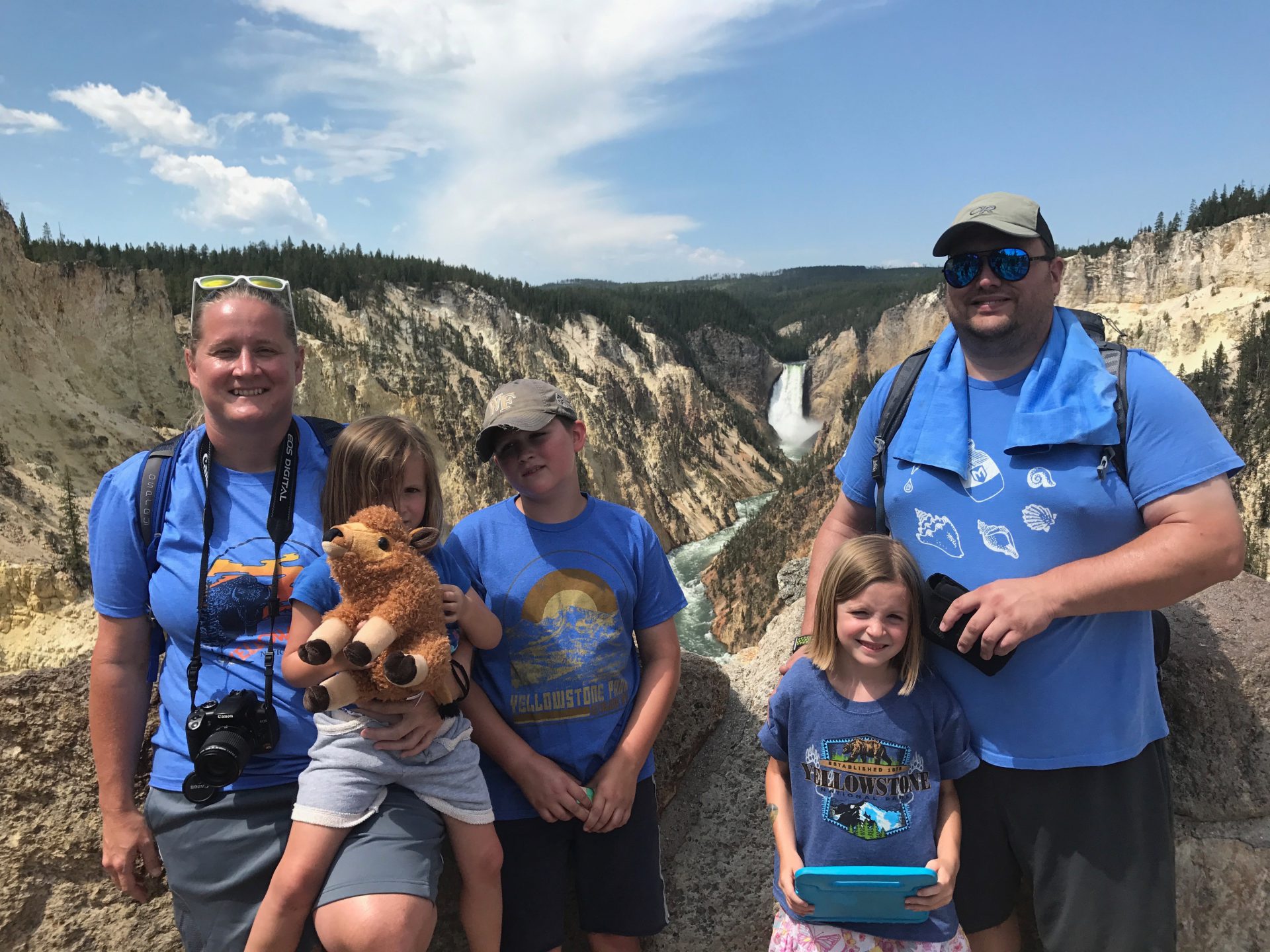 the view lives up to it's name. it's a great spot to look all the way down the river, to the falls in the distance.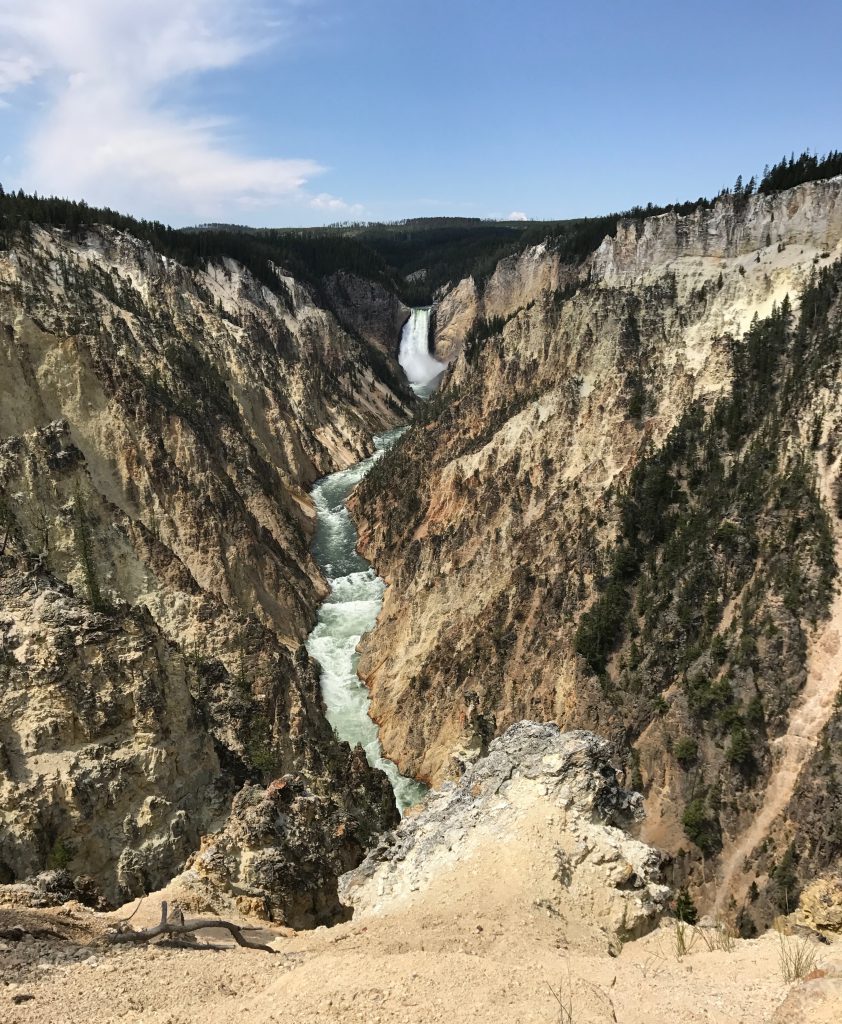 so, we had high hopes of doing a bit of hiking. there are several trail heads along the road that lead down to different spots on the river. but. the parking. soooooo ridiculous. we lost momentum quickly. and then just scrapped the plan to hike. we did manage to find another spot to park and walk down to a little overlook. so we did that.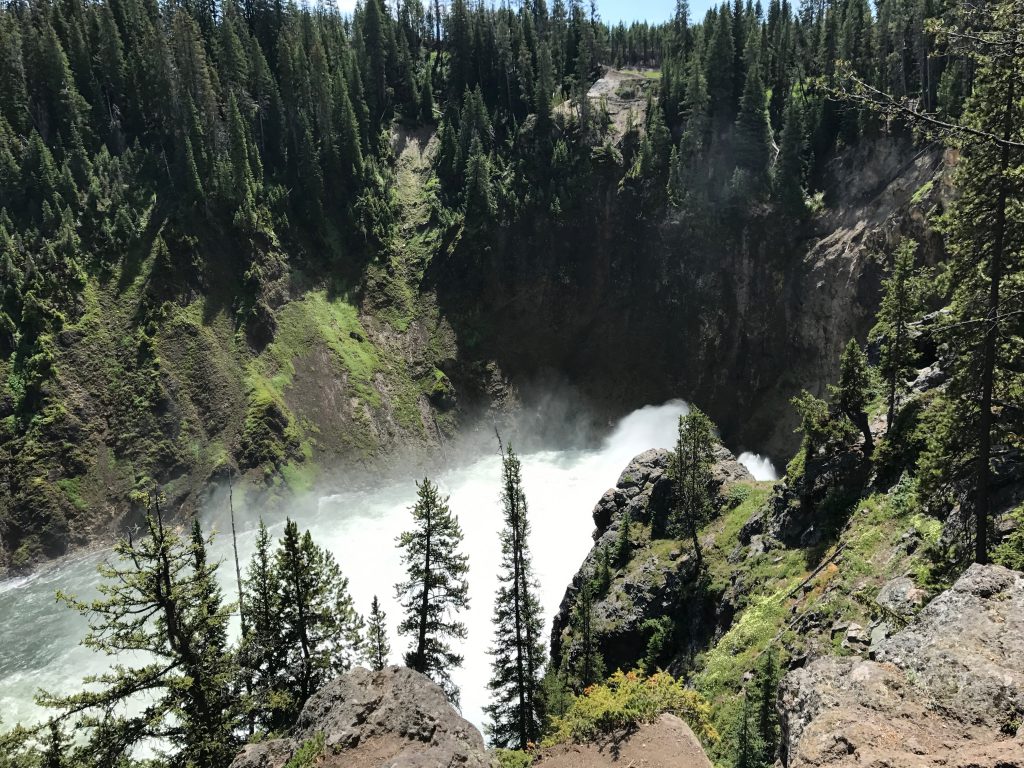 at this point, we were starving. so, we rolled into the canyon visitor center complex and ate probably the best national park meal i could have imagined. i had braised beef with mashed potatoes and creamed spinach. it was all cafeteria style and pretty reasonable. then, after our long journey back to west yellowstone, we decided to check out the grizzly and wolf discovery center. the grizzlies were out and about, wandering around.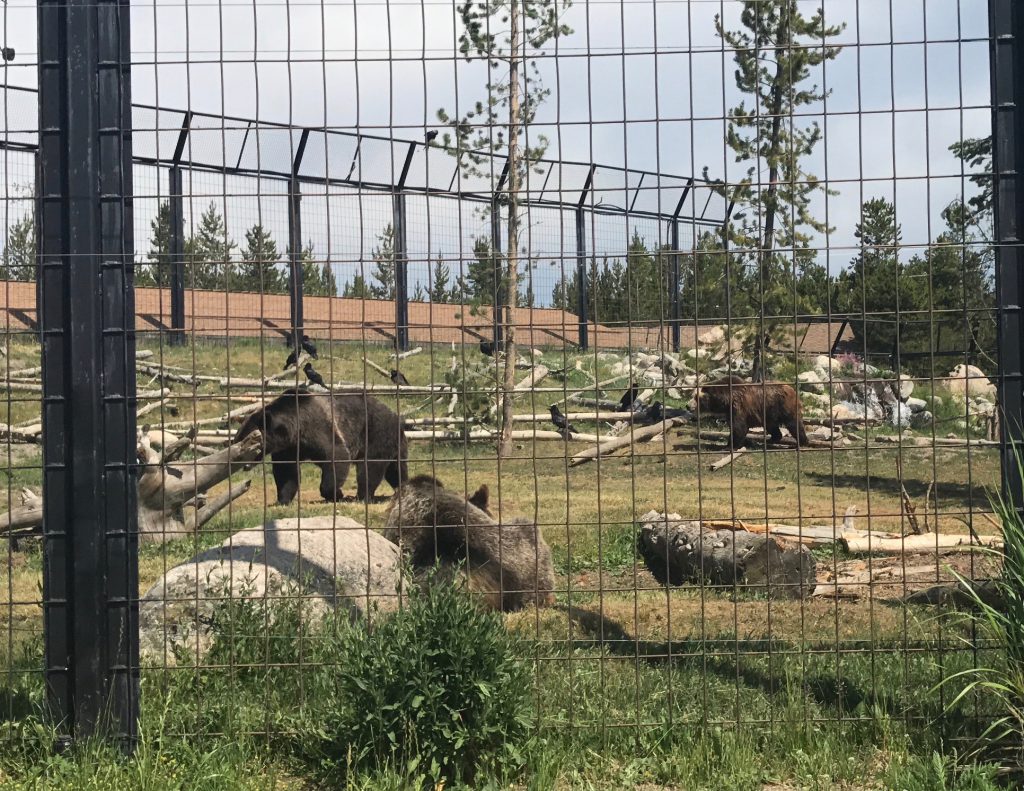 they were pretty cool on their own, but later, we got to watch a feeding, which i apparently only took videos of and no pictures.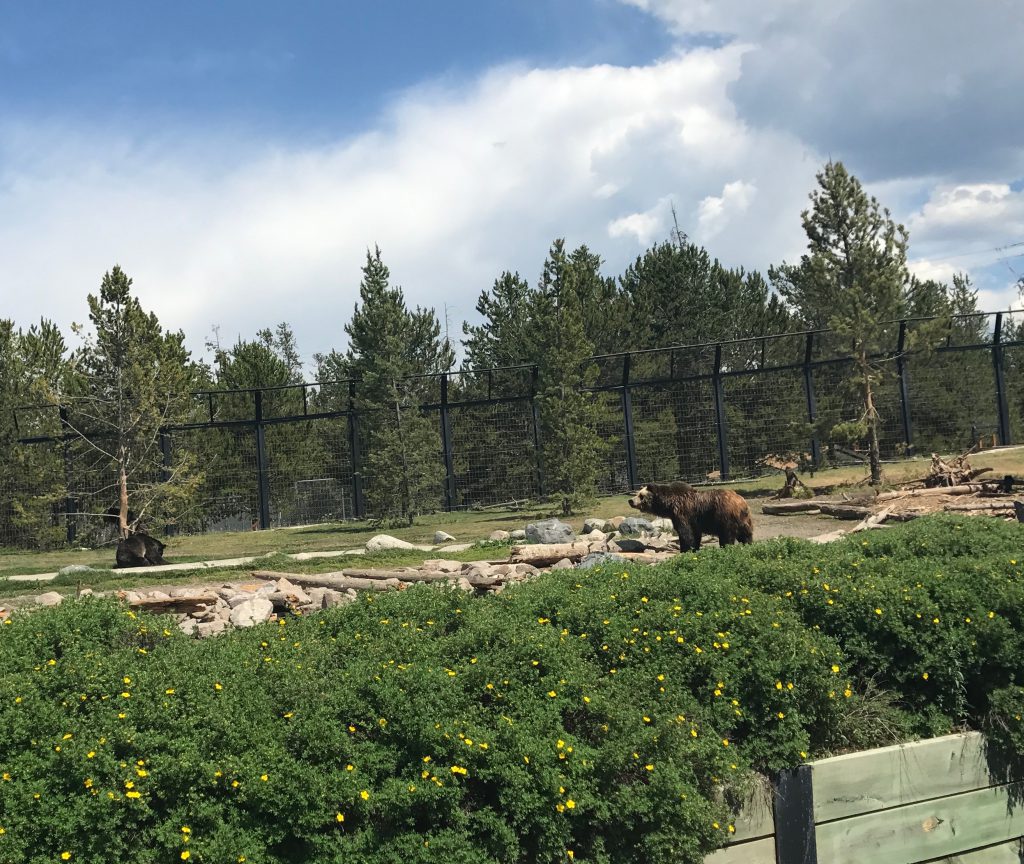 massive.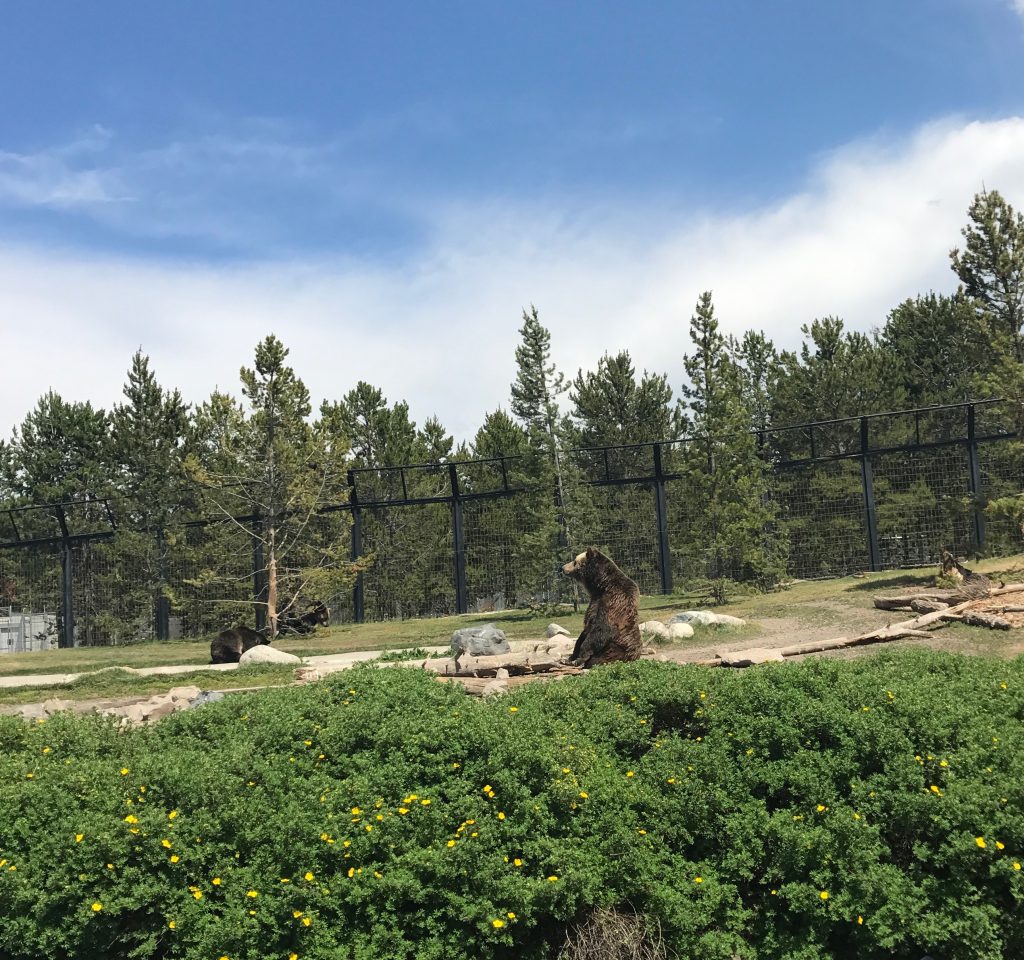 there were some wolves too, but they were less exciting. :).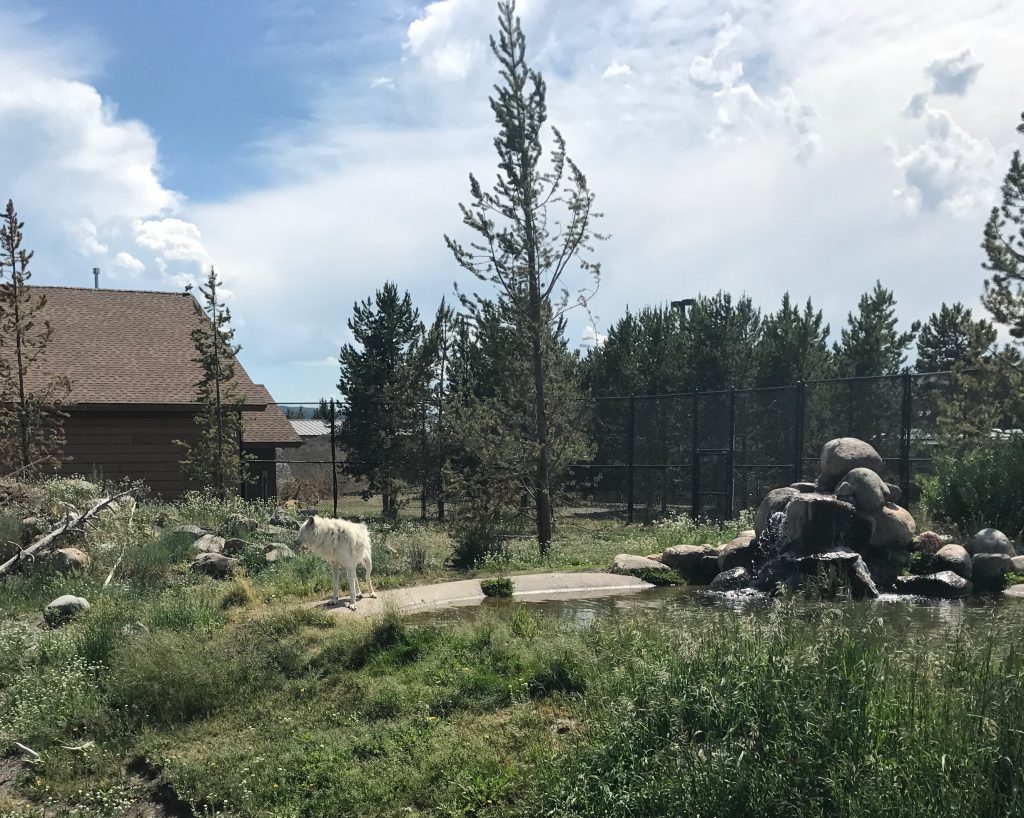 we were so tired, so we didn't last long. we finally decided to call it a day. we headed back to our campsite. for our final day at yellowstone, i did laundry, the kids played at the playground, we packed up and departed when derek was done with work. off to the grand tetons…