in the middle of our delightful week with full hookups at an actual campground in an actual city, derek had to take a huge 48 hour test for work. we decided the best course of action, to give him peace and quiet, was for the me and the lidkids to find somewhere else to be for that time. after a bit of research, we decided to embark on a road trip from our road trip to mesa verde national park in colorado.
derek booked us a room in the park, saving us from the long drive out and back each day. we stocked up on food supplies. and departed early wednesday morning. we were a little worried, because the weather looked pretty blah. cold and rainy. but we were hopeful it would hold off. and it did. right until we got into the park.
but that didn't stop us from booking some tours. we chose the balcony house for this rainy day (because it was all that was left). and the long house for the next day, just so we wouldn't miss the opportunity. (it tends to sell out the day before). we had a bit of time to kill before our tour began, so we drove a loop that has several pithouses and cliff dwellings along the way. the kids were great. hopping in and out of the rain to look at holes in the ground.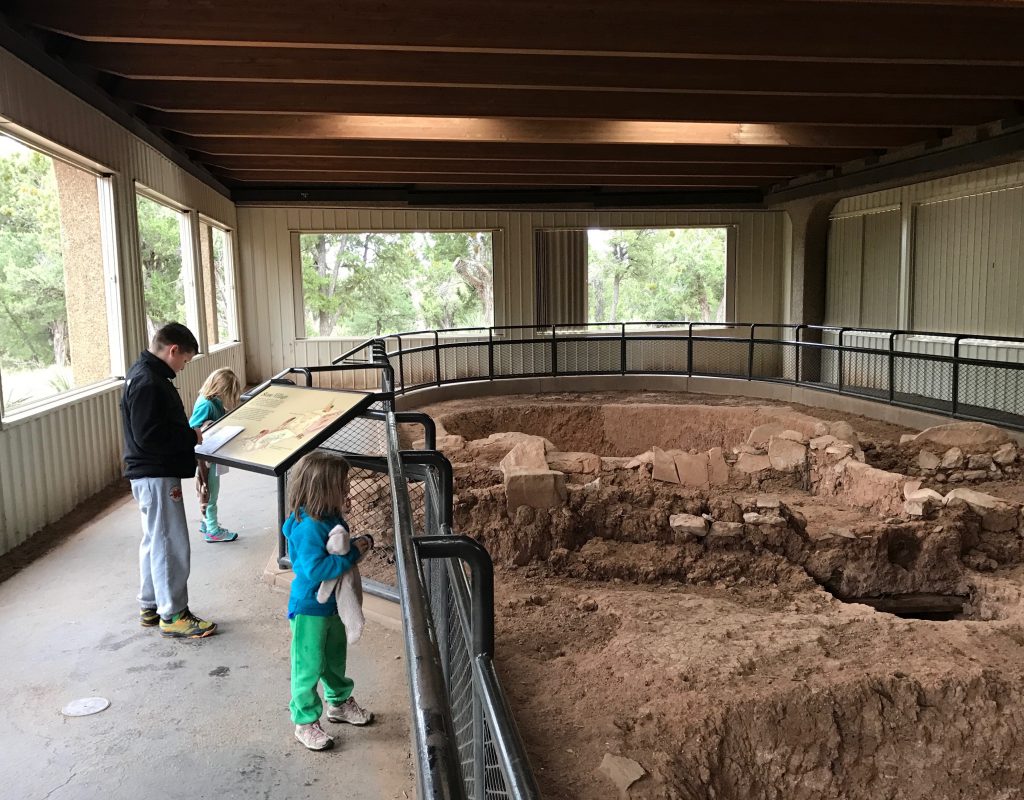 the cliff dwellings were everywhere across the canyon.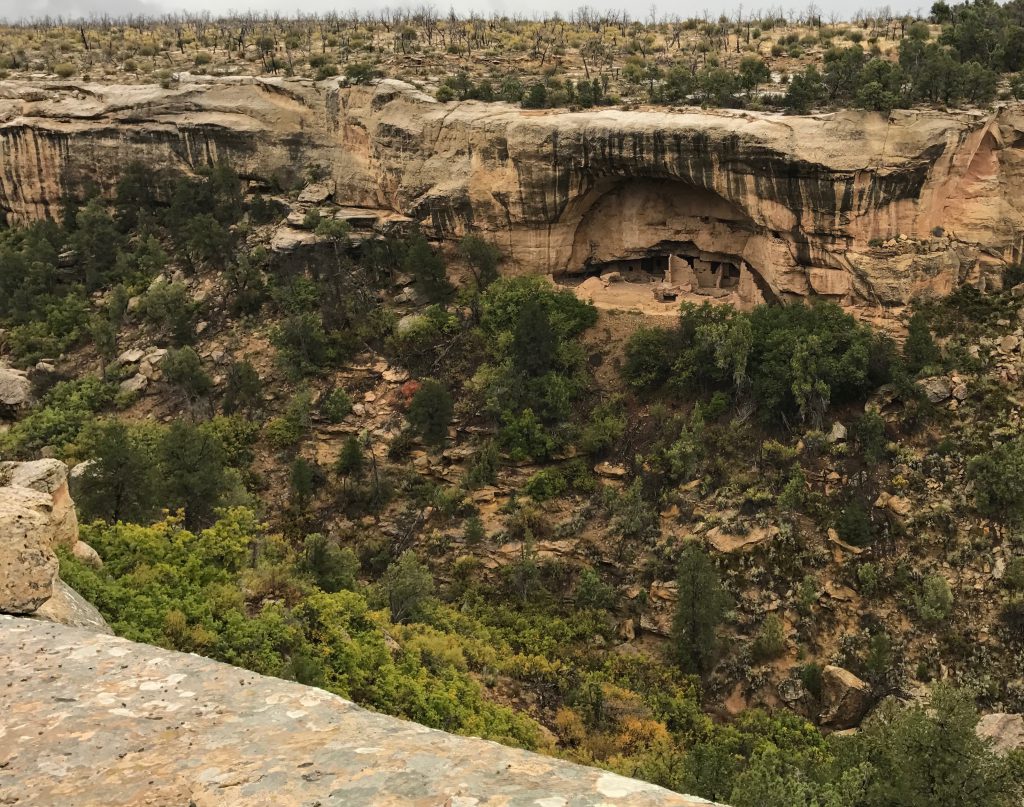 we stopped at a few, but i knew that we would be seeing some epic houses, up close and personal, and i didn't want to wear us down with rainy and cold long distance views.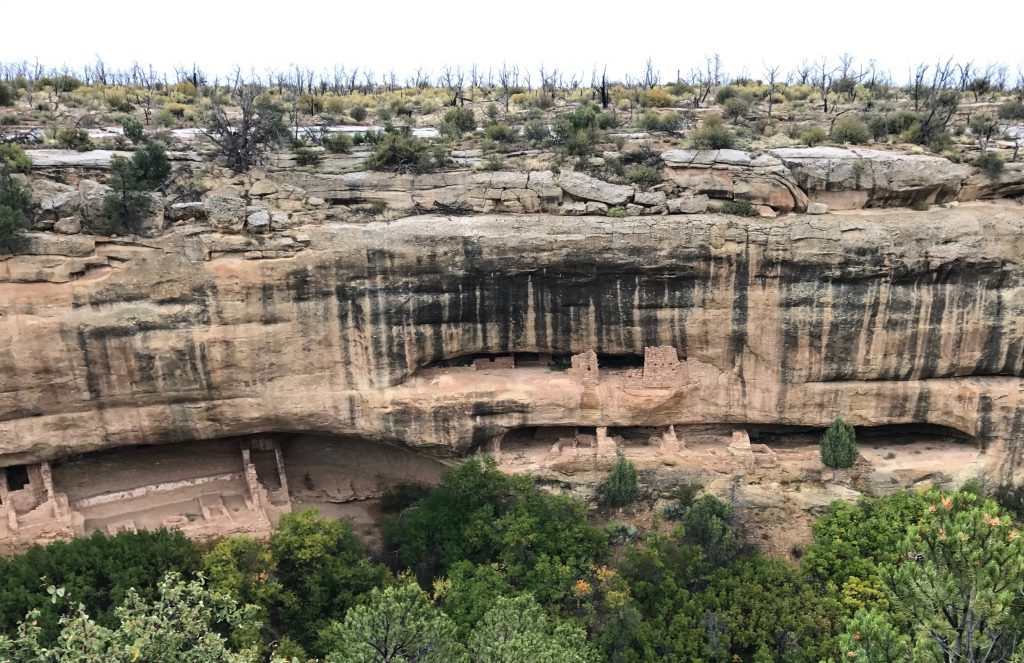 umbrella girl.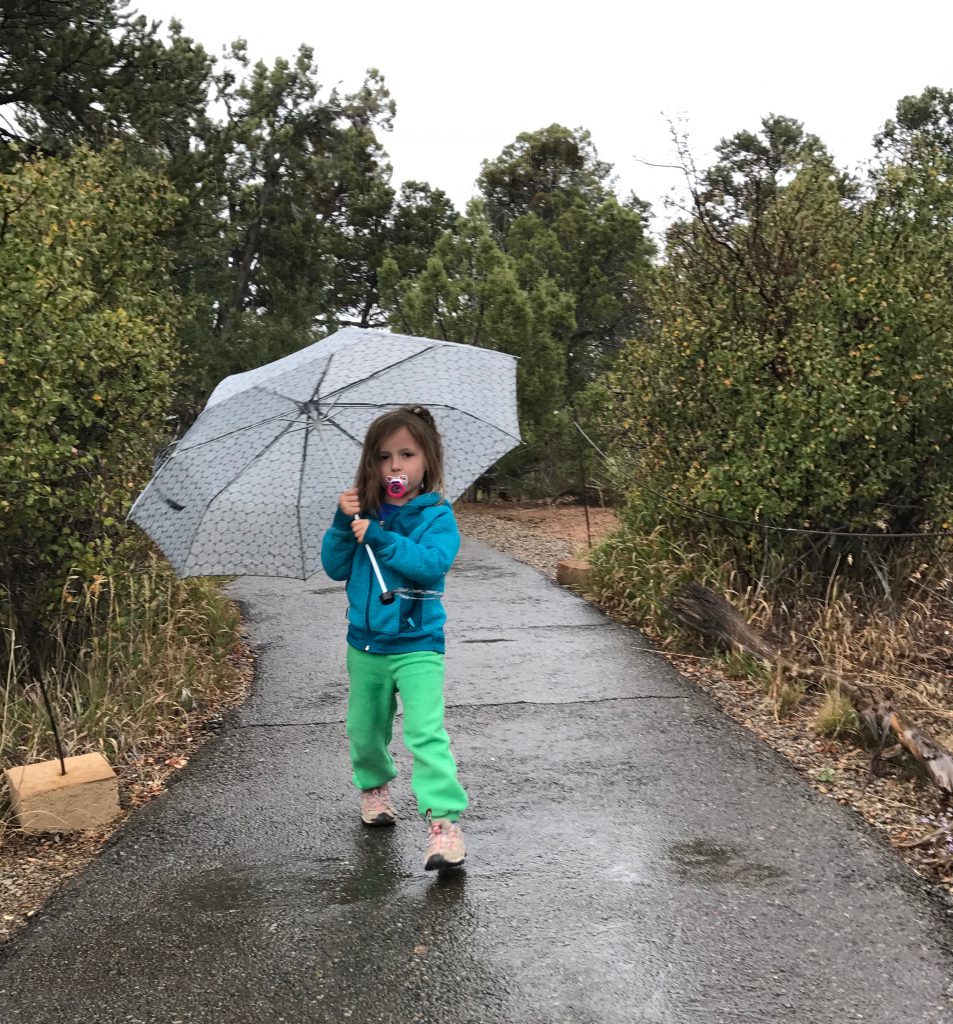 the cliff palace was the one house we had actually heard about and had hoped to tour, but after we booked our hotel, we read that it had closed that day. two days before we would arrive. for repairs or something. but, we were able to get a decent view at this overlook.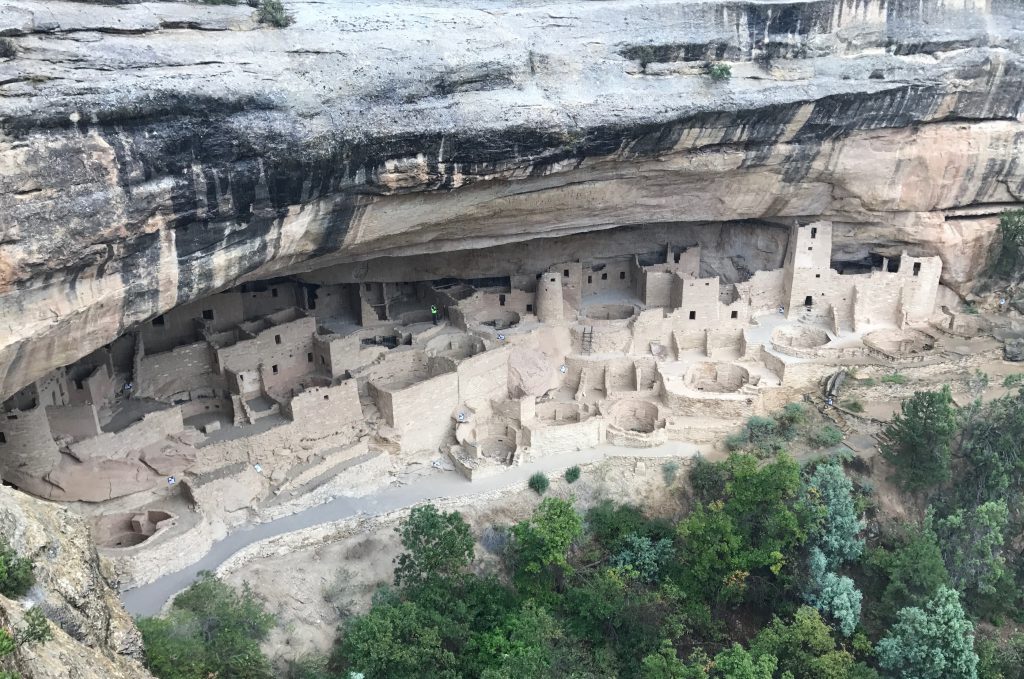 finally, we rolled up to our tour. it was so cold and so rainy. i layered up the lidkids and hoped for the best. the balcony house boasts a 32 foot ladder and a small tunnel to crawl through, among other obstacles. so i didn't want to bring umbrellas and a backpack and such, so we were left to brave the elements unprotected. blerg.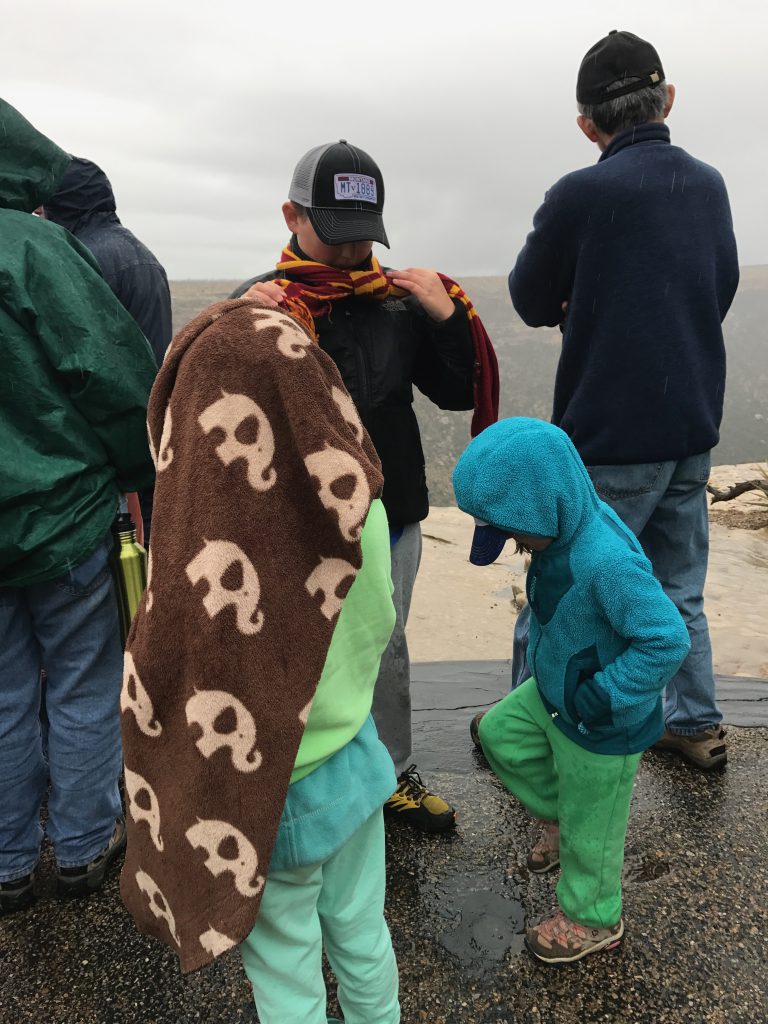 i kind of expected our friendly ranger to adjust our tour to accomodate for the rain. you know, maybe save the long monologues for times when we were under cover. but no. he moved us out from under a shelter, into the rain about 20 feet away, and proceeded to lecture us about safety and history and rules.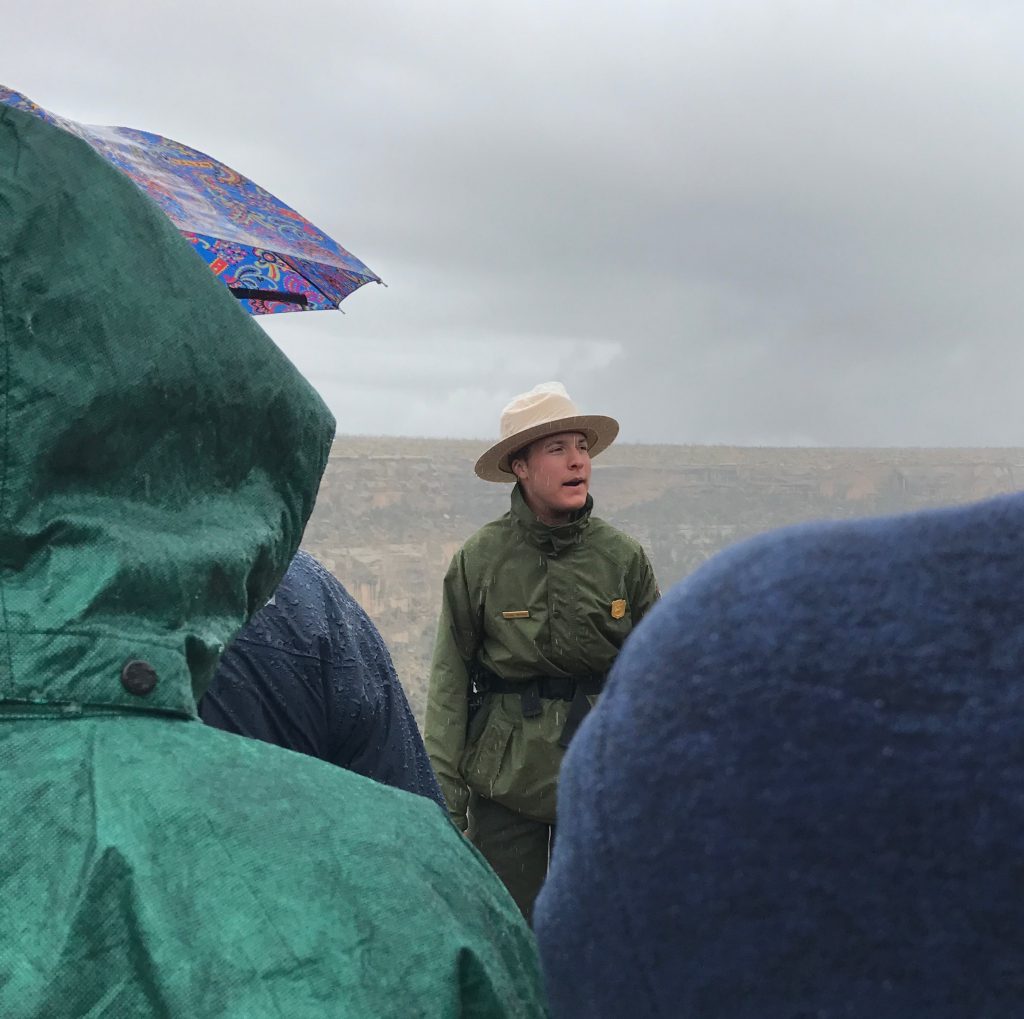 after we descended into the alcove, we scampered to dry safety, if only for a fleeting moment. the kids were still doing great.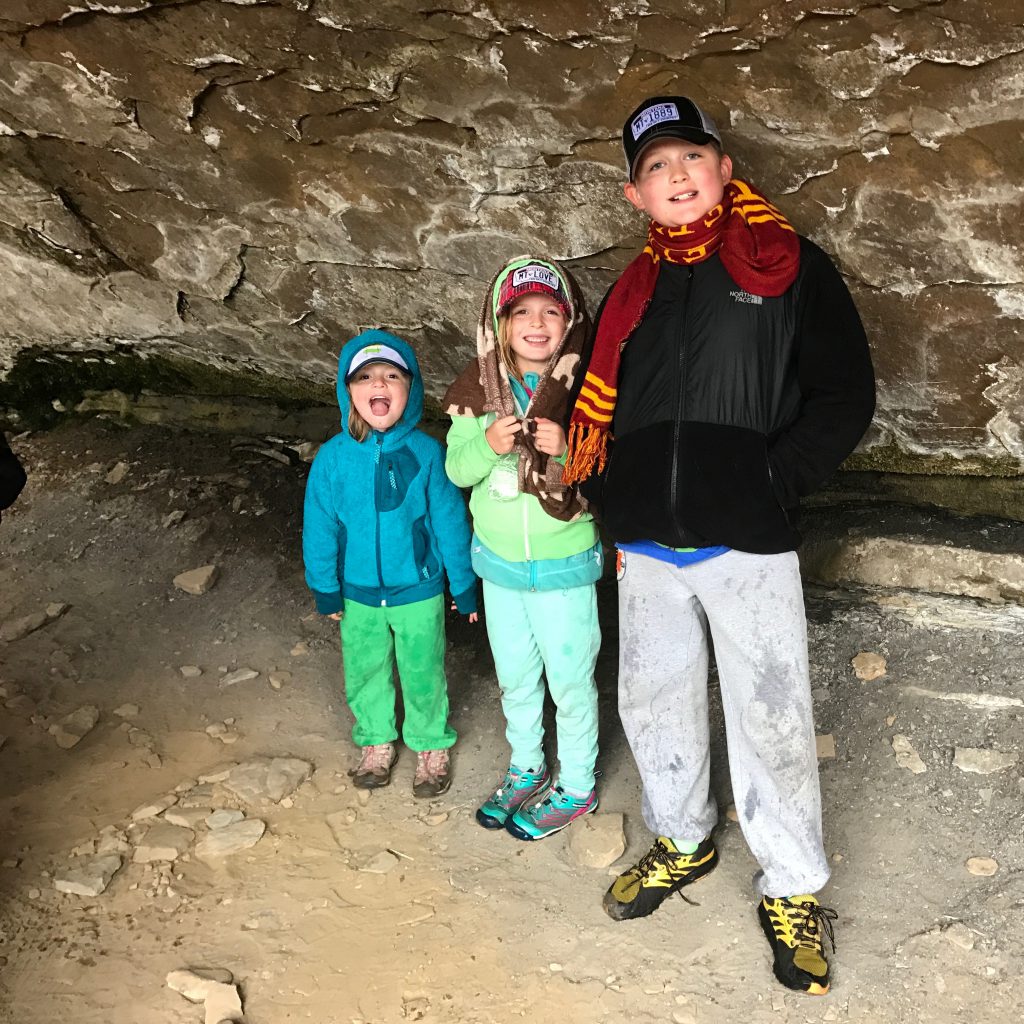 then it was time to get up that big ladder. we let all the old grownups go first.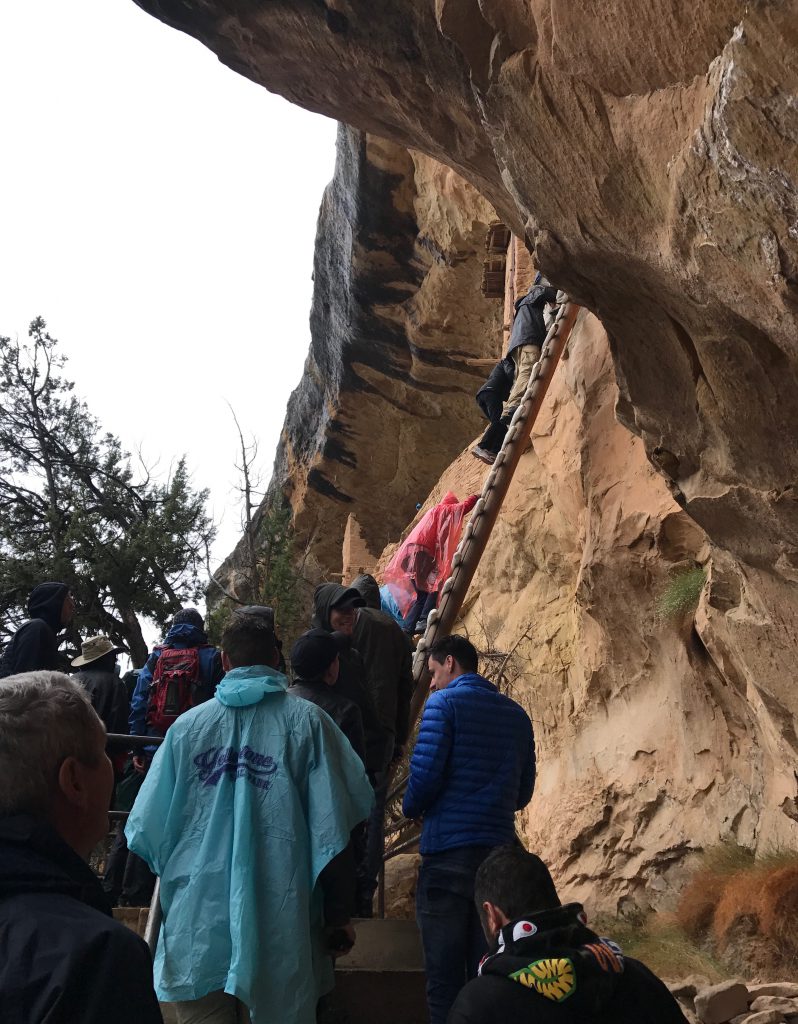 then it was our turn. that nice fellow behind anna offered to spot her on the way up, and she accepted. but, in the end, the lidkids made fast work of the ladder, with little fanfare.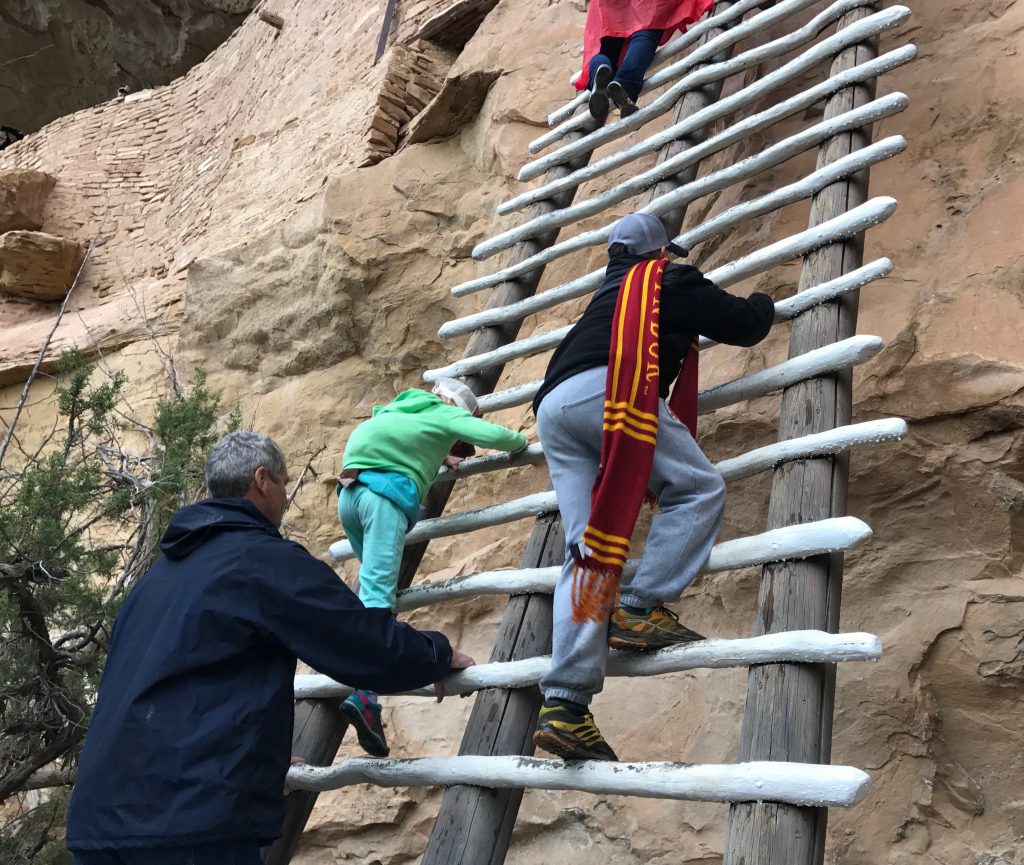 once we were inside, we had a little coverage from the rain, but it was still cold and we were very wet, so it seemed to drag on and on as our ranger told us about different aspects of the life of a cliff dweller.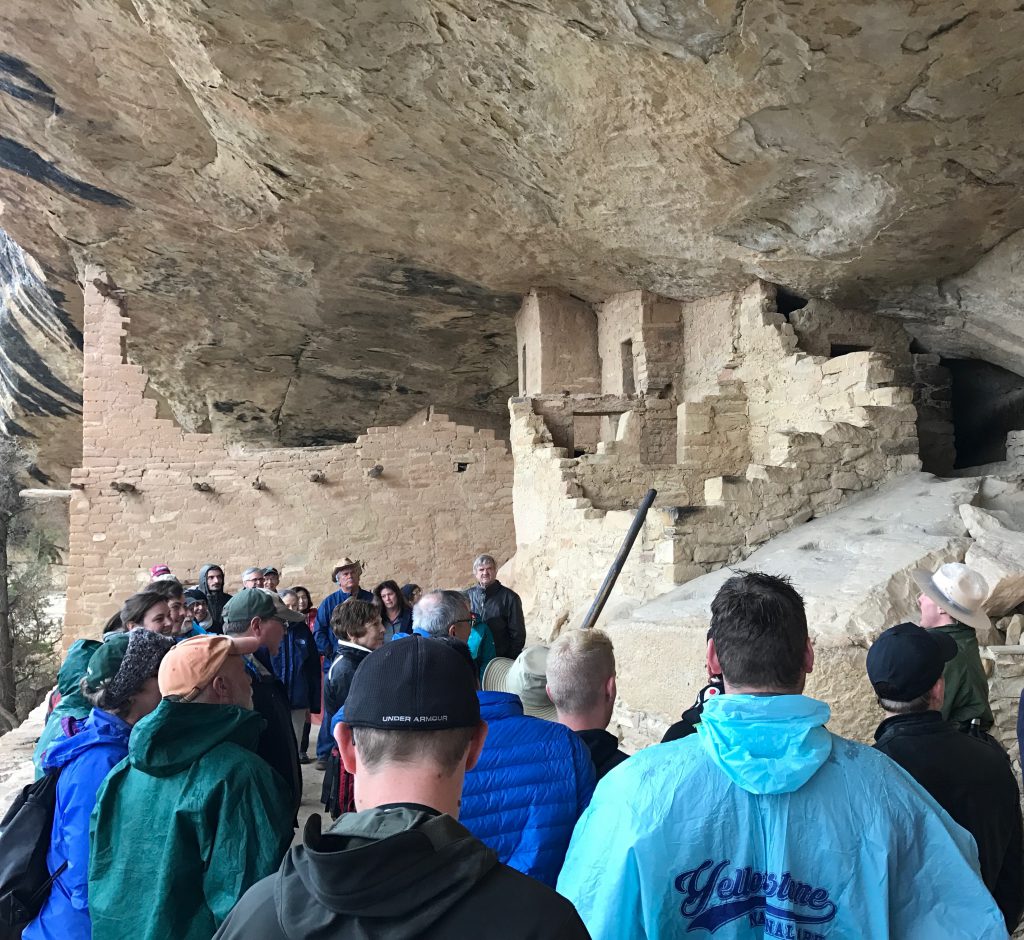 i didn't take many pictures. we were pressed so close together inside the house. and the views were meh because of the rain, which you can get an idea of in this picture, of a ceremonial kiva overlooking the dreary canyon.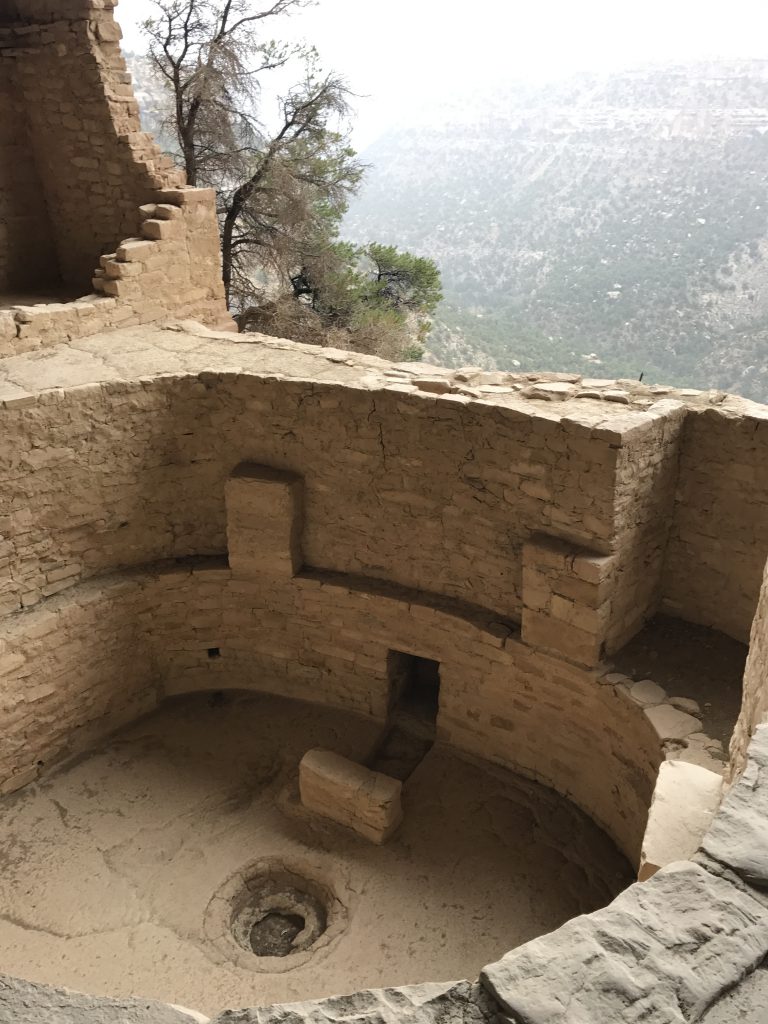 the last bit of excitement in the balcony house was crawling through this narrow tunnel for our escape. it was 18″ wide in a few spots and about 12 feet long. the worst part was getting stuck in the middle, waiting for the folks in front of us to get out of the way. all the lidkids fit just fine. i had to scrape through at the tighter spots. (there's a test tunnel at the visitor center to see if you'll fit, so we knew that it was a safe bet).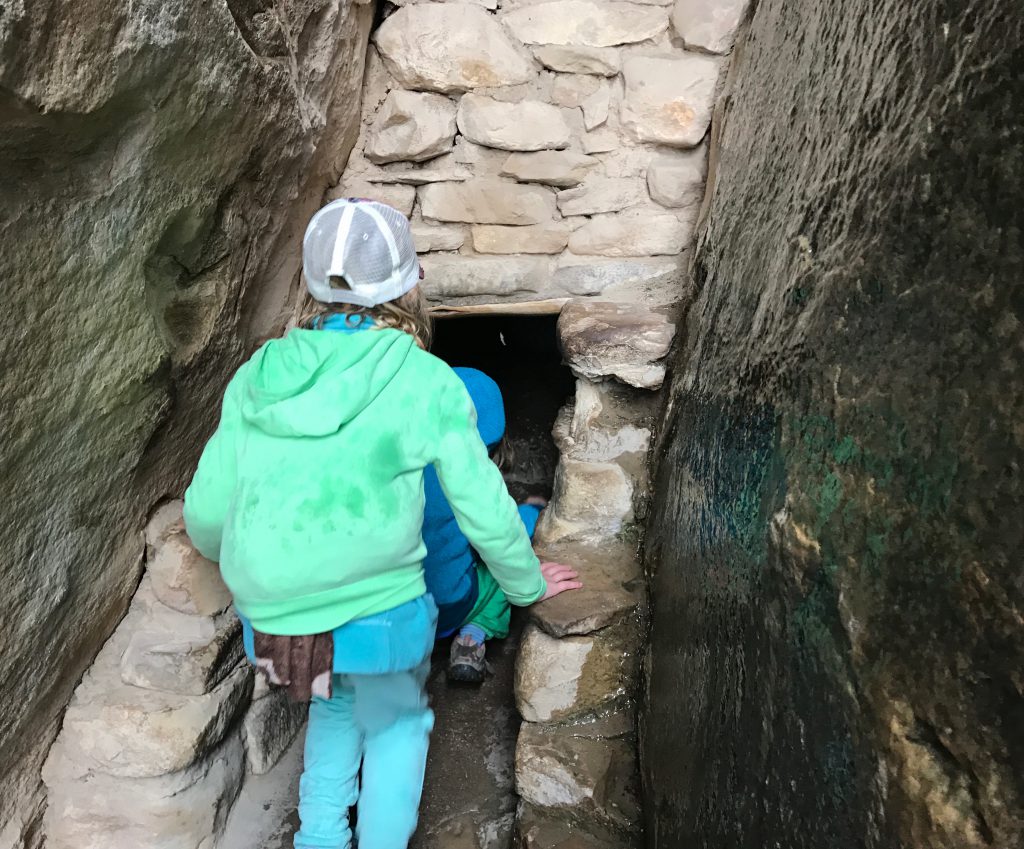 outside of the house, we still had to climb up the side of the cliff and back out to the parking area on the mesa. this time a slippery wet ladder. but short. so we were fine.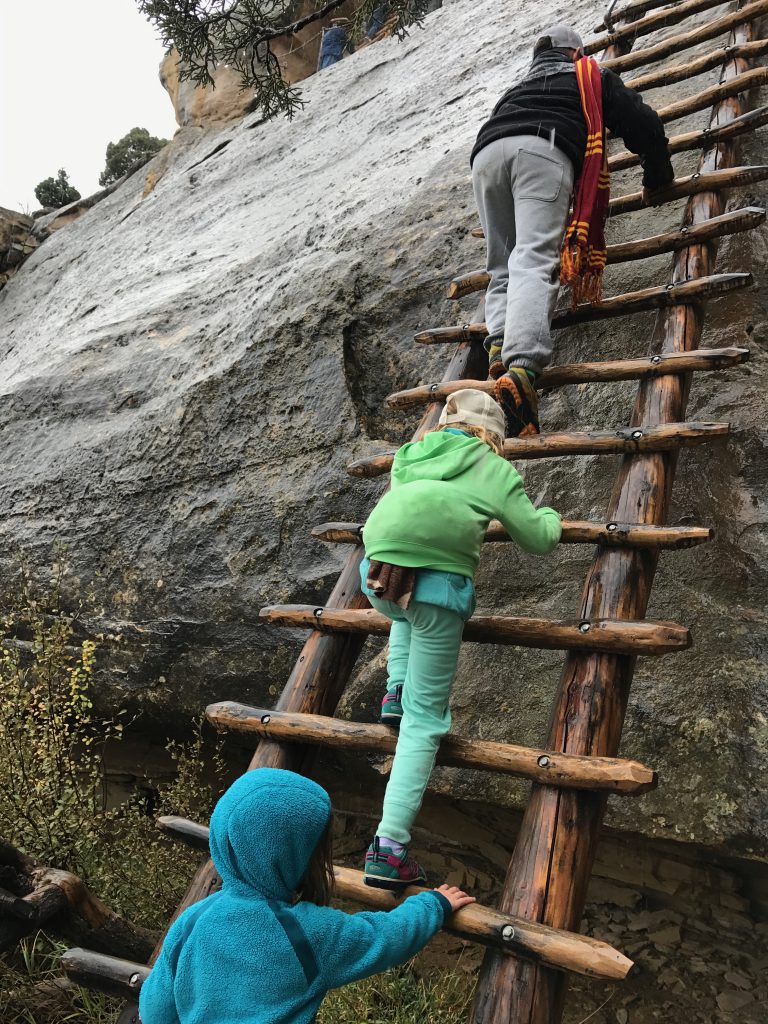 then a slightly treacherous series of narrow and slippery switchbacks up the cliff face. the iron fence provided some security, but it still seemed scary. but the kids marched right up.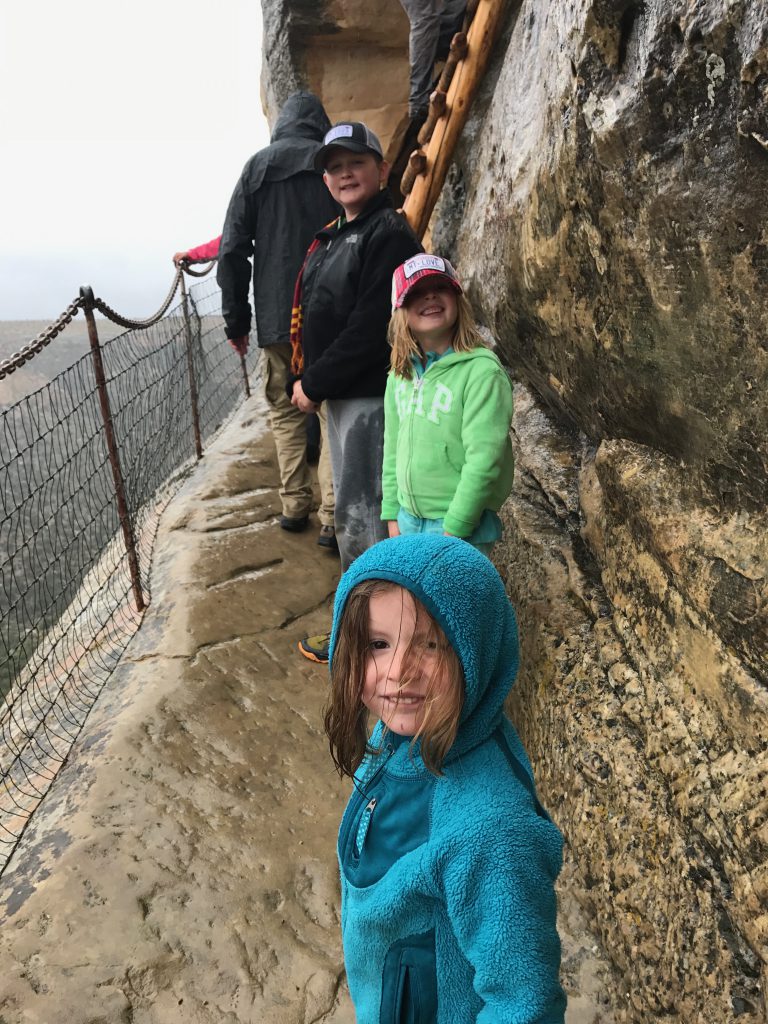 the view of what we were leaving behind.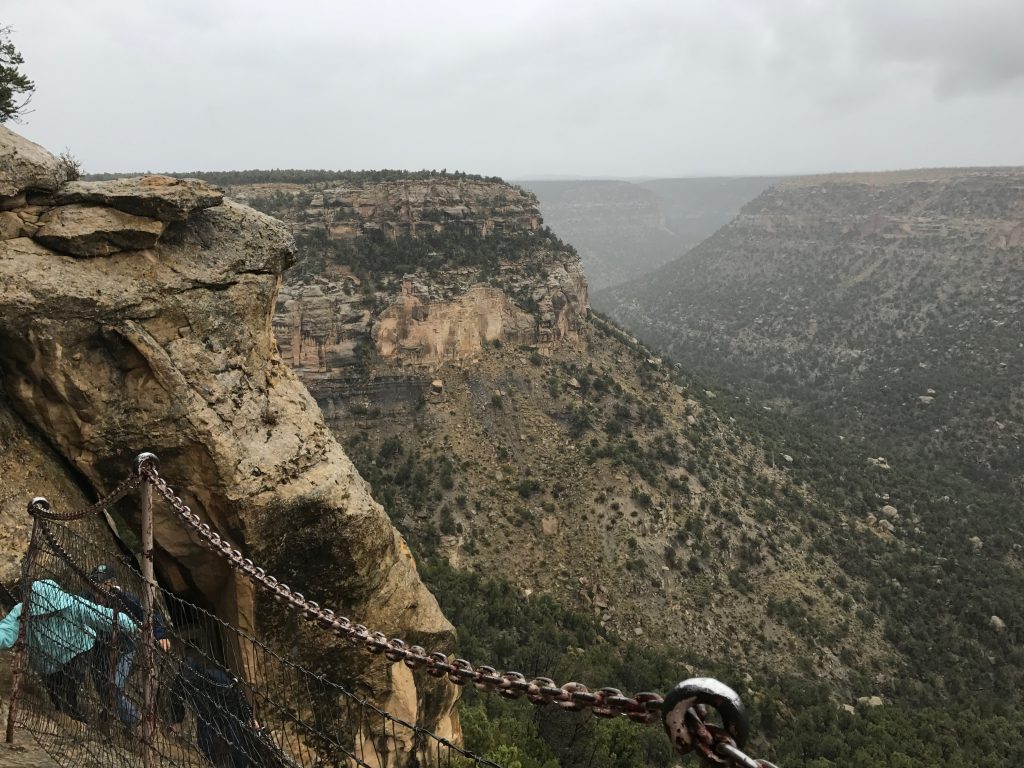 more slippery ladder climbing.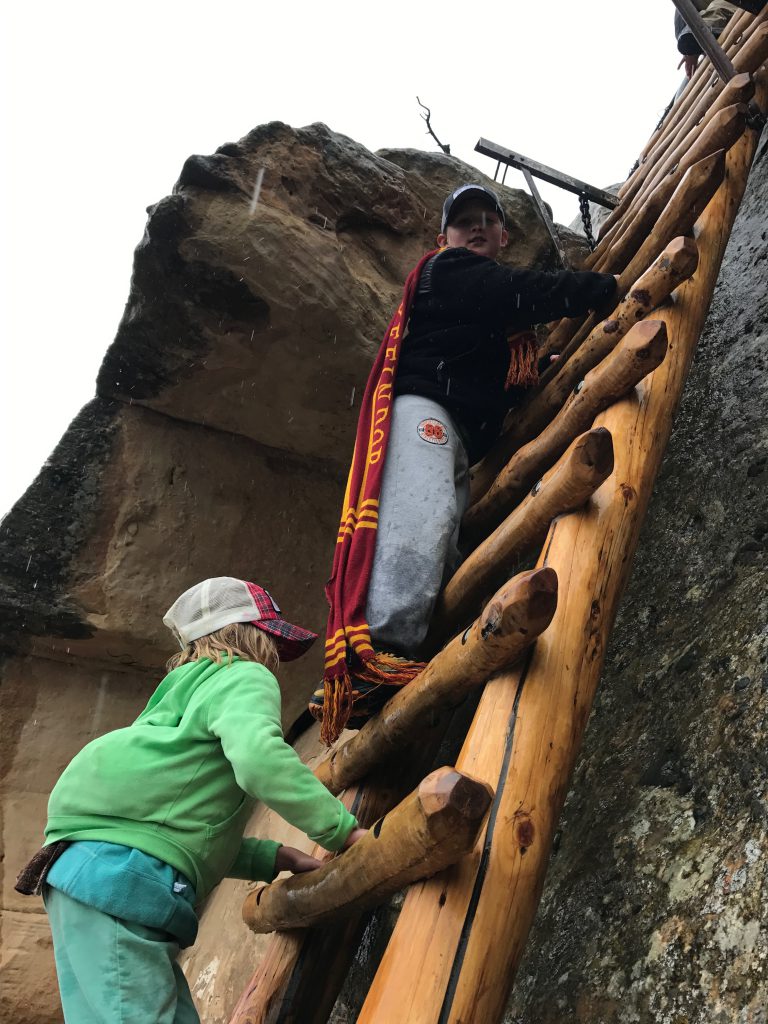 happy adventurer.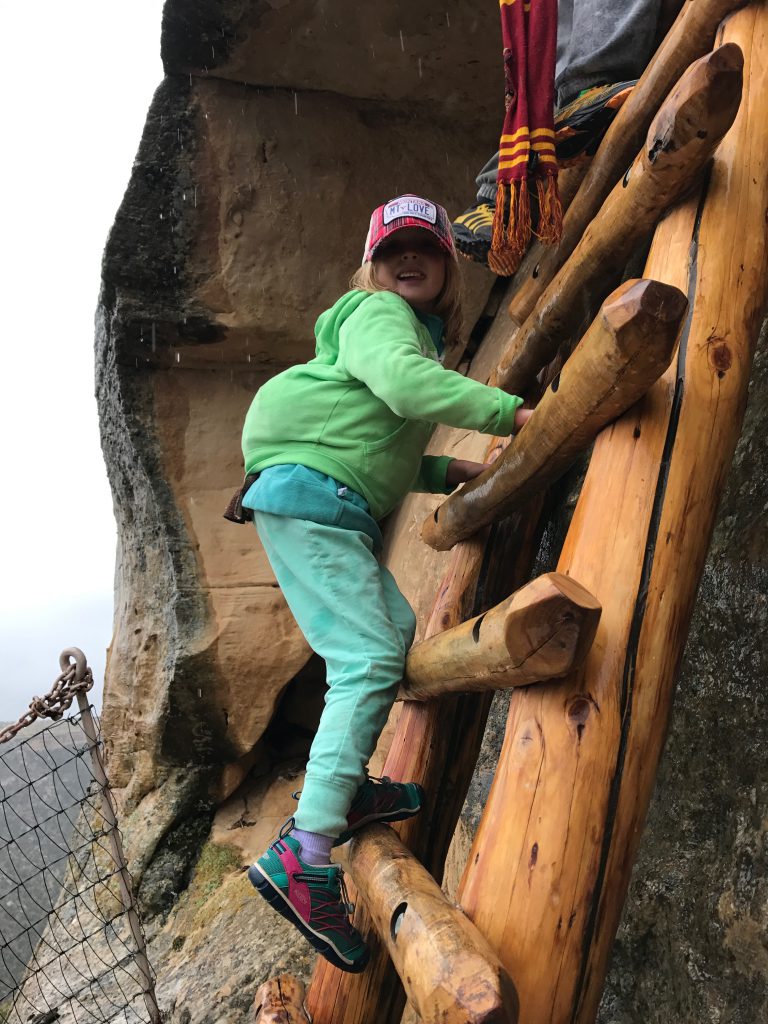 so, there are basically two sides of the park. and they are a good hour apart, maybe. and our hotel was in the middle. so we decided to finish exploring this side, even in the blah weather, because we weren't coming back the next day. so, our next stop was the museum. the warm, dry museum. we checked out a series of dioramas about life in the area through the centuries.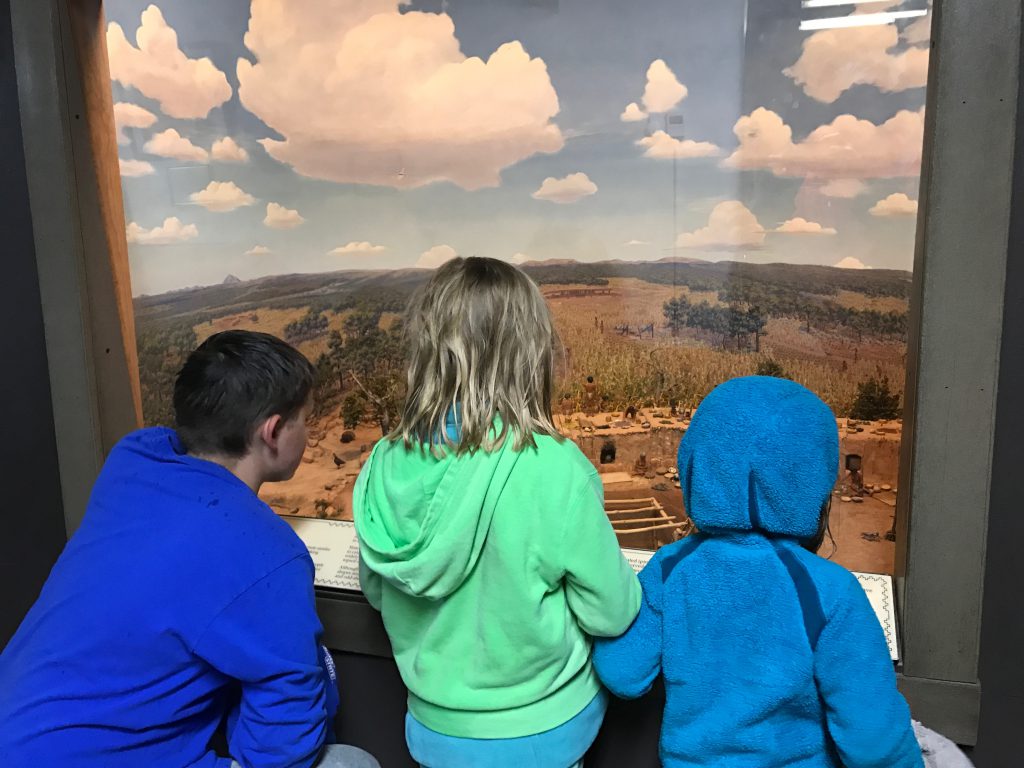 the kids love this sort of stuff. they were a bit baffled by the rampant nakedness, though.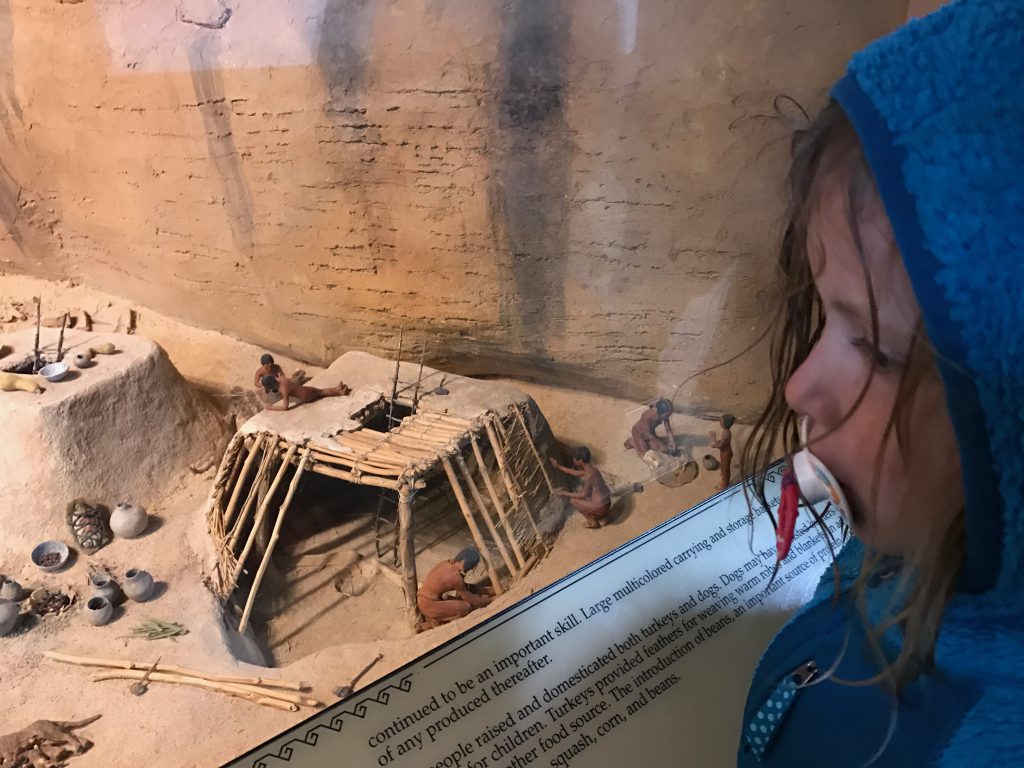 behind the museum is a quick stroll to an overlook where you can see the spruce house, which used to be open to unguided tours, but has been closed due to rocks falling. we weren't up for that stroll either way. we snapped some pics and got going.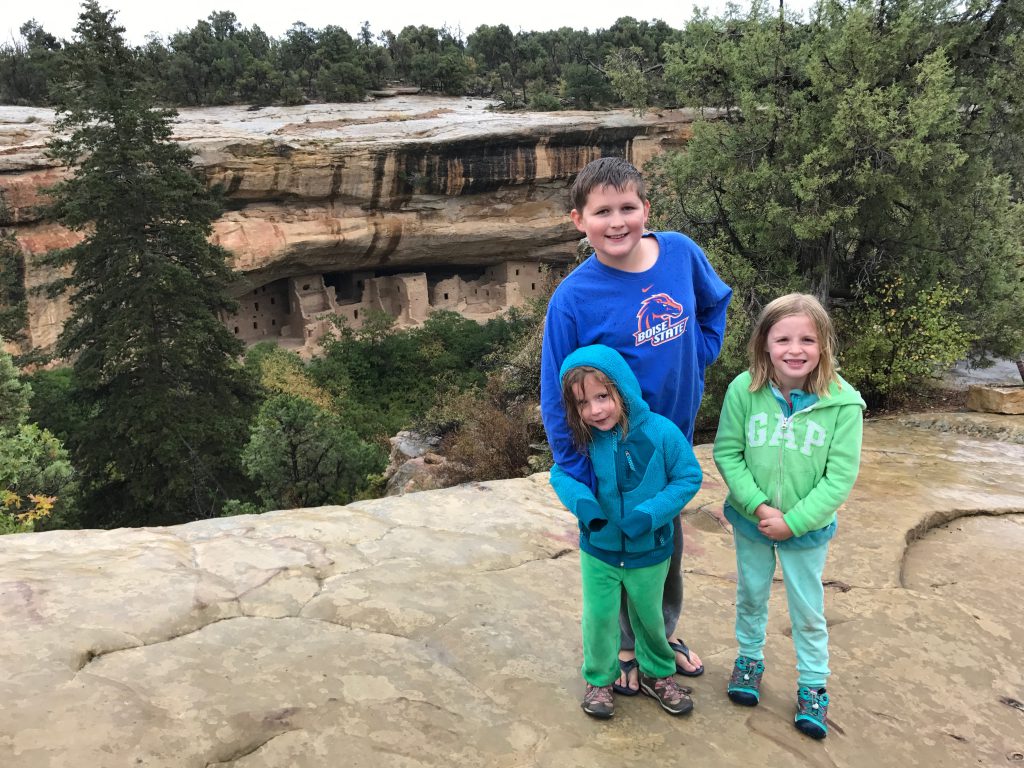 i even busted out the nicer camera to zoom in a bit.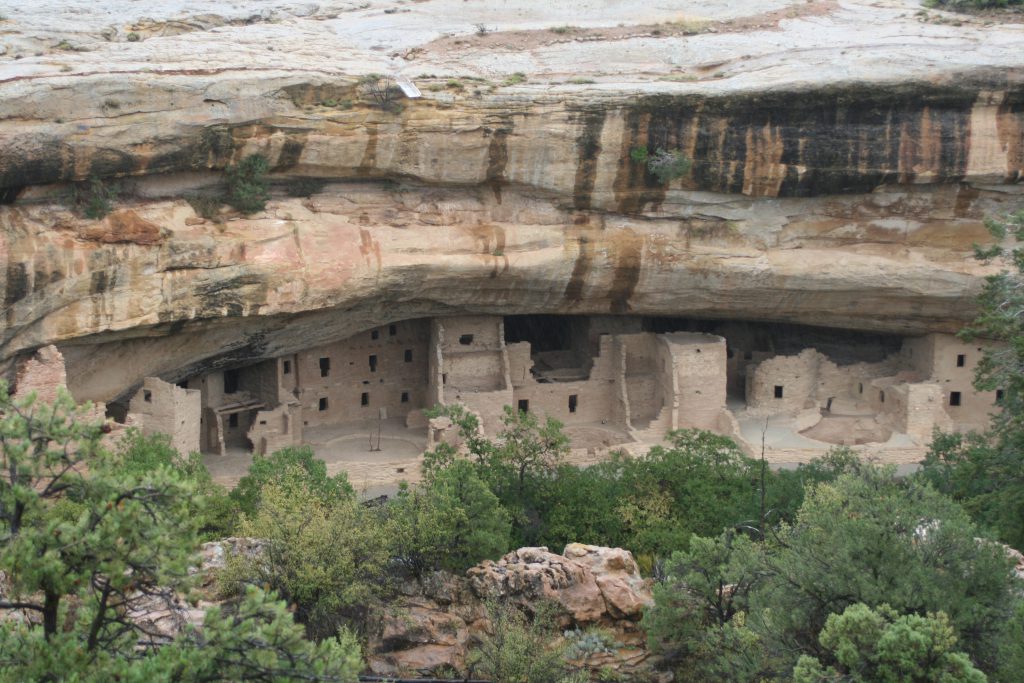 from there, we went back to our hotel, with dreams of tv and wifi. we rolled in, stripped off our wet clothes and hung them all over the room. i set up our shoes on the heater and cranked that sucker up (and then opened the doors to even out the room temp). the girls were quick to hop in the tub for a spacious and warm bath. but sadly, there was no tv. and the wifi was practically non-existent. (as was our cell signal).
we read a lot. and took a little trip over to the gift shop cafe area. oh. this is where i should tell you about the vouchers. we chose a package at the hotel that gave us $50 in vouchers to use at the gift shop or cafe of for a tour. but. not the national park tours (that we dropped $40 on), their lame bus tour. and not the national park book store. but their dumb crafty gift shop. and the cafe was waaaaay overpriced. AND. to make matters all worse, the vouchers were in $5, $10 and $20 increments. and you either used it all, or didn't get change. and since the checkout for the cafe, coffee/icecream shop, and the gift shop are all separate, there were several occasions for me to lose my change here and there. annoying. when were had bought a few little items here and there, i was down to my $20 voucher. i scoured the gift shop for any piece of junk i might actaully want. i finally gave up and the three kids got dreamcatchers and i grabbed a recycled tote bag. it came to $18 and change. and the lady made me buy more things to get OVER $20. i explained that the other two spots, they just kept the change. but she insisted i buy more dumb crap that i didn't want and spend my own money on it or she couldn't complete the transaction. i bought two stupid $1 tokens for the kids and then almost had to break a flippin' actual twenty dollar bill to pay, before a friendly customer behind me gave me 11 cents to escape the store without a massive outburst/breakdown. we left, with me muttering under my breath about the dumb voucher situation, and the kids happily examining their dream catchers. thanks for indulging (enduring?) my rant.
our night was uneventful. and everyone woke up at daybreak. ugh. thankfully, the weather had cleared up considerably. our clothes were dry. we got dressed and ready and headed back to the cafe to get some breakfast. (this is actually where and when the above story took place).
our tour for the long house was scheduled for 12:30, but we arrived about an hour and a half early so we could take a leisurely stroll down to the step house, which was about a mile round trip, with a pass through yet another cliff dwelling.

short, dry ladders. much better.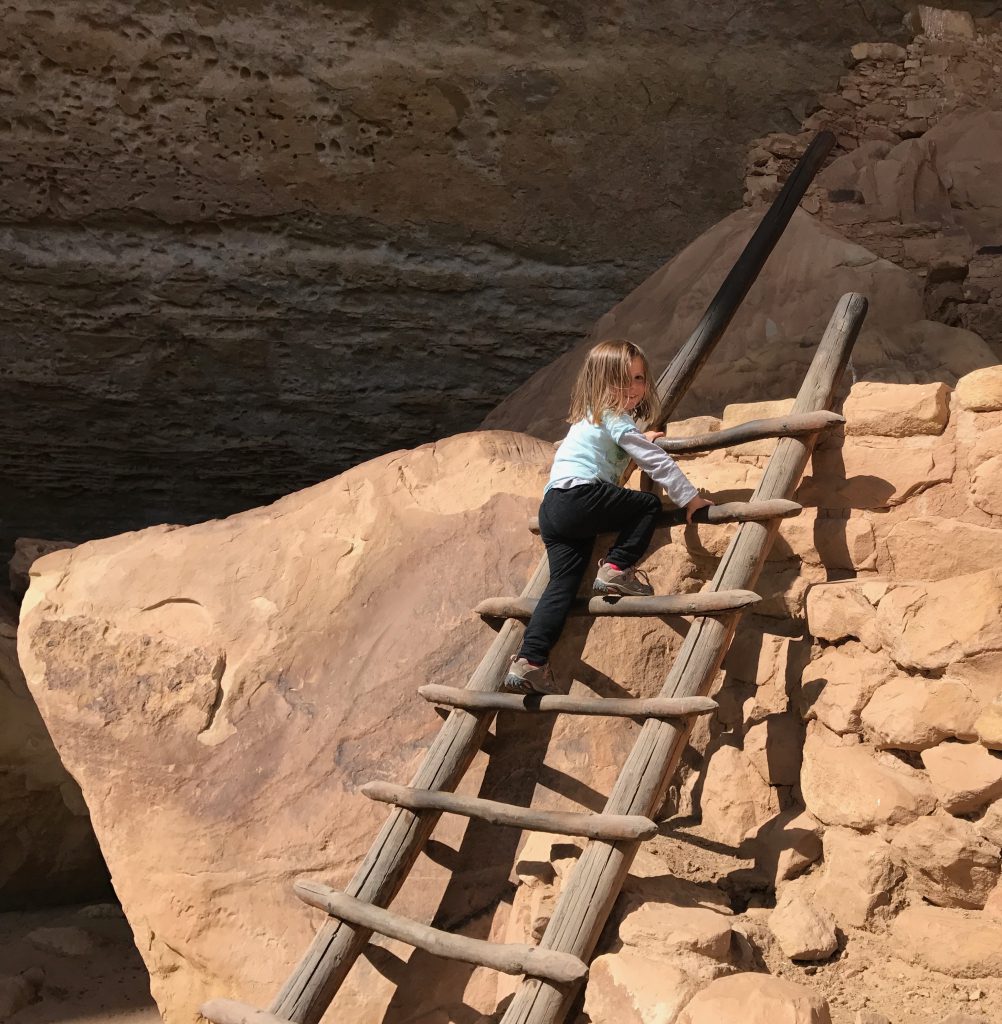 another kiva.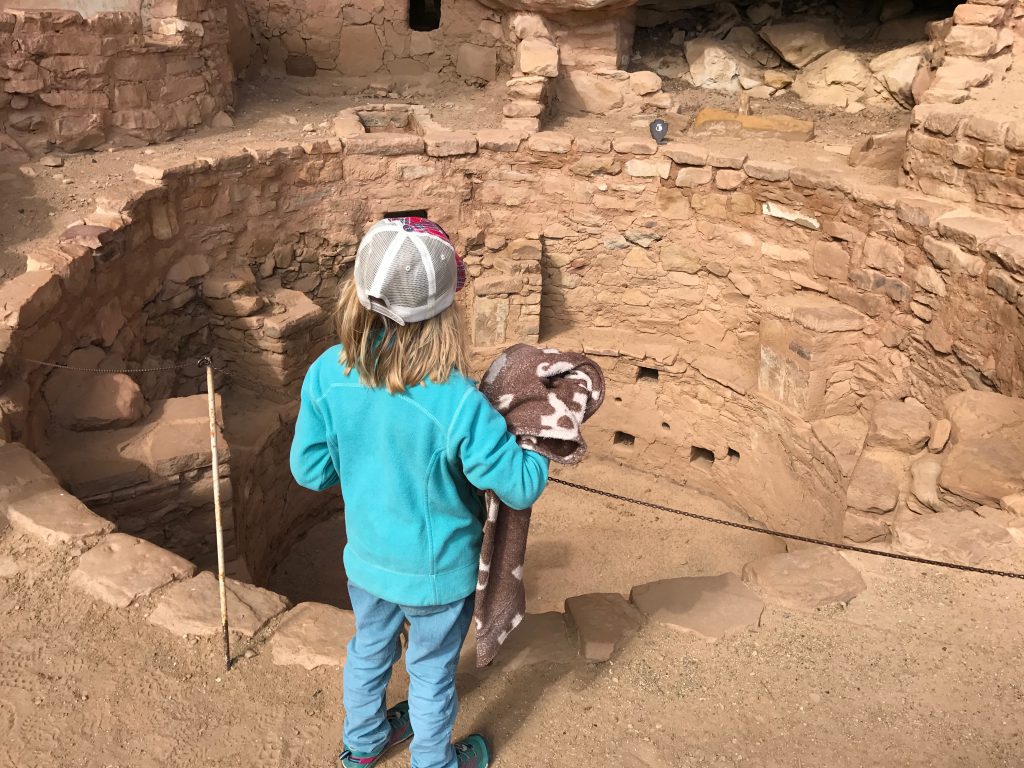 lidkid photo shoot with the step house.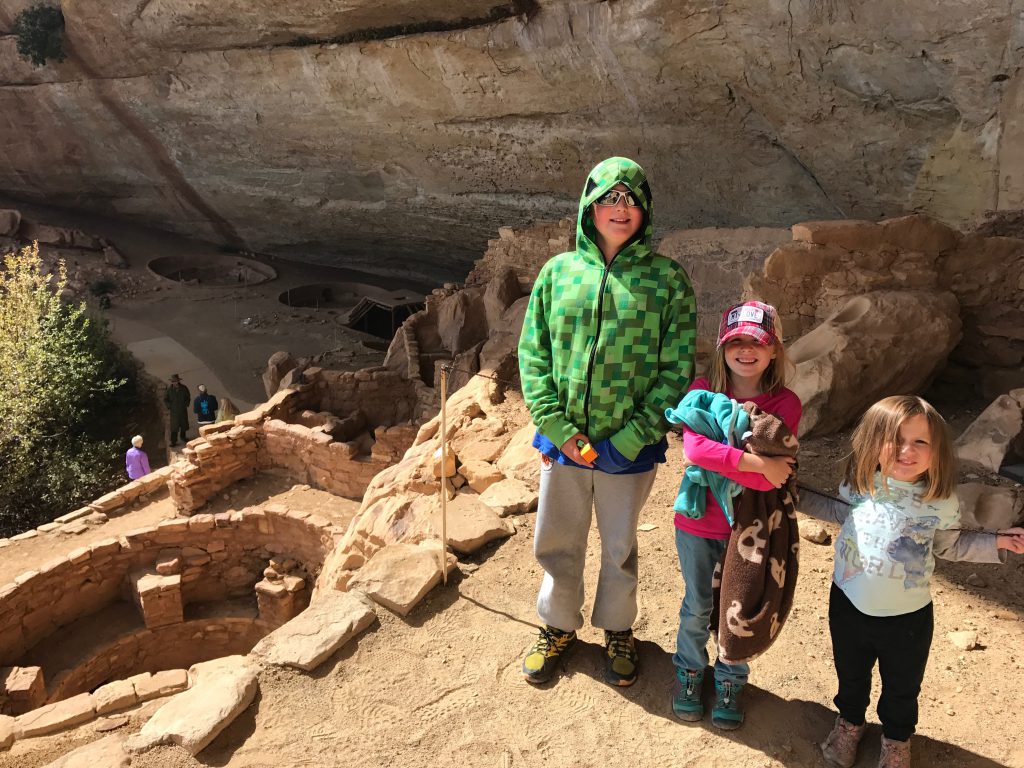 when we got back to the parking lot, we stopped by the car to have some lunch, hit the bathrooms and filled up our water bottles. as we strolled over to meet our felling tourists, we realized they were all huddled around looking at something. when we got there, we were informed that the something was a tarantula. an actual tarantula. we are told it was a boy, because females don't leave home. it's hard to make out, but here's our new wildlife friend…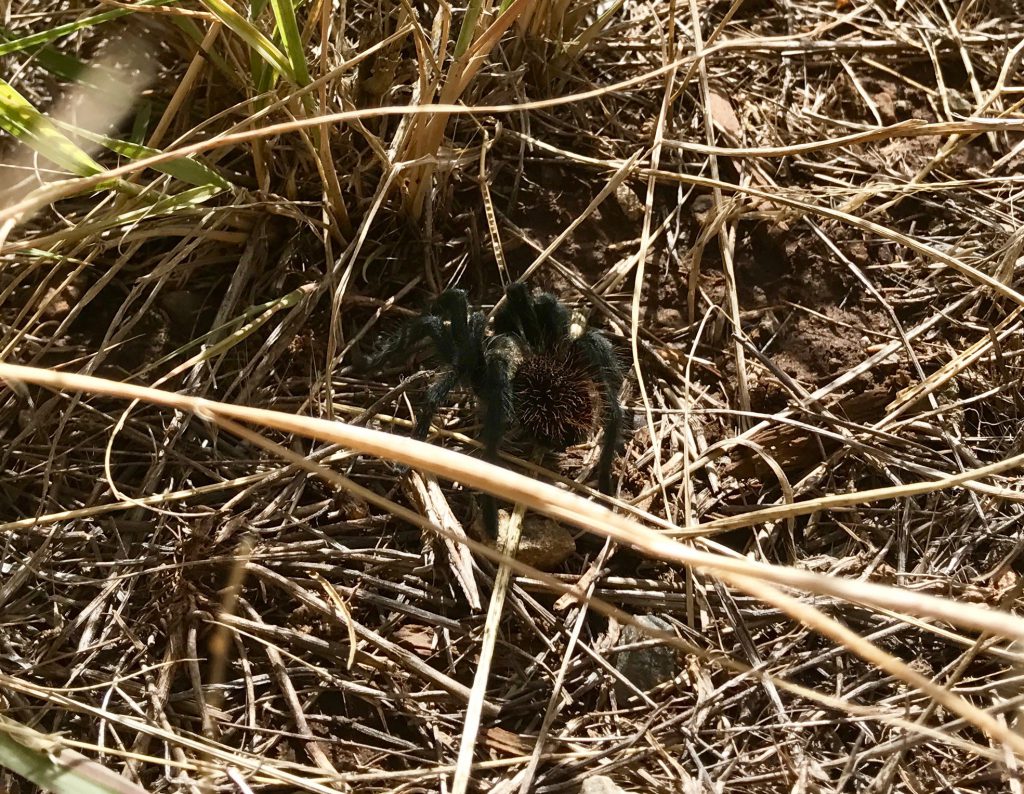 the hike to the long house was about a mile in on a boring road. we chatted with new friends and trudged along. we finally reached the trail in, and descended about 130 feet on switchbacks. so far so good. then we got our first view of the HUGE cliff dwelling.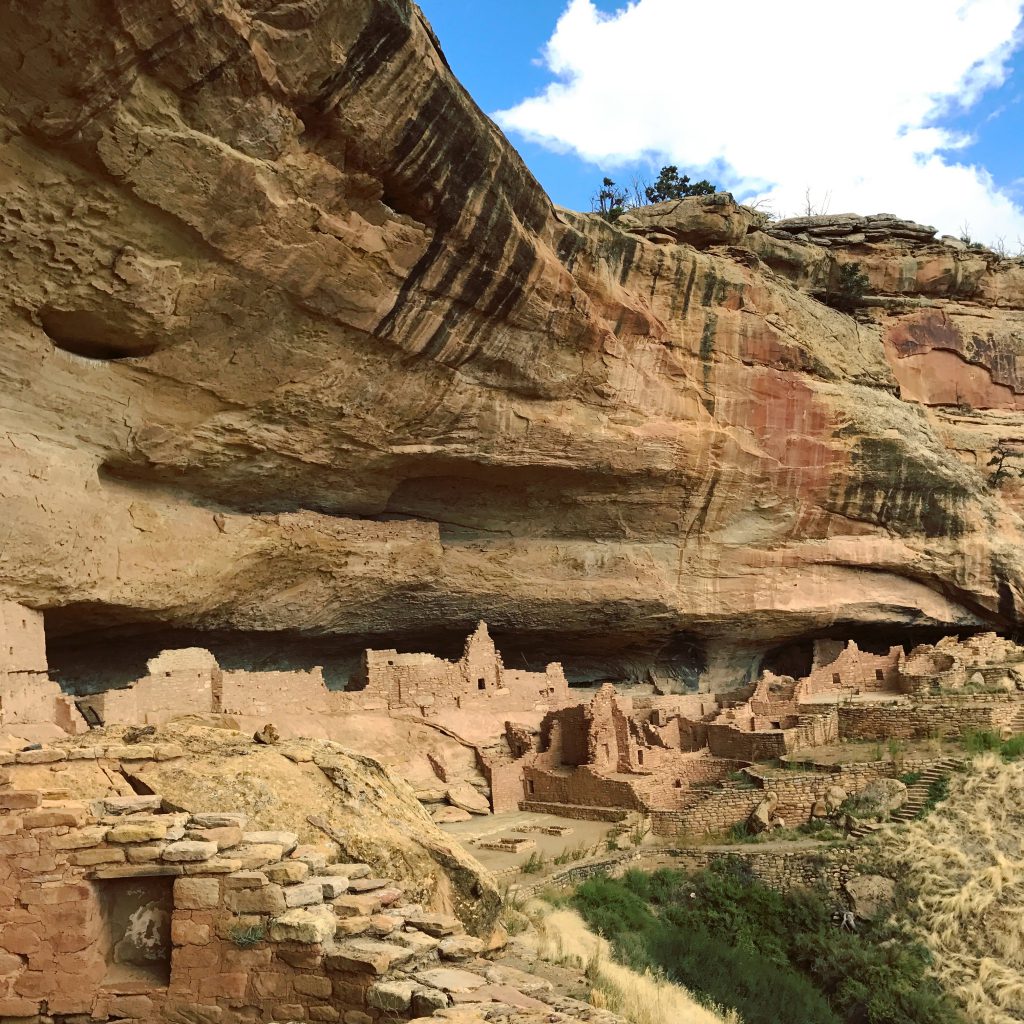 wait. that last pic is a little deceptive. this was what it really looked like from our view. i had to fight my way into the front to get the previous shot.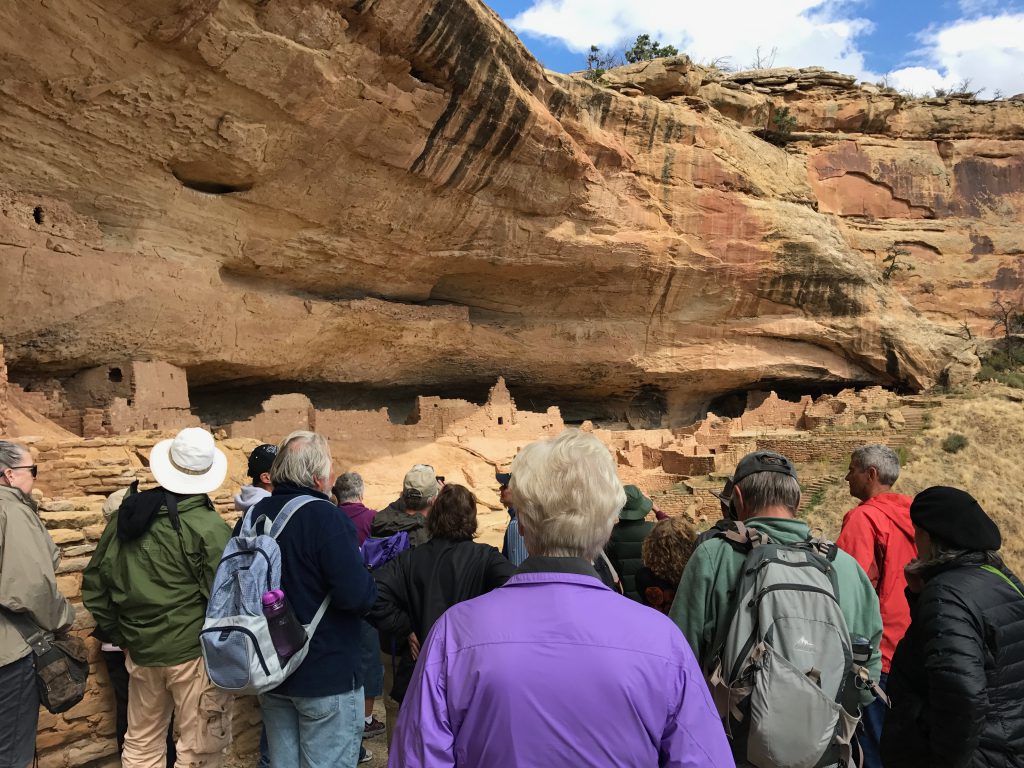 then, we filed in.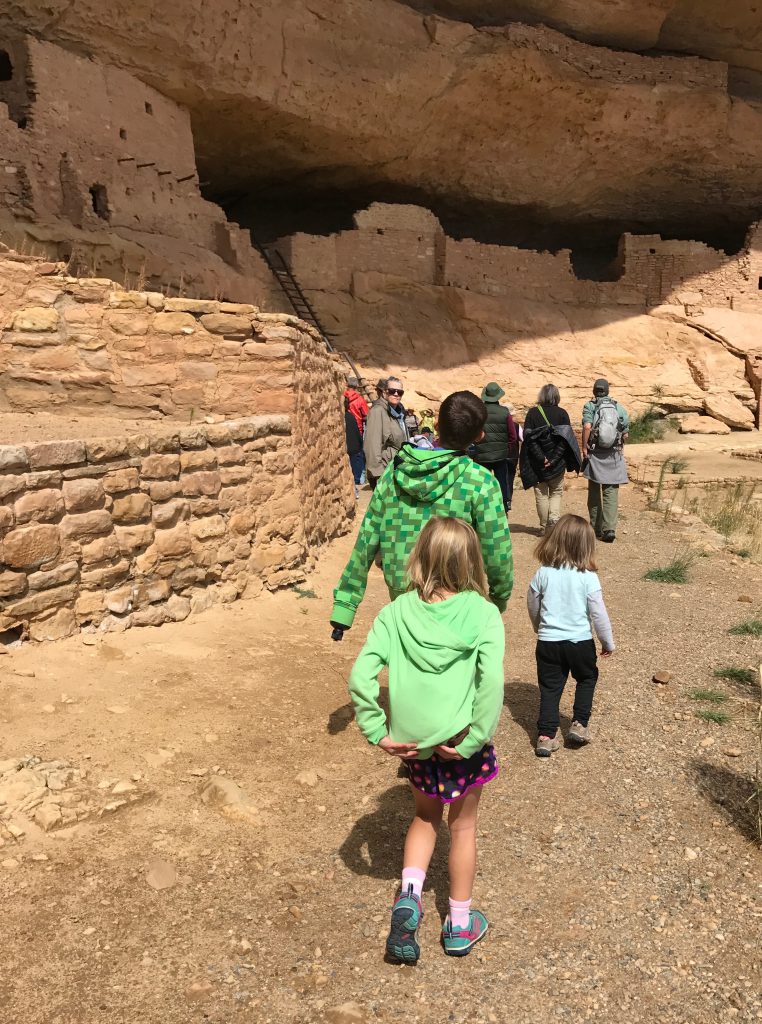 a closer view of all the stones and mortar.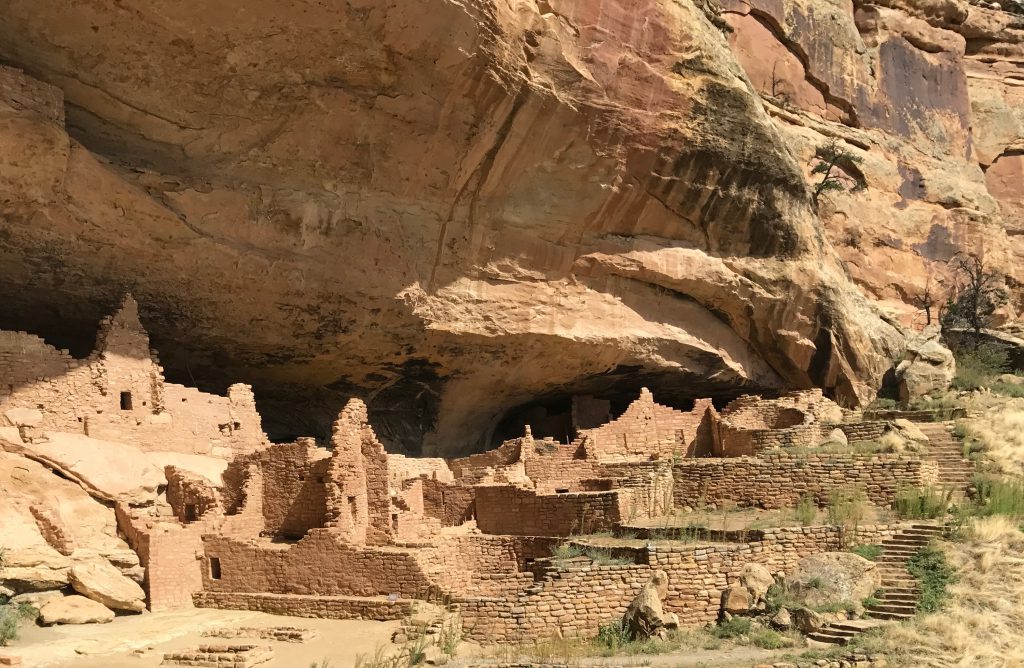 up another ladder. the lidkids are ladder climbing experts now.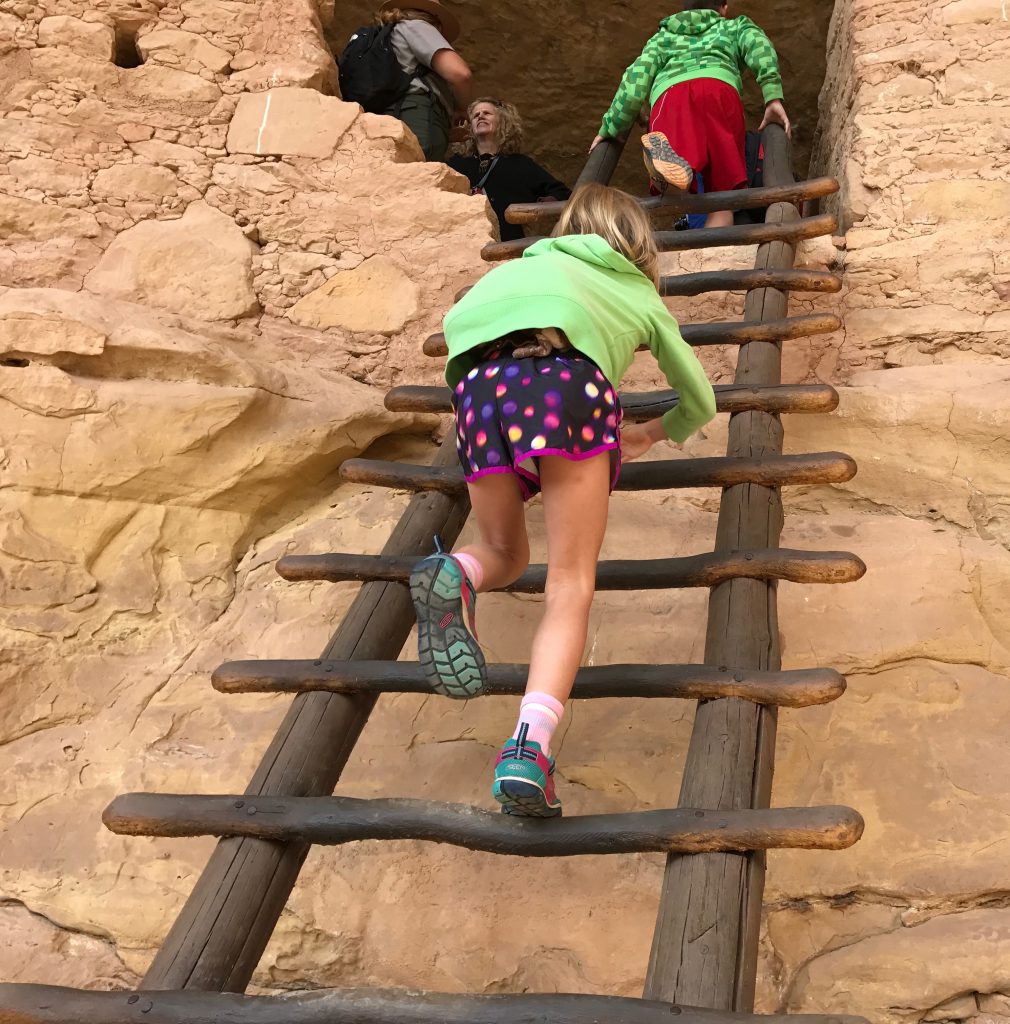 once inside, our ranger began giving us a long and detailed history about the life and times of the standard cliff dweller. she knew a LOT. the kids did great. it got a little boring at times. but they didn't climb on stuff they weren't supposed to or talk loud or run rampant.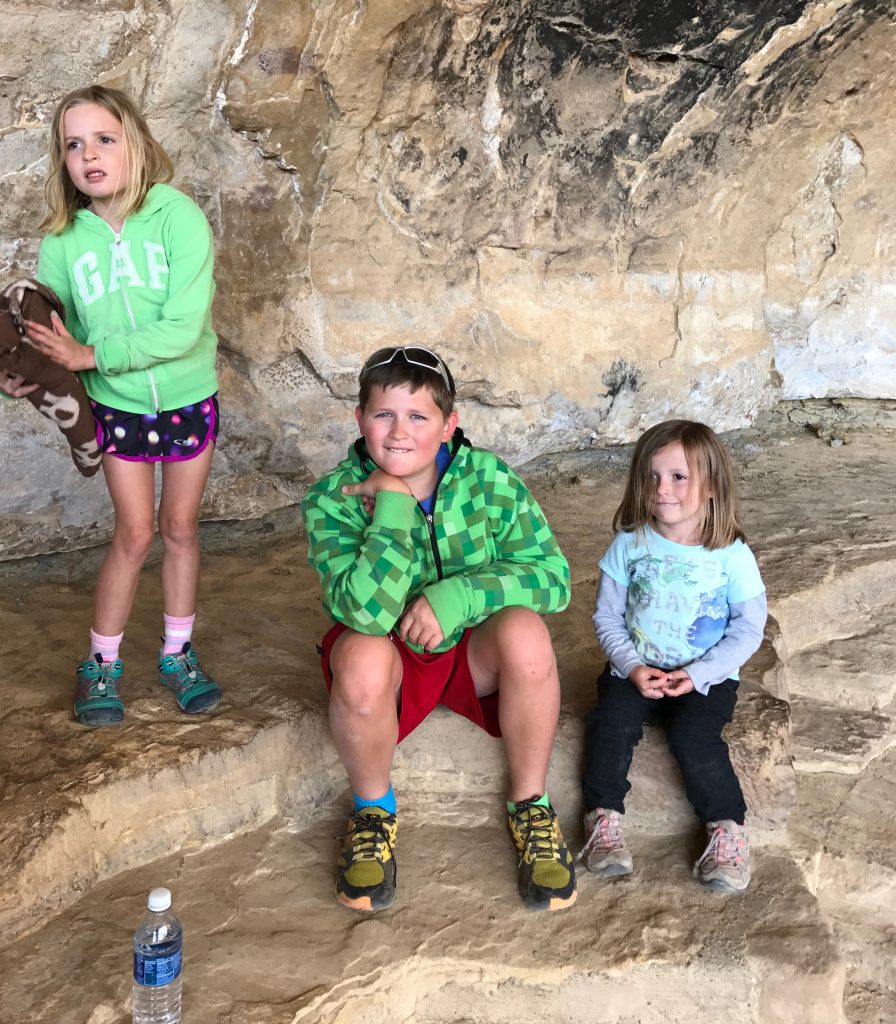 a friendly fellow cliff dwelling tourist took a family pic for us.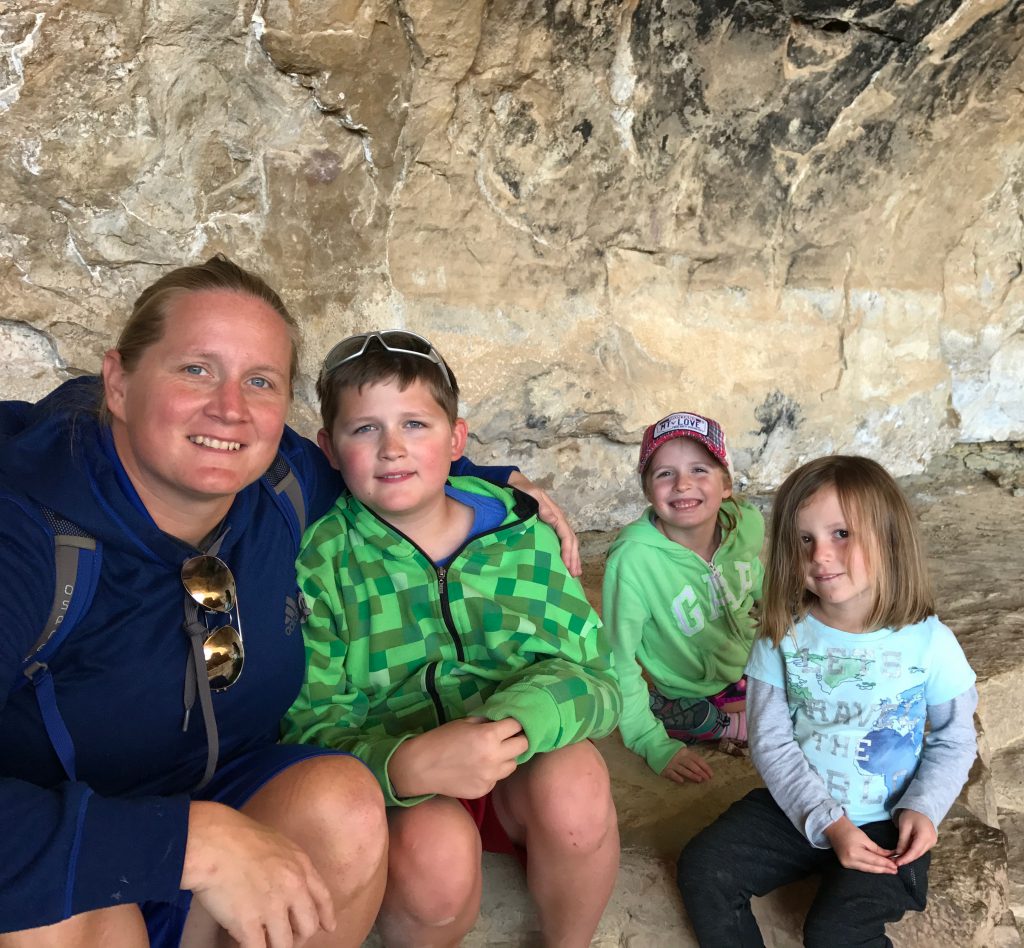 peeking inside an enclosed kiva.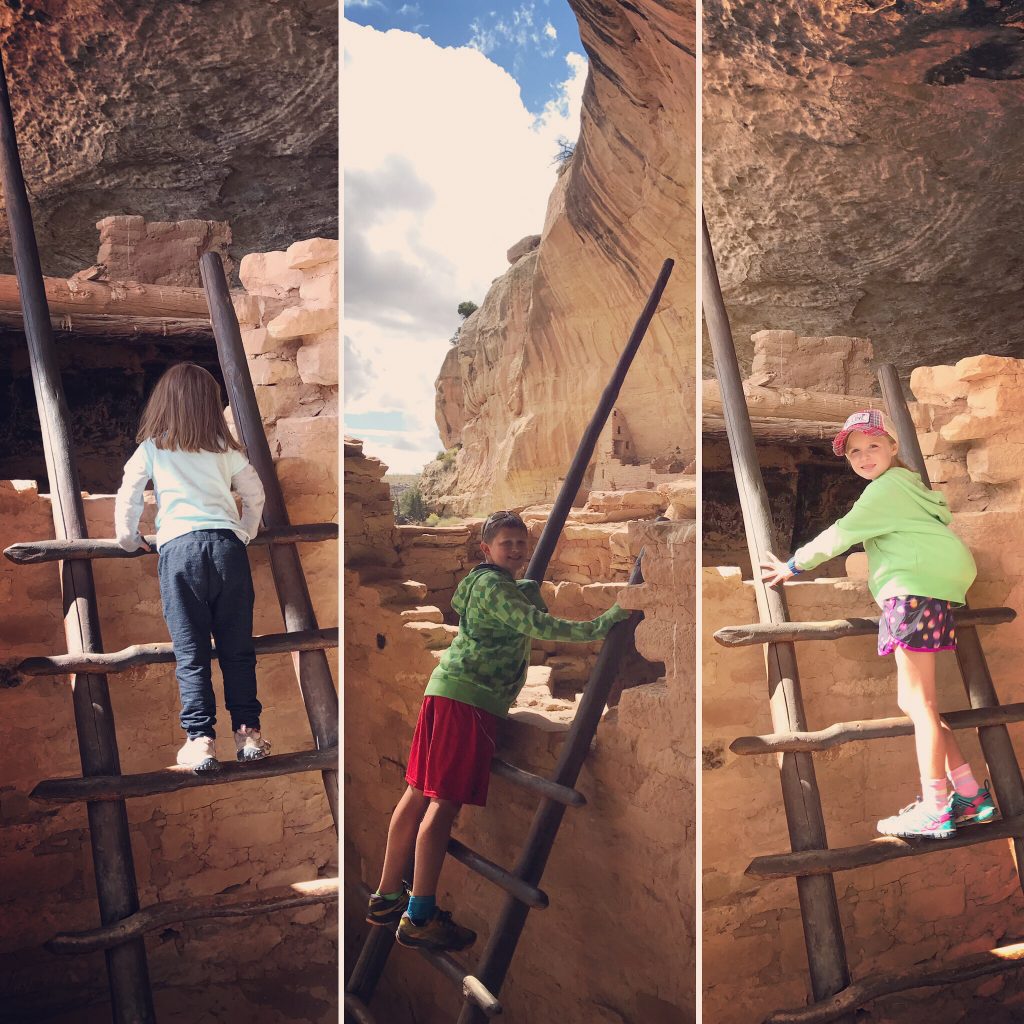 our view from inside the dwelling, overlooking the canyon.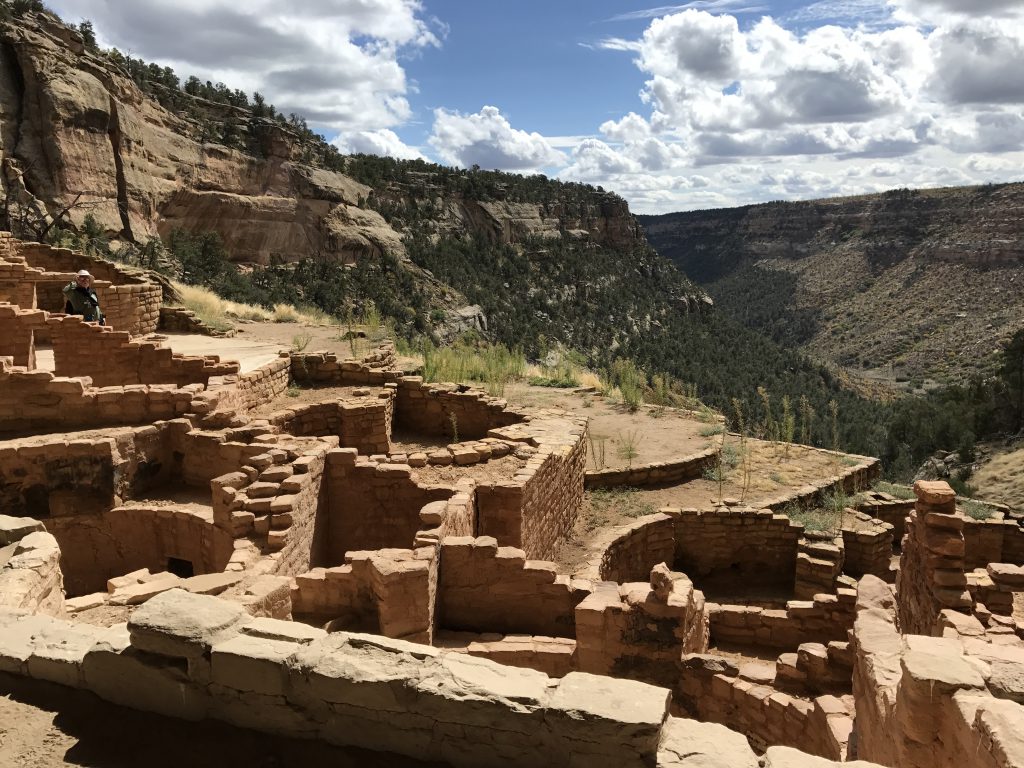 a look backward at the whole long house. plus some stray tourists. who were clearly asked to stick with the group, but are obviously too cool to follow instructions. i wouldn't have even cared as much if they were also tattlers from early in the hike when someone leaned on a wall that we weren't supposed to. people are dumb.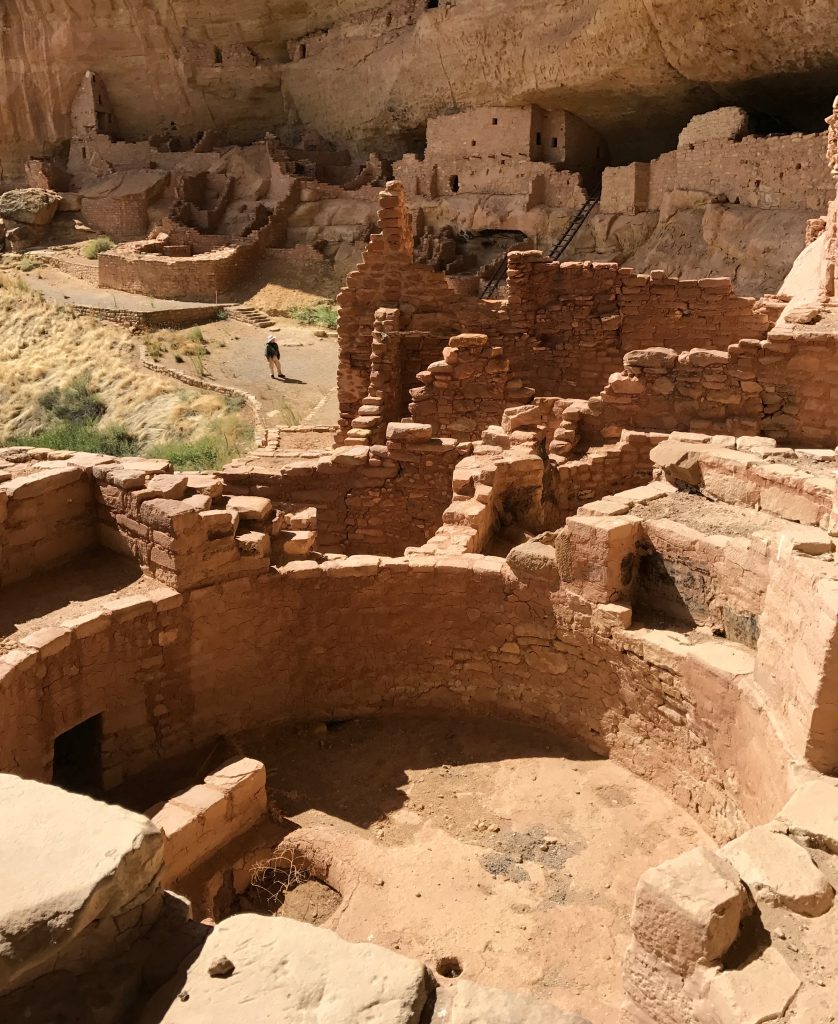 one more for the road.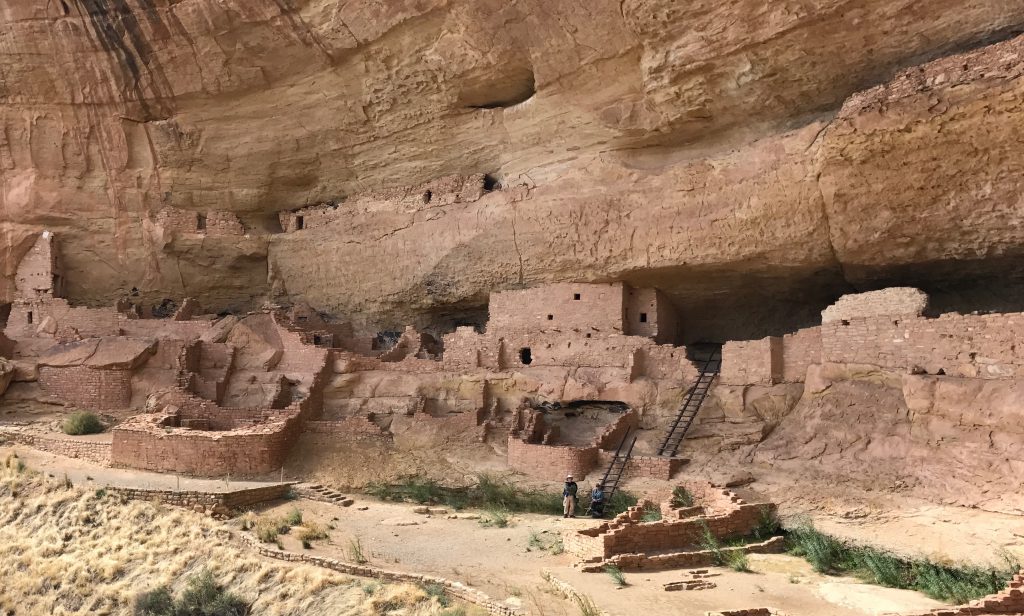 we wrapped things up and headed back to the start. but first, i made the kids take a pic with an almost empty long house.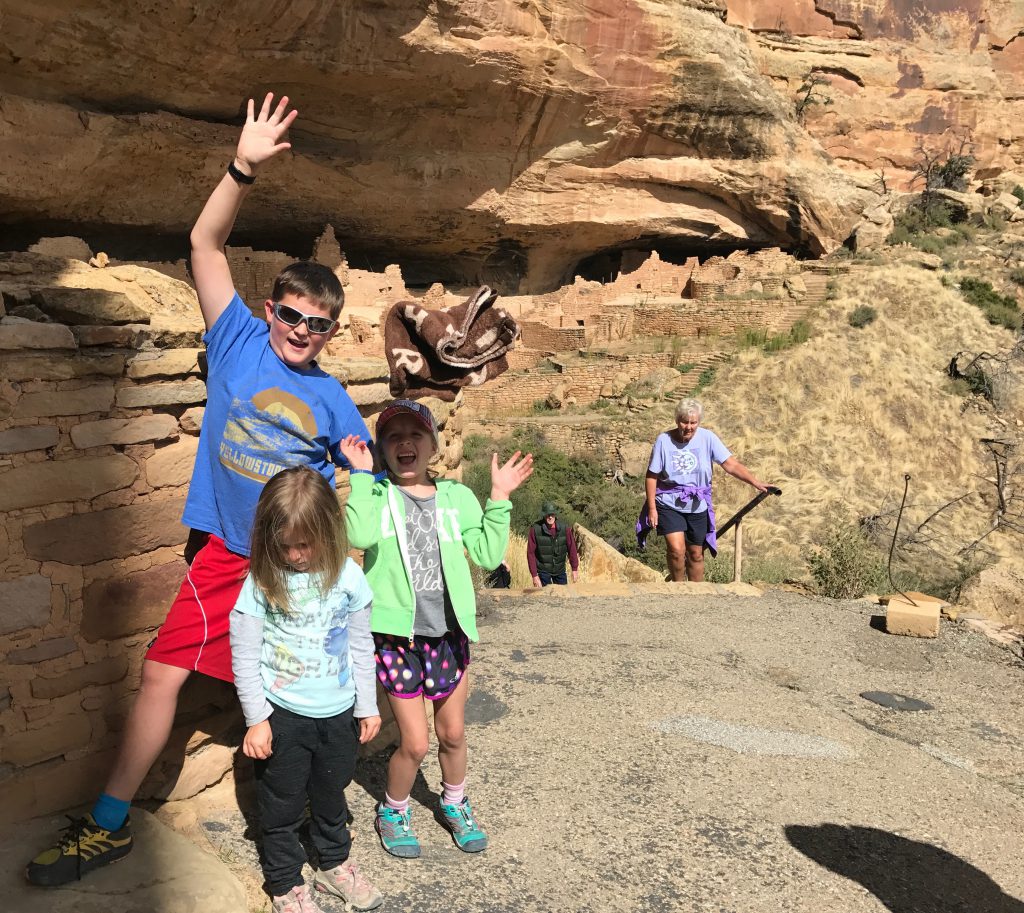 we made the long drive back out of the park, much more beautiful in the sunshine. we arrived at the visitor center, where we paused to take a photo of this cool sculpture.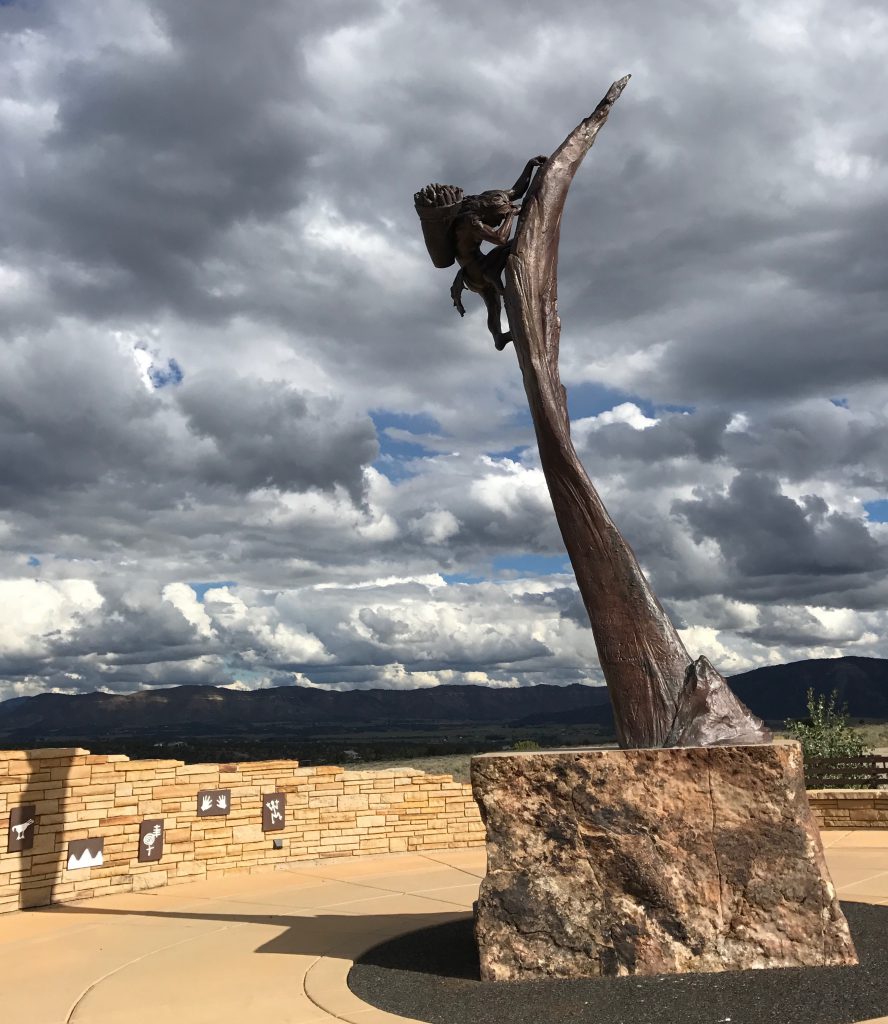 inside, we concluded our business by getting junior ranger badges and picking up our souvenir stickers, patches and postcards.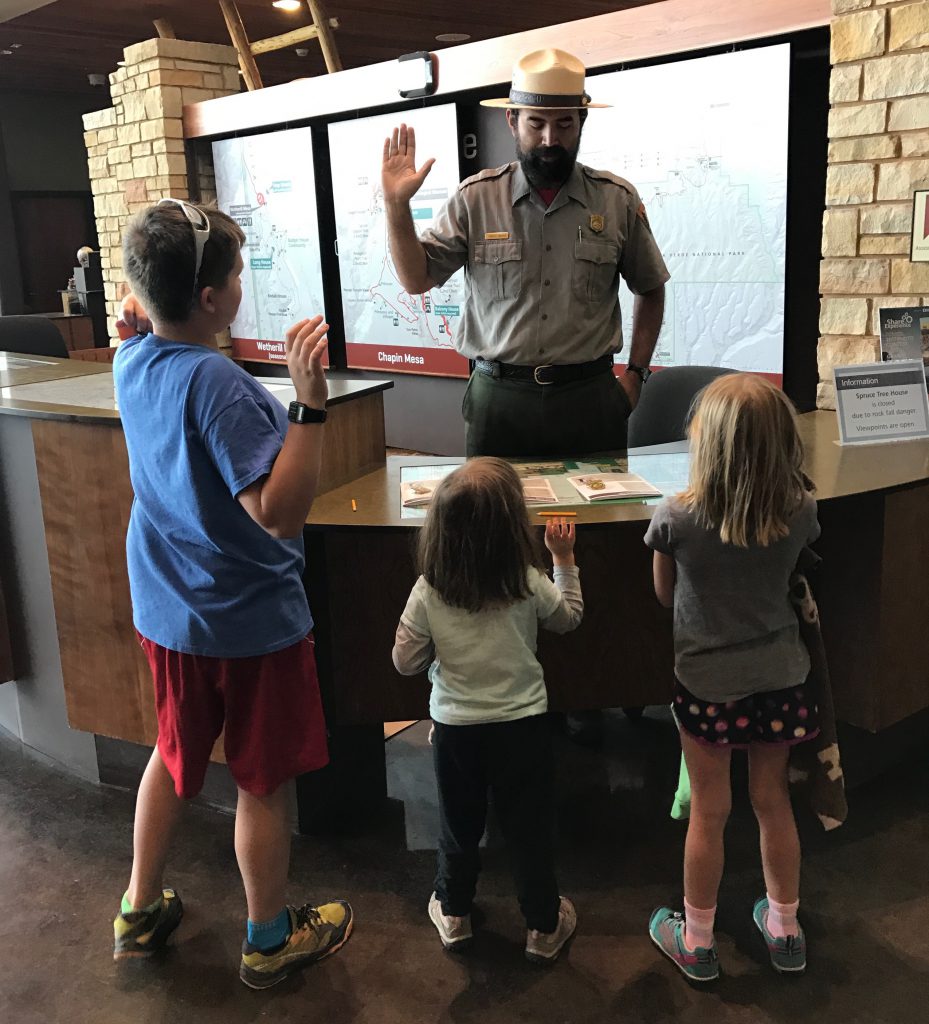 then, the long drive back to utah, and mesa verde was in the books.