after a good night's sleep, we wasted no time getting out and adventuring on our first day in acadia. we drove to the jordan pond house parking lot and then hopped on a shuttle to take us to the bubbles trailhead. this way, we could do a longer hike and see more and not have to loop back to our starting point.
not a fan of the shuttle. she actually had to be carried onto the bus.

some bright red leaves sighting.
the hike to the top wasn't very long and before we knew it, we were taking in beautiful views of jordan pond from the top of the bubbles. we stopped for a bit and took all the pictures and ate snacks and explored around a bit.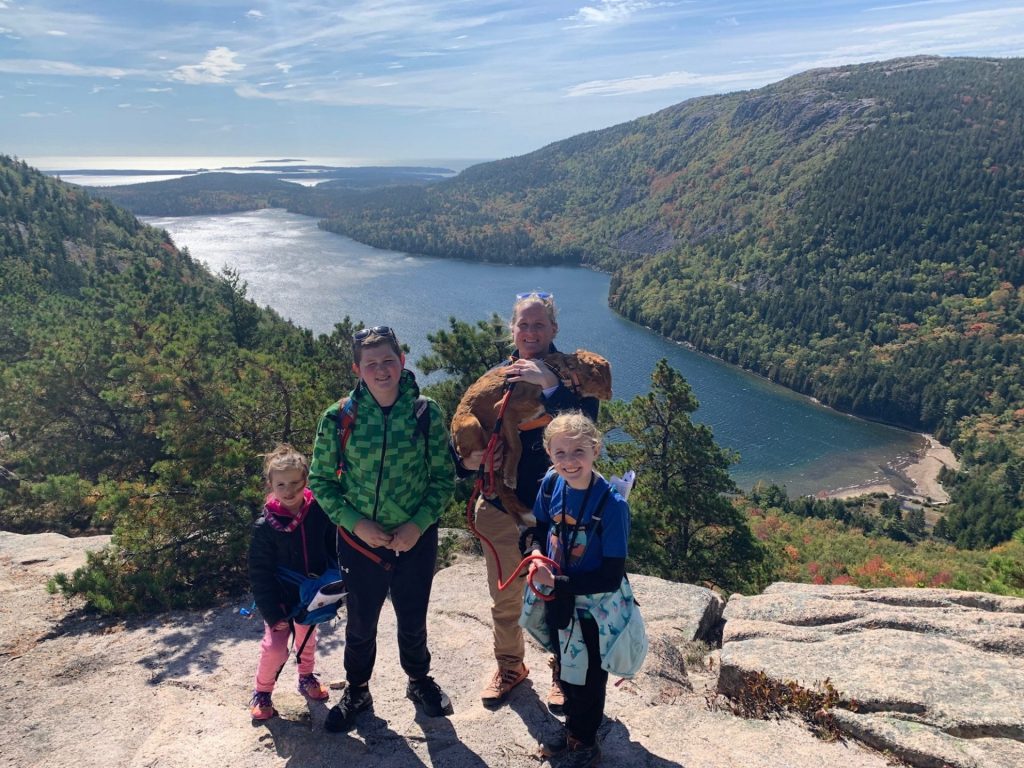 then we were off to the other bubble, where there's a rock which appears to be precariously balanced on the edge of a hill, deposited by glaciers a super long time ago.
dance-hike.

ruby the mountain goat dog.
we quickly arrived at the giant rock about to obliterate the valley below, where we obviously had to take all of the standard pictures pretending to push it over the edge.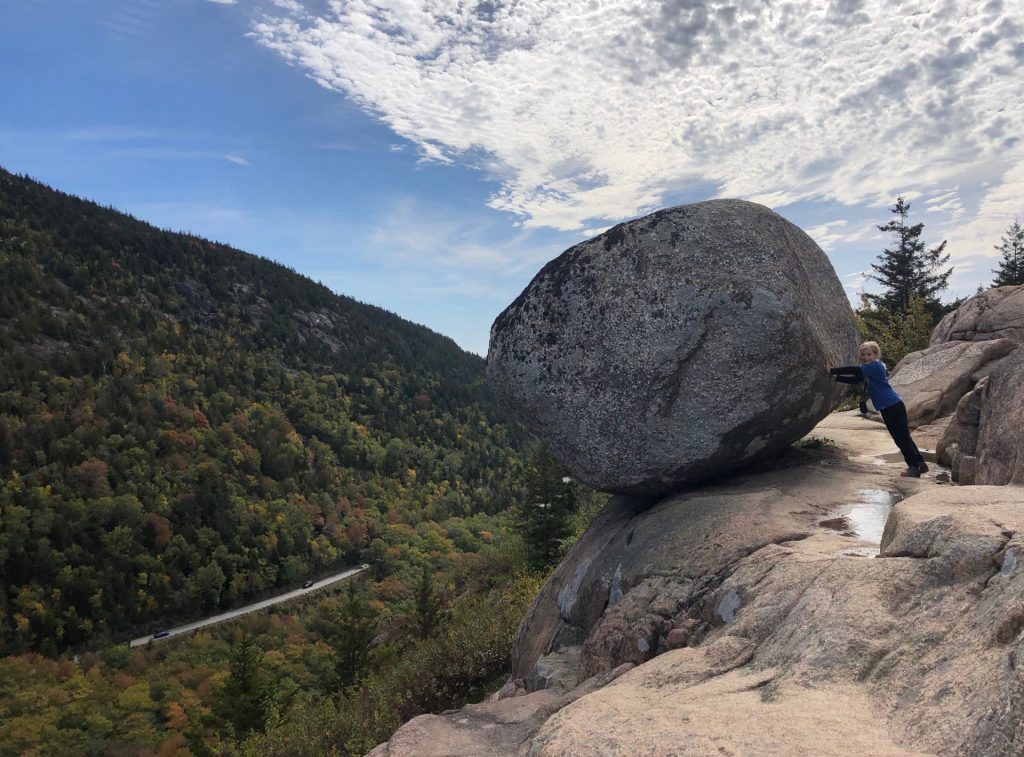 we took in the views for a bit, took some more pics, chatted with other hikers, tried to snuggle a very adventurous and curious pup, ate some more snacks, etc.
then we managed to find the most treacherous path down to jordan pond possible. it was super steep. and rocky. like crumbly slippy rocks. and ruby isn't the most considerate hiker and tends to pull hard on her leash.
and, so when i was on ruby duty, i fell. hard. i rolled an ankle and then sort of stumbled as i tried to catch myself. and fell head first down the very hard granite rocks. fortunately, i got my arms up to protect my face from slamming into a rock. i had minor scrapes and bruises on my arms. but a gaping puncture wound on my shin. with a lot of bleeding. on my brand new ll bean pants!
bloody.

very photogenic.
anyhoooo. i got it bandaged up and we were able to continue on our way, thankful that it wasn't worse. we arrived at the end of jordan pond and had to decide which way to walk around it to get back to the lodge. one side, boring and easy. the other, fun and a little more tricky. we chose tricky. which meant we got to cross this fun little bridge.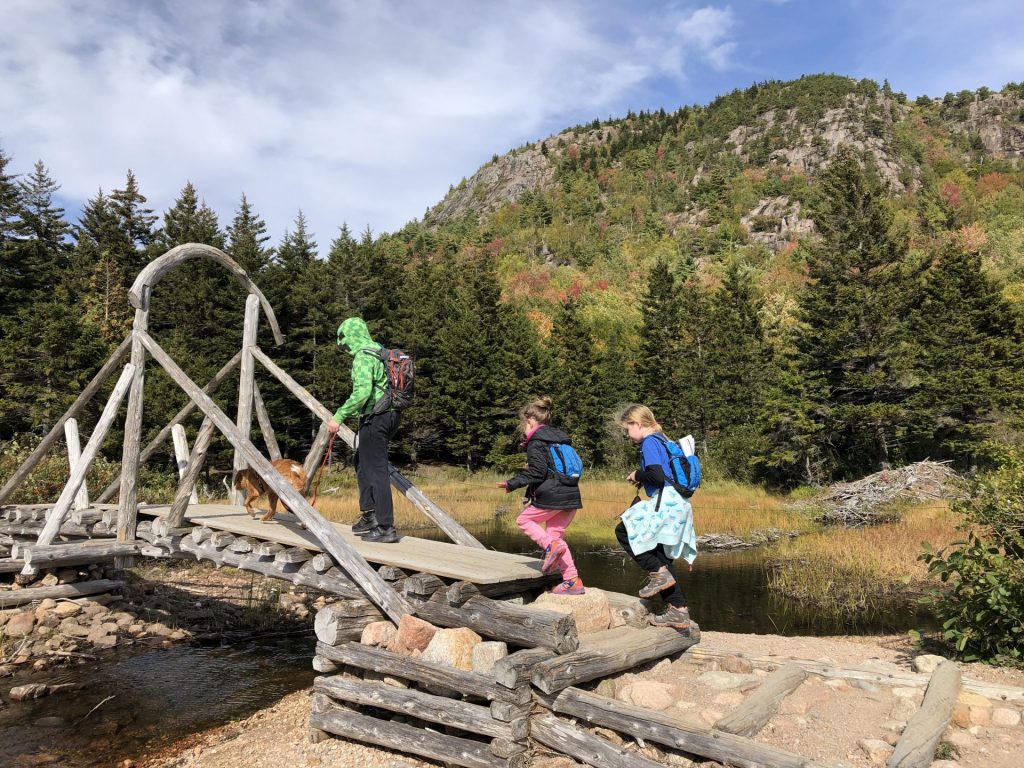 some friendly fellow hikers offered to take our family pic.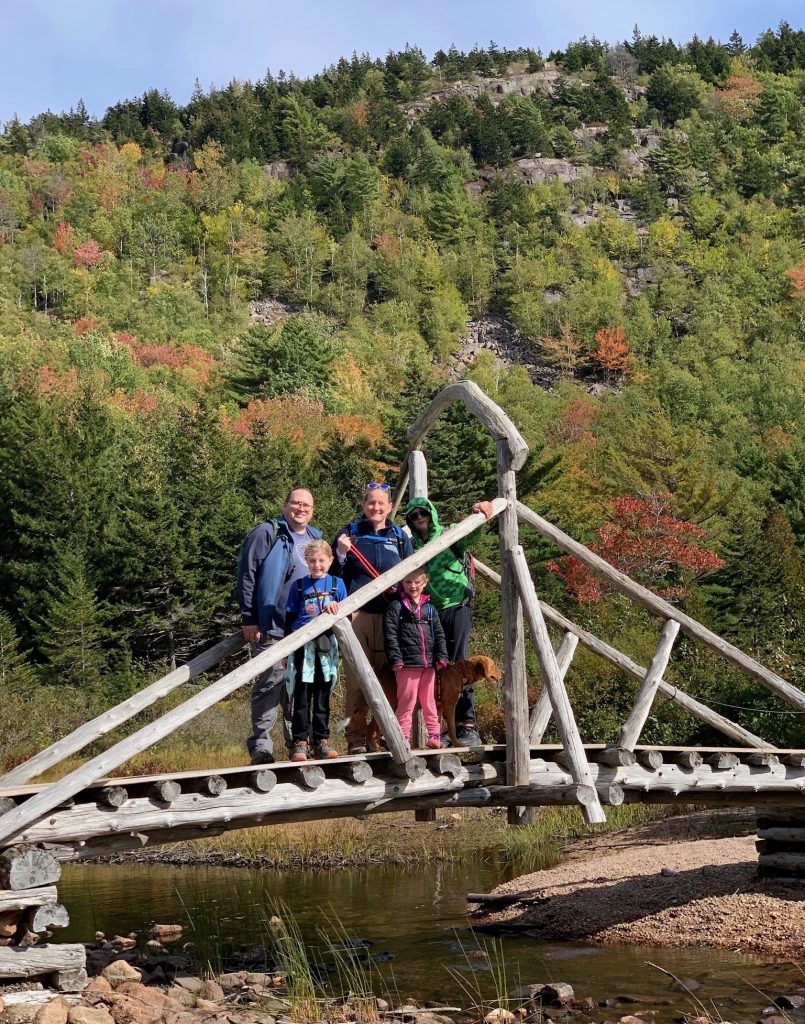 the tricky way has a lot of rock scrambling which is pretty much a lidkid fave. and ruby's favorite as well. 🙂
then there's a long boardwalk, this time with a little detour into the woods for some boardwalk repair, and i apparently didn't take pics of that, probably because everyone was sort of over it and we were just trying to make good time back to the jordan pond house.
we made it! and stopped to take some photos at this end of jordan pond, similar to some we took three years ago in the same place. you can see the two bubbles we had just descended from in the background.
while derek and the kids checked out the gift shop, i sat with ruby outside. she's pathetic, really.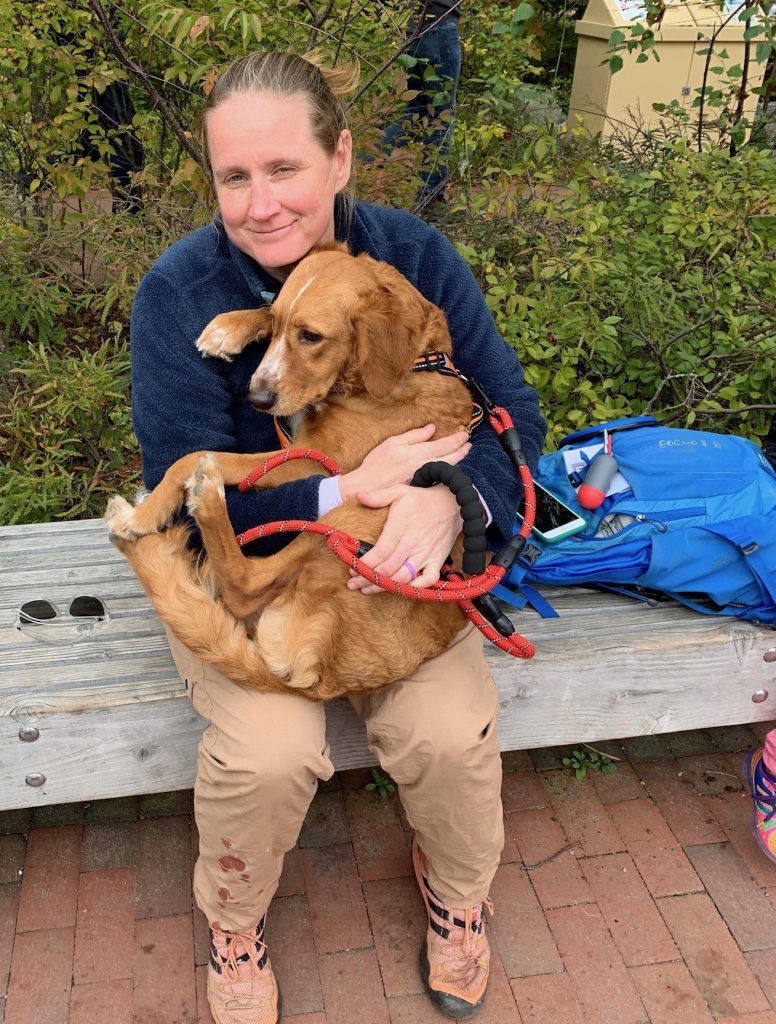 even though everyone was tired and sort of grumpy, we were trying to squeeze as much into this little trip as possible, so we loaded up and made our way to a different part of the island, to check out the bass harbor lighthouse. we stopped at some random general store on the way for snacks and treats to help brighten the spirits of the less enthusiastic tourists.
when we visited the lighthouse on our last trip, i didn't know about the little trail down to the water that gave a better view. all we had was a weird pic from behind a fence and a super up close shot. this time, we were prepared. more scrambling, out to the furthest spot possible, for the best pictures we could get. along with several other aspiring photographers and influencers.
finally. we were ready to call it a day. everyone was exhausted. especially this pupper, who loves hiking and adventuring. we tucked in for a good nights rest before another day of exploring.