well. here i go again. attempting to catch up my blog from MONTHS ago. it's a few days after christmas and i have to go all the way back to the beginning of october to begin. and the worst part? we have done a LOT of stuff, so it looks like i will need about 20 separate posts to be all caught up. so, i will stop talking about it and get to it….
first up. at the beginning of october, we took a two week trip to the outer banks of north carolina. i had never been there, so i was pretty excited to check it out. we stayed at the oregon inlet national park campground on hatteras island, which was lovely and quite and not touristy at all. plus, it offered a short stroll to the beach. a short stroll through some pretty big sand dunes, that is. a stroll we made numerous times, and it was always lovely to see the ocean peaking through as we crested the last dune…
the kids had a blast at the beach. most days, we had a long stretch of beach all to ourselves, so we could spread out, let go of ruby's leash and go bananas. the water was cold (and the air temperature as well), but that rarely stops the kids (or dog) from going into the ocean.
the six year old loves the beach the most. and she stays the closest to me, so i get the best and most photos of her.
the two bigger kids can often be found just a bit further out, letting the waves crash over them, or hurling themselves into the waves. hazel will be out there with them soon enough.
the girls had some occasional sister time…
isaac often tries to tell me that he hates the beach. but i think some of these photos prove otherwise…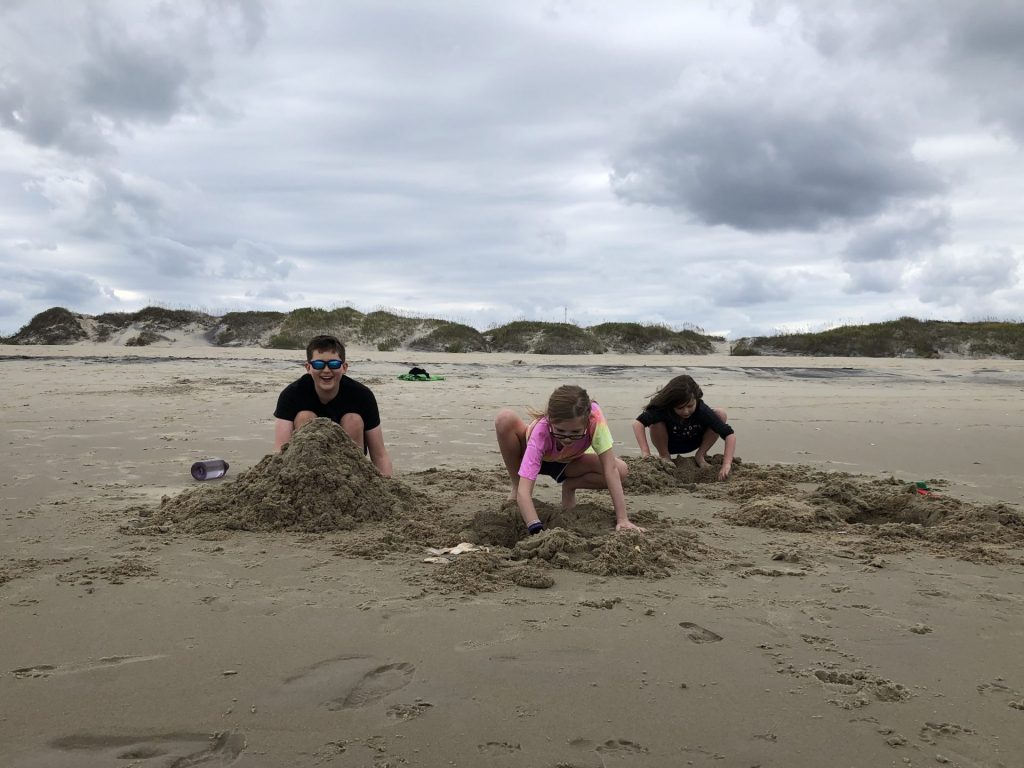 the girls did some sunset yoga and and ballerina poses, so they can be future instagram influencers.
the girls are more into the sand than the boy. so there were many castles, sand bridges, creature abducting, drip castles, and you know, covering oneself in the black sand, found in a thin layer, just below the surface of the drier sand further back from the water. lovely.
we created a pretty amazing castle towards the end of our trip. it even had a very quickly draining moat. we were quite proud of it, but we had to keep a vigilant watch, because a fearsome dragon dog was awaiting her opportunity to trounce it. destroying sand creations is one of ruby's favorite beach activities (along with chasing birds a LONG way down the beach, swimming out to rescue the kids, barking at other dogs incessantly, and digging holes in the sand, spraying everyone in a 15 foot radius).
speaking of ruby. it is safe to say that she had the best two weeks of her life. everytime we would walk out with her, as we got to the last dune, she would start to go bananas, and if we got to the beach and there were no people, we would let go of her leash and she would run completely wild, circling in the sand, pouncing around like a puppy, tearing off into the water, digging up dead sea life, and chasing off all the birds. she eventually started getting a little disobedient and running off a bit further than we felt comfortable with, so towards the end of the trip, she had to spend more time than she was happy about on a tie out.
i mean. look at this happy dog.
apparently some people like to fish at the beach. derek is one such person. he was able to get out there a few times and managed a few catches, but the national park rules for what you can keep are pretty strict, so most fish went back to the ocean. isaac even tried out ocean fishing which was a bit surprising, because he's not really into lake fishing, and ocean fishing seems one million times more boring. but what do i know.
anna and i tried a few times to catch a sunrise. we would get up super early, make up some coffee and hot chocolate, stroll out and set up shop, only to find out that it was too overcast for the sun. (in that first pic, the sun had actually risen ten minutes ago and should have been right about anna's head, but the skies were just bright and gray instead of dark and gray). anyhow. on the last morning, we finally caught a good one. it was pretty exciting.
we spent a lot of time at the beach while we stayed in the outer banks. but we also went on a lot of adventures. so, there's quite a few posts on the way, but this concludes our tales of oregon inlet beach frolics. well. mostly.