i recently completed construction on my spooky village neighborhood and all thirty dwellings are inhabited by a myriad of various halloween citizens. i absolutely could not be more pleased with how this one turned out, from the bright happy colors, to the quilting, to the scrappiness, and mostly to all of the fussy cuts.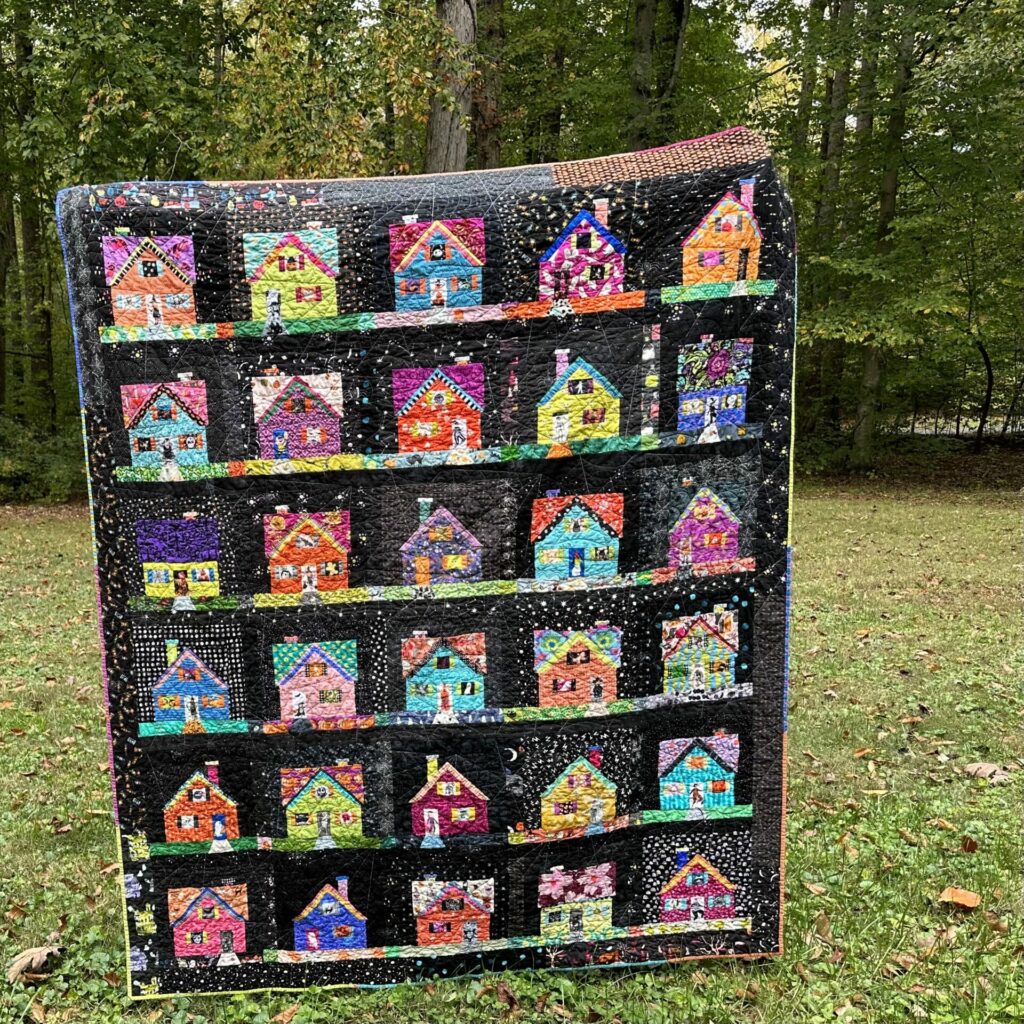 now for storytime. a few years back, i picked up the home for the holidays block by kate basti. and then i never got around to making a single house. but when i saw she was hosting an instagram sewalong, making halloween themed houses, i couldn't help myself. did it matter that i already have three halloween quilts? no. no it did not. (they are here, here, and here).
i pulled out all of my halloween fabrics, plus coordinating orange, purple, yellow/green, black and bright blue fabrics in my stash and scraps. and then, as i am wont to do, i bought even more fabrics from local shops along the way, thereby growing my halloween stash, while simultaneously making a quilt from it.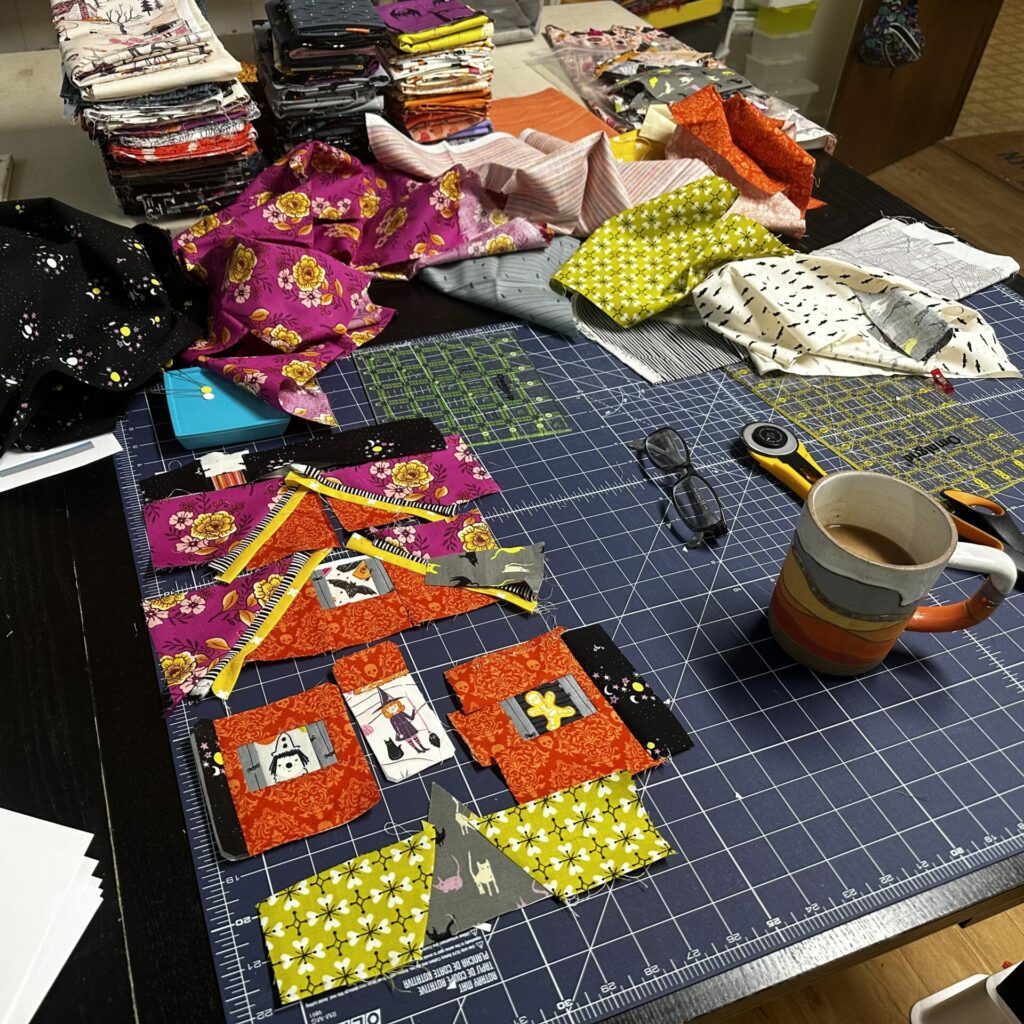 when i began the sewalong in early september, i assumed i would either make a small wall hanging or that this would be a NEXT halloween finish. the blocks took 1-2 hours each, depending on how long i scoured over fabric for the perfect selection, which version of the house i was making, and how many mistakes i made. but, as per my usual, i became slightly obsessed. the whole affair consumed my entire sewing room, and the village grew and grew.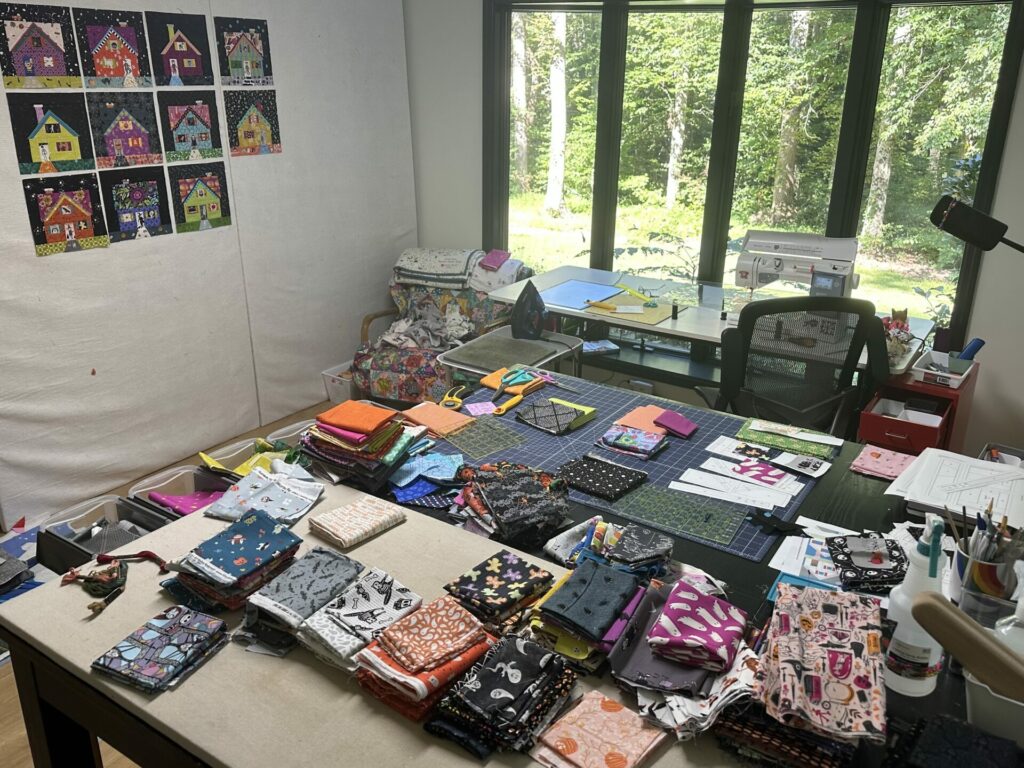 in just under one month, i was able to make 30 houses. thanks to scraps from friends and a few trips to local shops, i was able to keep this thing 100% scrappy. no two houses or big roofs use the same fabric, all of the doorways are different spooky characters, even the sky, grounds and walkways are all different. there's some repeats in the windows, roof lines, chimneys, and shutters, but only a handful. anyways. here are some pics of some of (many of) the favorite houses.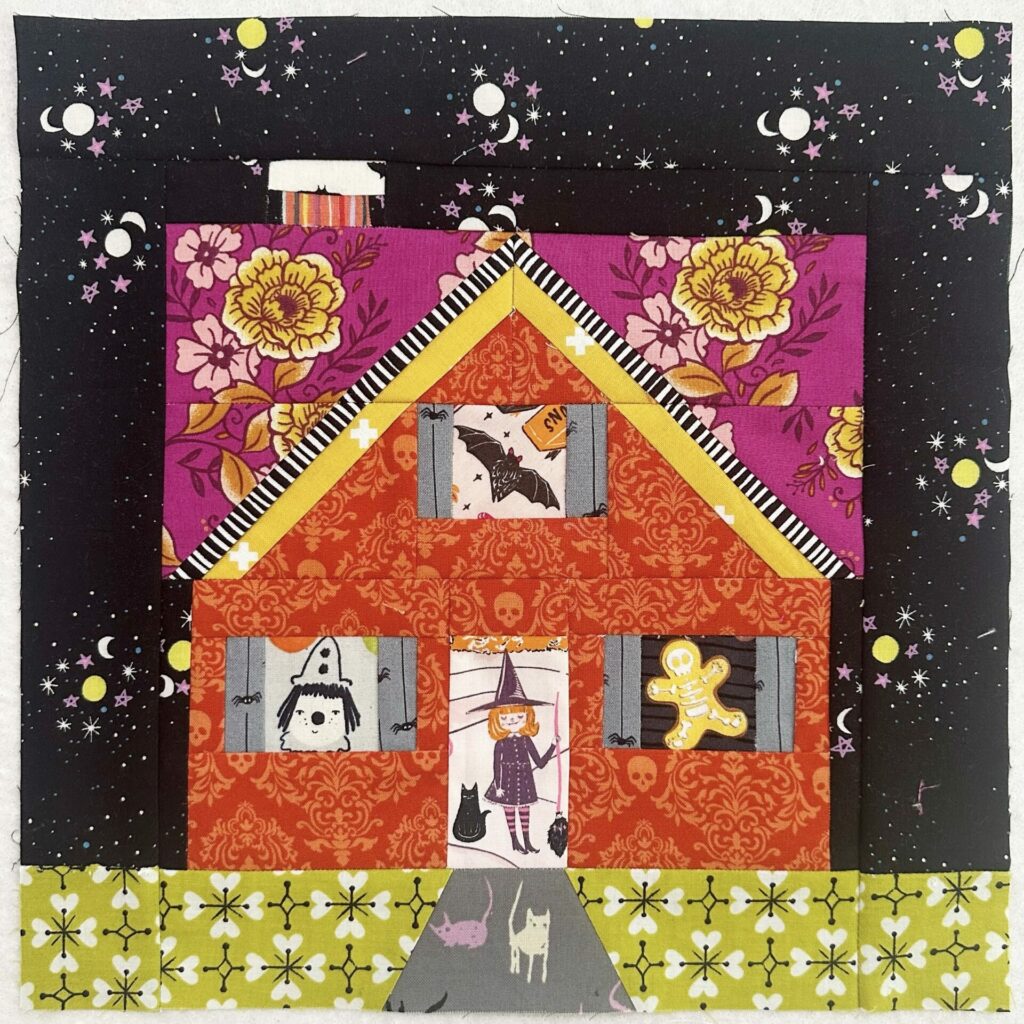 i made a big final push to have all of the houses done before i had knee surgery on october 5th. but, it didn't really lay me up all that long, and a couple days later, after much agonizing about how to layout and assemble the blocks, i had it all sashed up and bordered, adding lots more scrappy vibes to the look.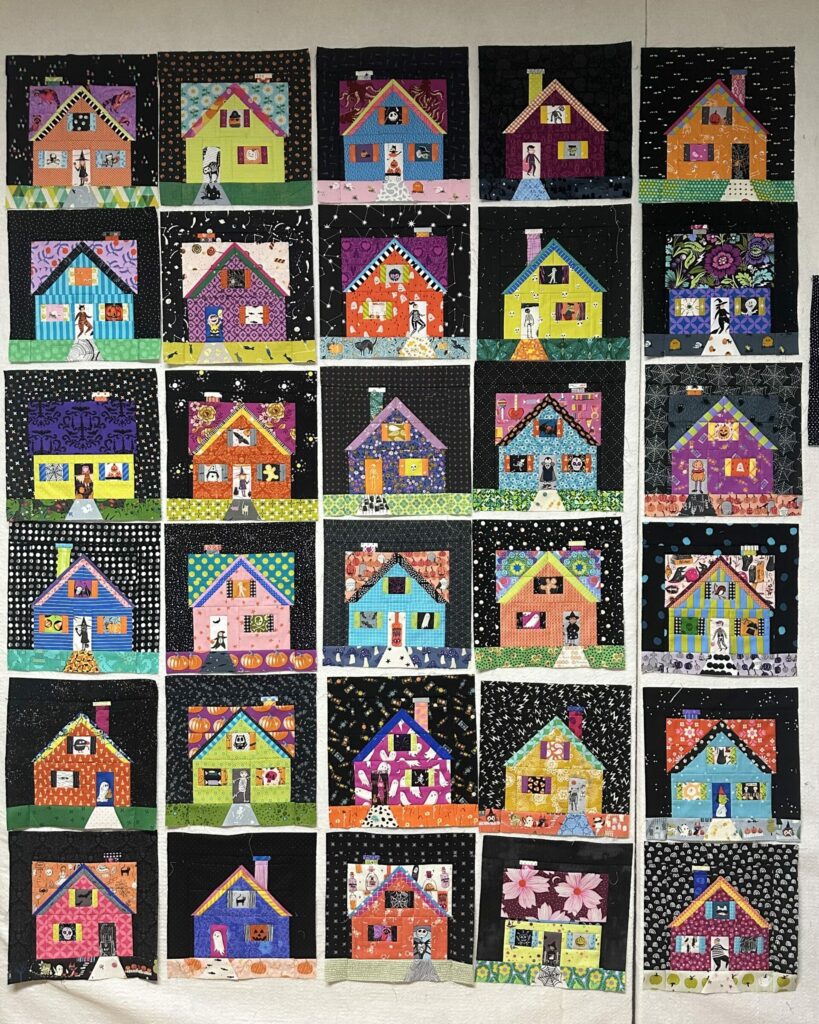 it was at this point that i realized i could not crawl around on a floor to pin baste this quilt to get it ready for quilting on my machine. i had the brilliant idea that this might be a good opportunity to learn how to use the long arm at our shop. i asked if i could be trained, using my quilt, and the owner agreed, and i was off to the races. (well, first i had to piece a backing, because i couldn't find anything i liked. what's a few more hours anyways?).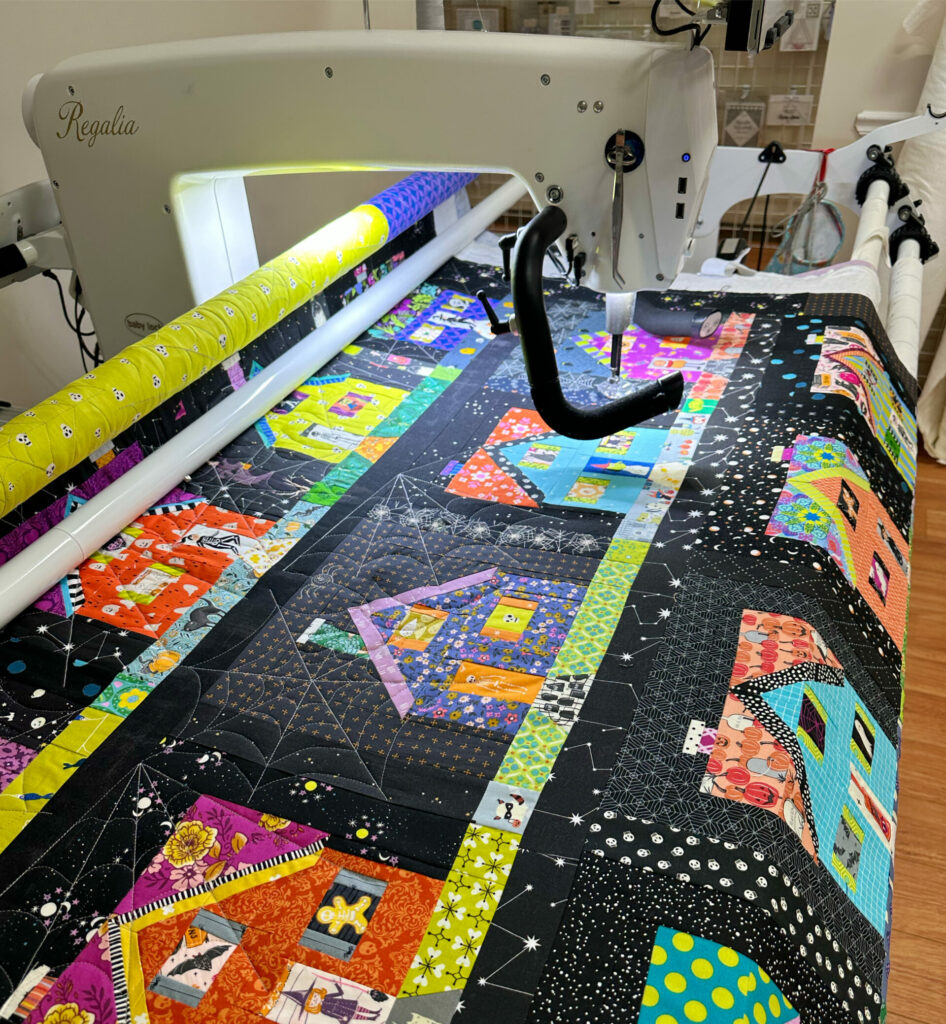 i selected a spiderweb digital design and it couldn't be more perfect. at first i wasn't sure how i felt about the little spiders in the quilting design, but i have grown to love them. i was able to get the scrappy binding sewn on during a weekend trip to the mountains and this thing is DONE.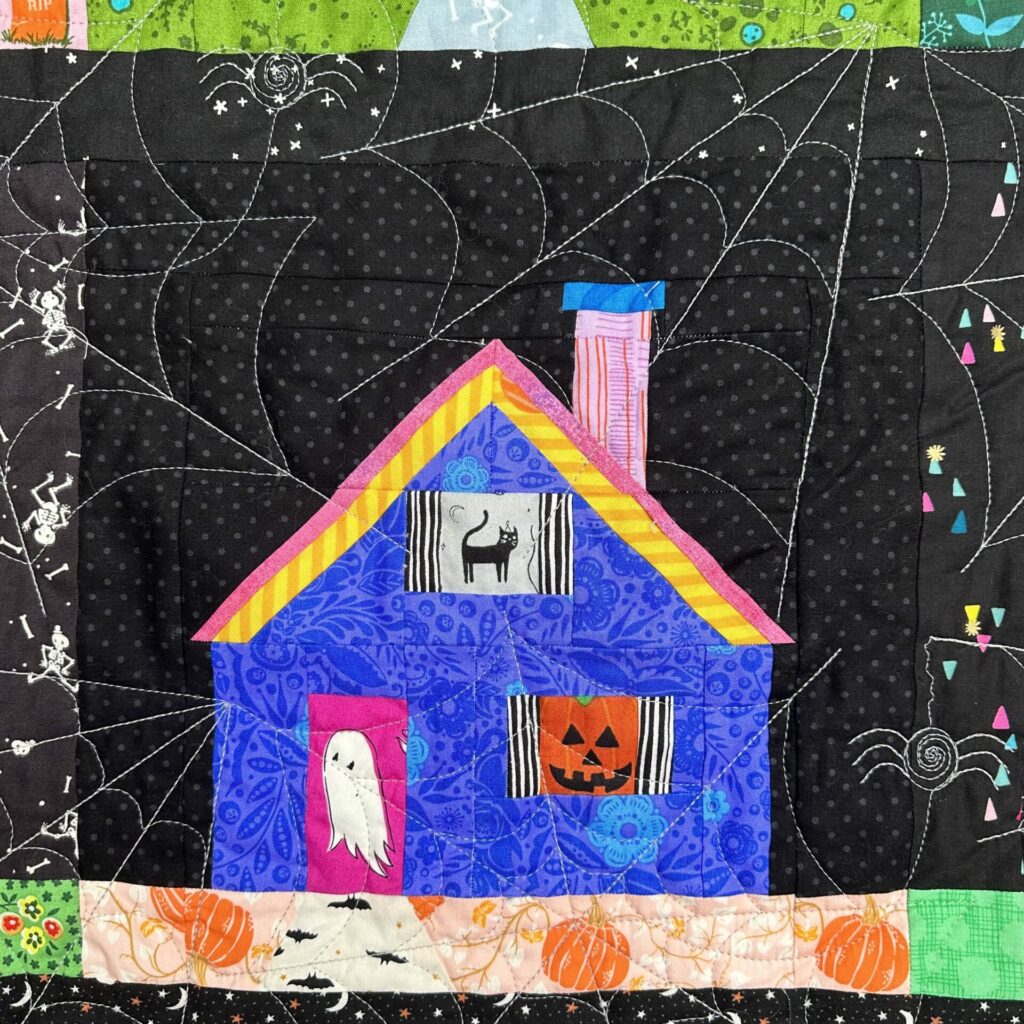 and guess who thinks this quilt is for her?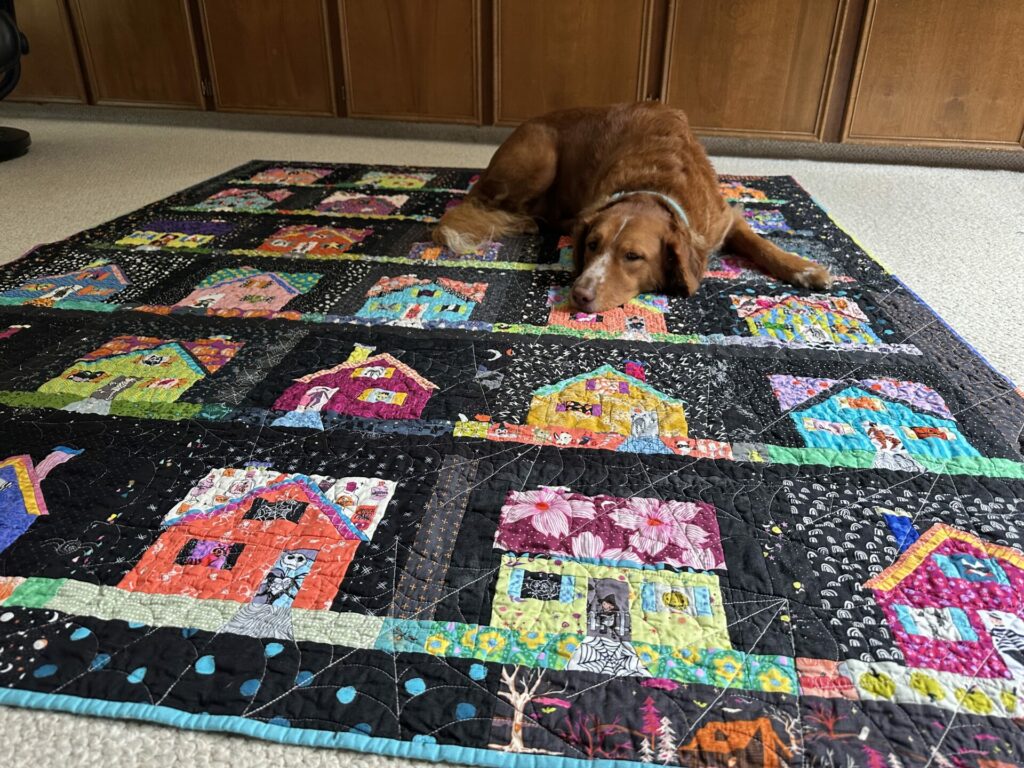 i had numerous photoshoots for this one. before and after washing and drying. in the front and backyard. being held up (by the tall and long limbed teen offspring) and laid out on the deck. it's hard to capture everything in the big pic (which is why i posted so many individual blocks above).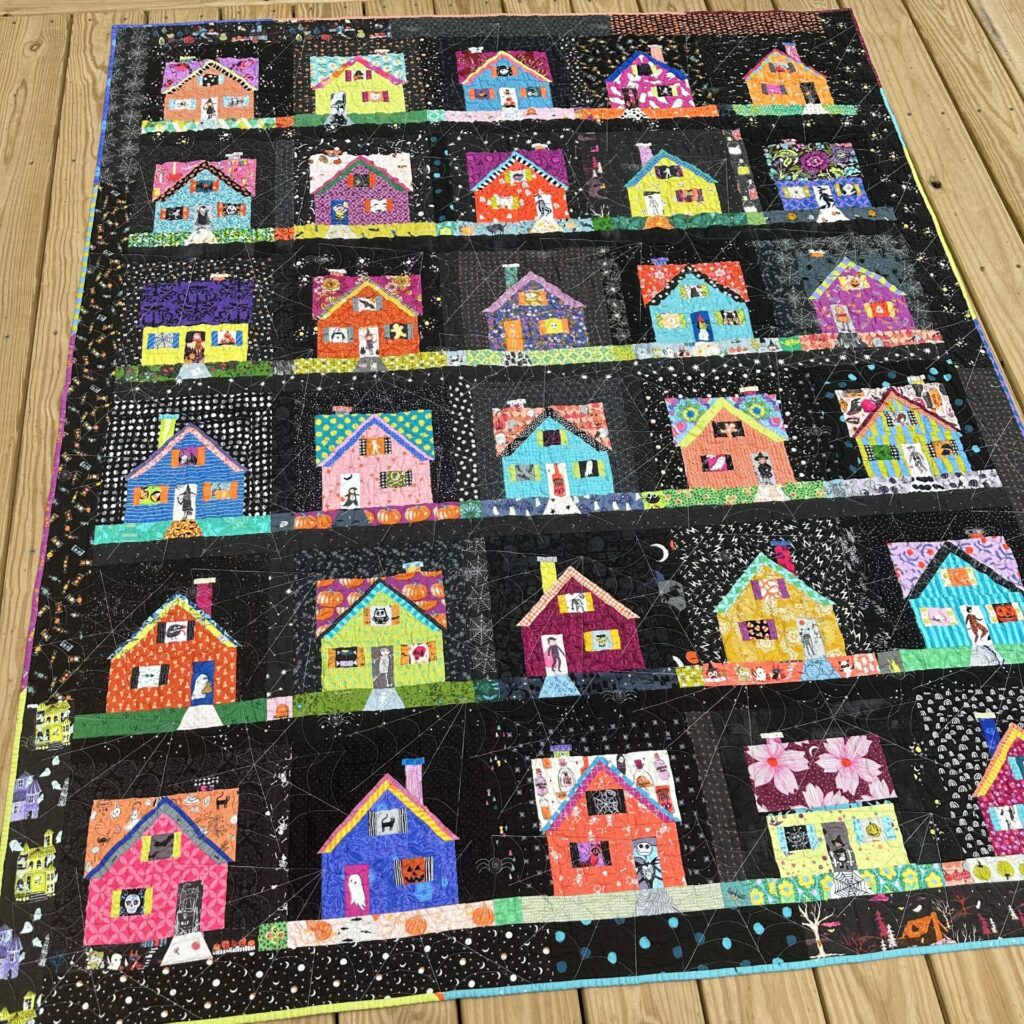 the backing on this one is also fun. i scoured the shop for one perfect fabric and came up short, so i bought four prints that i liked from the front of the quilt. and then i went a little overboard and added a stripe of oranges patchwork from my stash. so much more fun than a boring one print backing.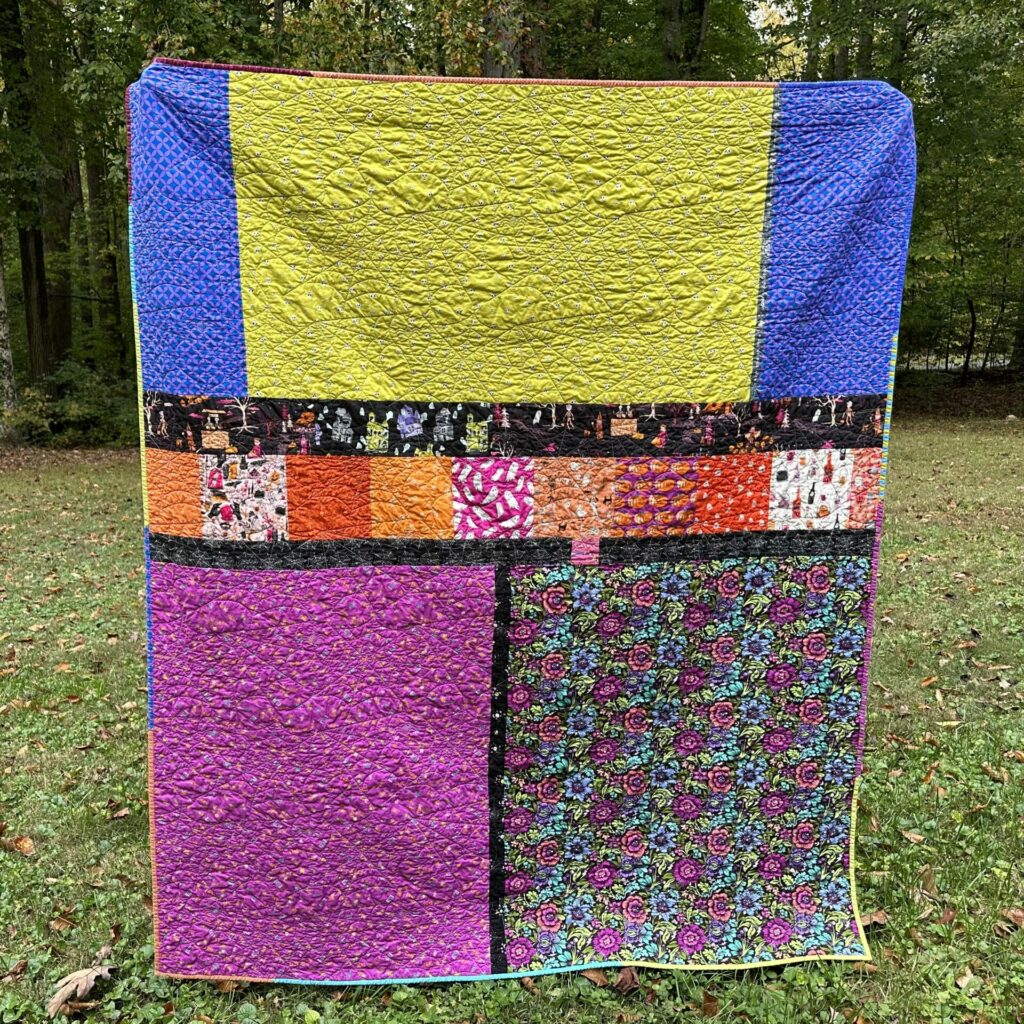 ok. one last photo before i go. i love this quilt so so much. now maybe next year, i won't need to make another one.