it's fall! the favorite season around these parts. we are all settled into the routine of school. football season is in full swing. it's cooling off (but it's still north carolina, so sort of stupidly warm). and we are ready for the gauntlet of holidays. so, here's how we spent our october….
first things first. you probably know, because i complain about them after every hike, but i have pretty bum knees, specifically my right. a blown out acl playing college basketball has led to a lifetime of surgeries and pain. it seemed to be getting worse lately (or i may have been putting a lot more stress on it in the last year or so), so i thought i would go to the doc to see if there's any hope, or if this is just how my life is now. a week or so later, i was in the surgery room, getting a tune up to clean out scar and other floating tissue, and a torn meniscus.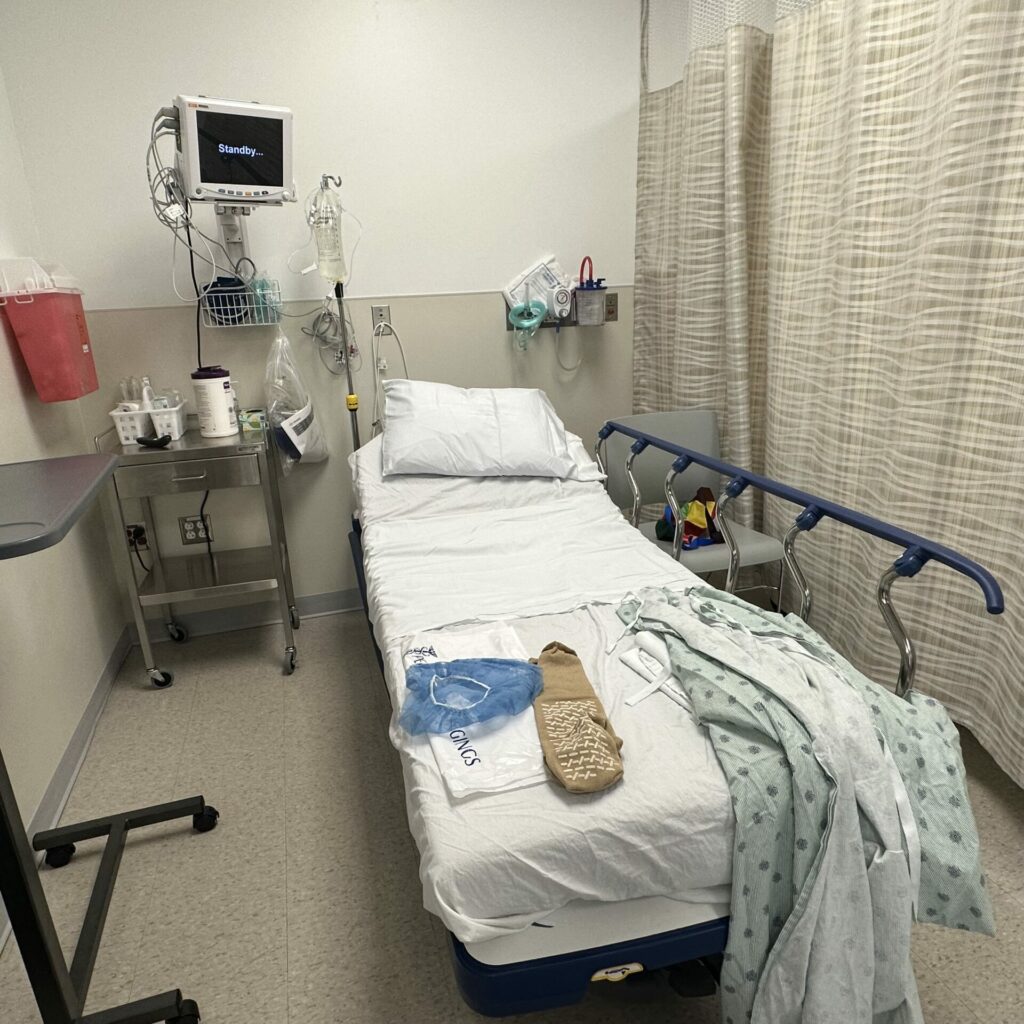 after surgery, the doctor told derek that it looked like a firecracker had gone off inside my knee and that he couldn't believe i had been doing all that i was doing on it. he told me that he was hopeful that this would give me new life and that my acl reconstruction from 1998(!) was still at about 90% and it didn't seem like i would need a replacement for awhile. :).
anyways. i had a bit of downtime for the following weekend. ruby was glad to assist me in my efforts to rest and relax. a week later, i was back in action. (well, limited action. like daily stuff. i had to work slowly back into exercising.)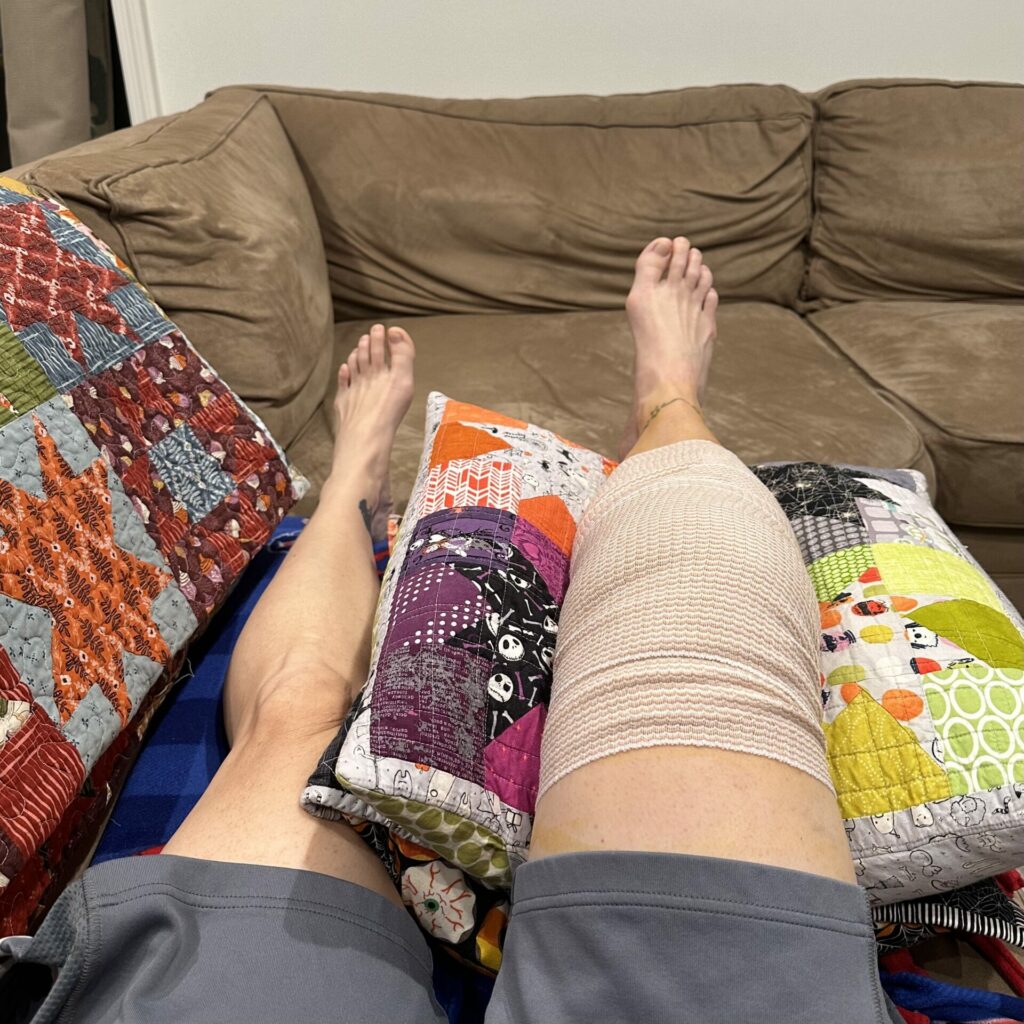 ok. back to actual fall related things. as is our fall tradition, the girls and i went to roger's nursery and spent an enormous amount of money on fun pumpkins and mums. we usually just do the front steps, but since i have a new fancy deck this year, a fall diorama was required. obviously.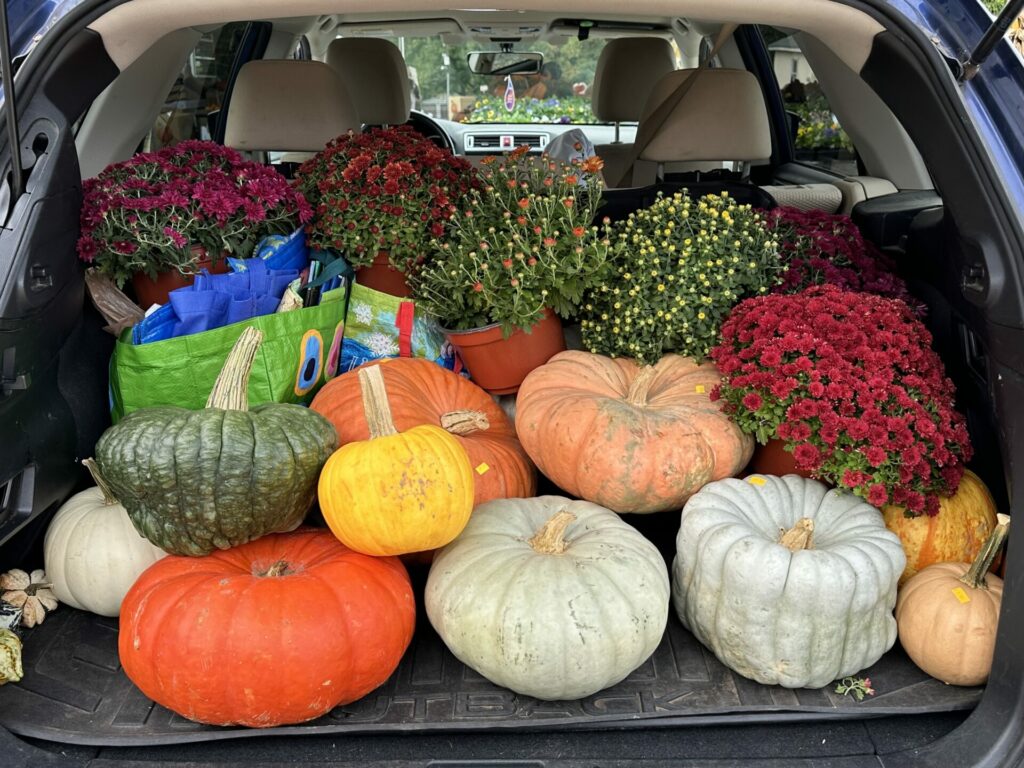 in other halloween related news and events, the girls and i carved up some pumpkins. i took a few pics of them before running out to grab some snacks and asked anna to take pics to document. she took one selfie. teen life.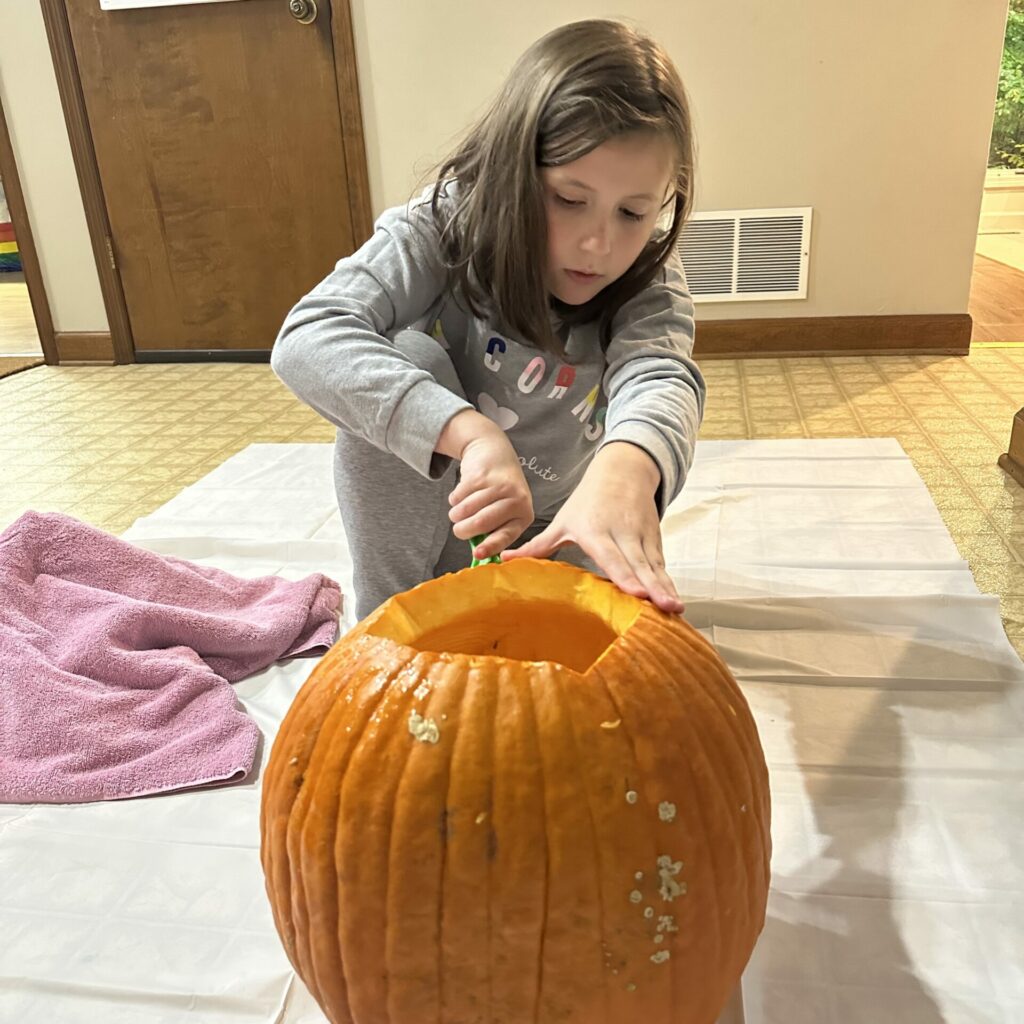 after the pumpkins were successfully carved, we had a lovely little halloween movie night accompanied by pumpkin themed snacks.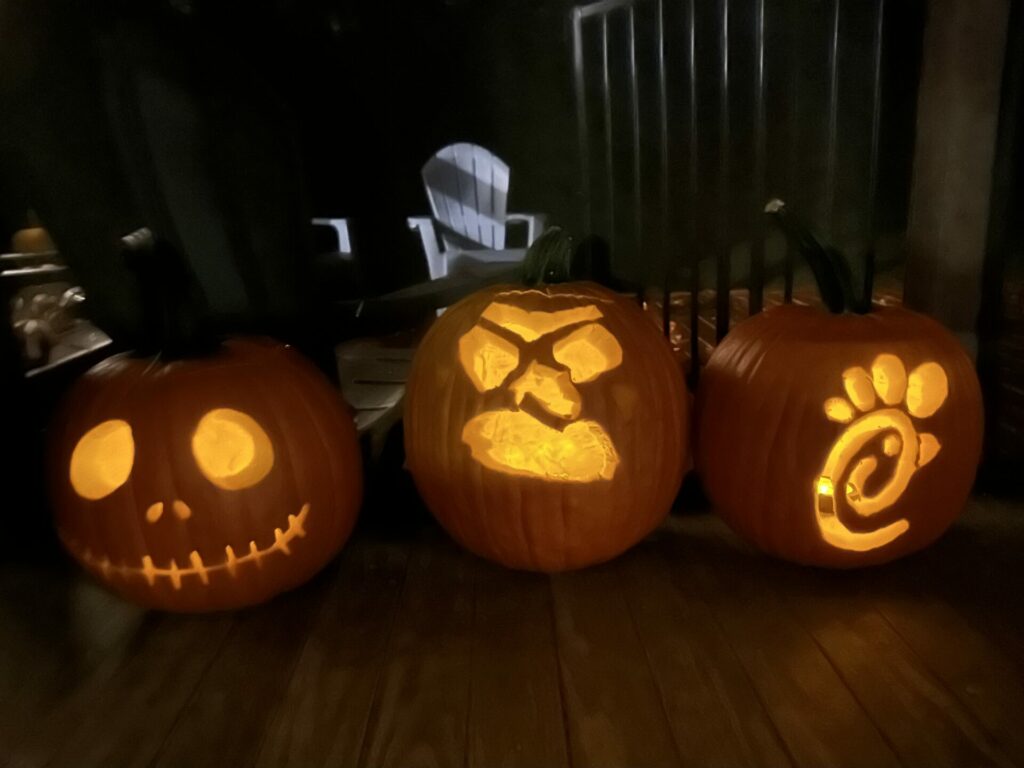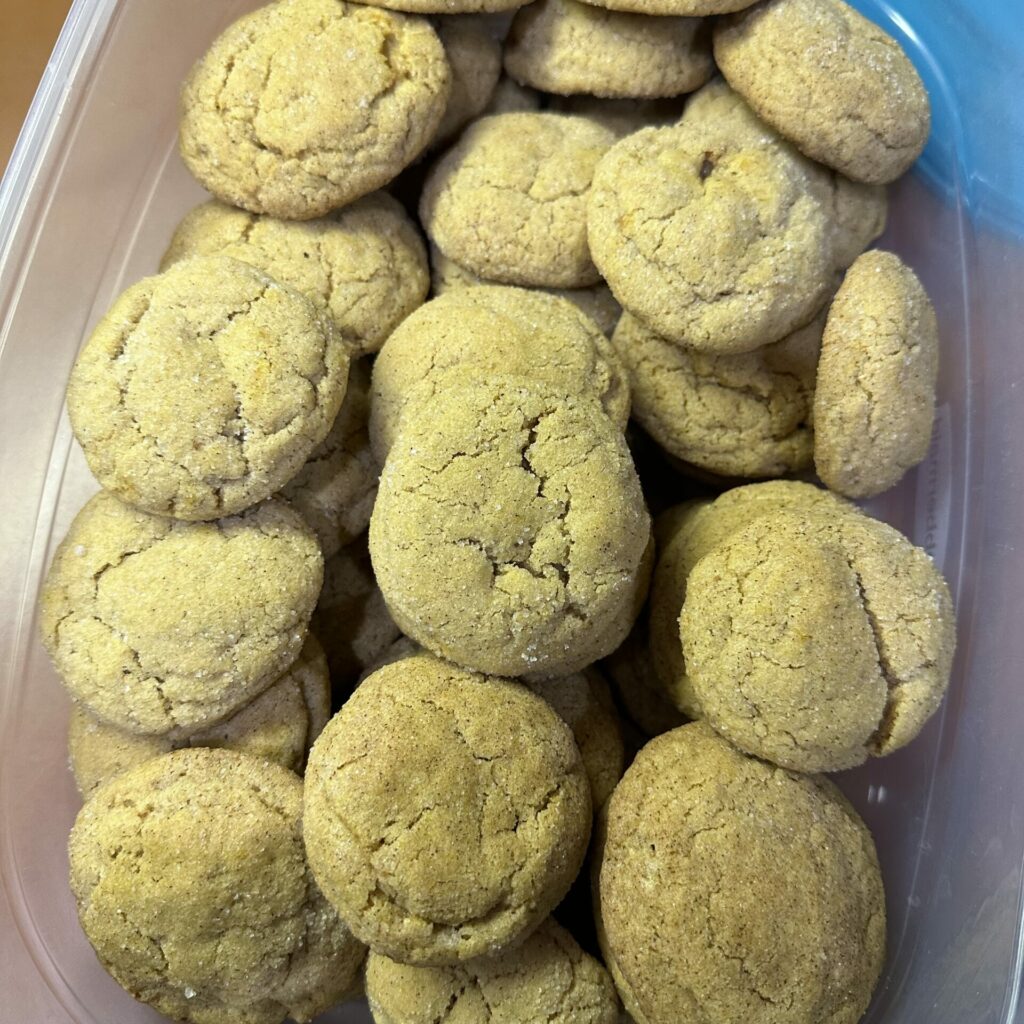 every fall, hazel's school hosts a fall fest, with games, food, crafts, vendors, and general fun and good times. since her pal maddie was sleeping over later, we just picked her up extra early and took her with us. the girls run around and had the best time. anna came too, because one of her friends was coming with her fam, but once she left, anna was bored and made sure i was aware of the rising levels of boredom. the sleepover followed, with more junk and a viewing of hocus pocus, lots of giggling and mischief.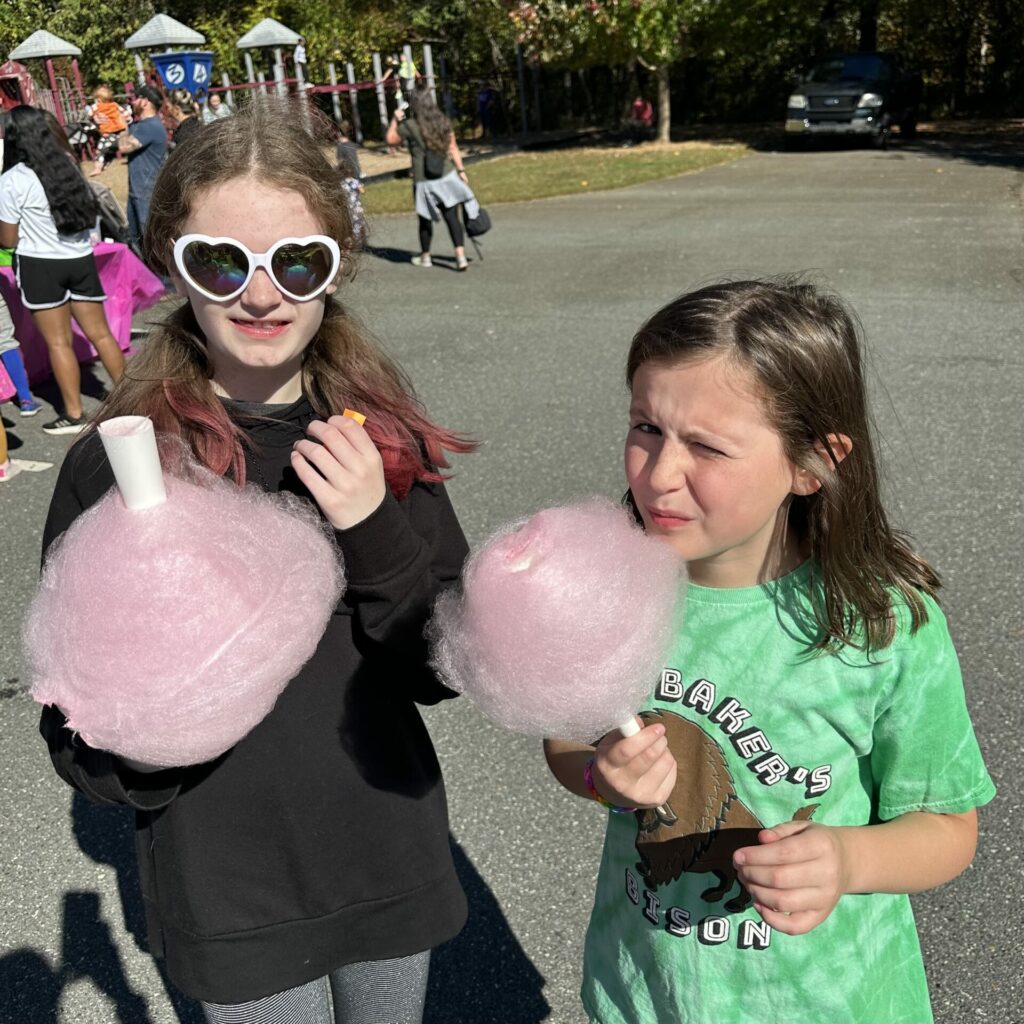 right now, it is occurring to me that this entire post is about halloween and fall themed activities. i guess we did more than i realized. hazel's taekwondo center holds a HUGE trunk or treat at one of their campuses. having never been to a trunk or treat, she was unaware of it's herded cattle type qualities, and was so very very excited for it. anna joined us and we marched along with hundreds of other trunk or treaters, vowing to never do it again. hazel was pretty stoked to see master c. and his wife and baby dressed up like beauty and the beast and tea cup.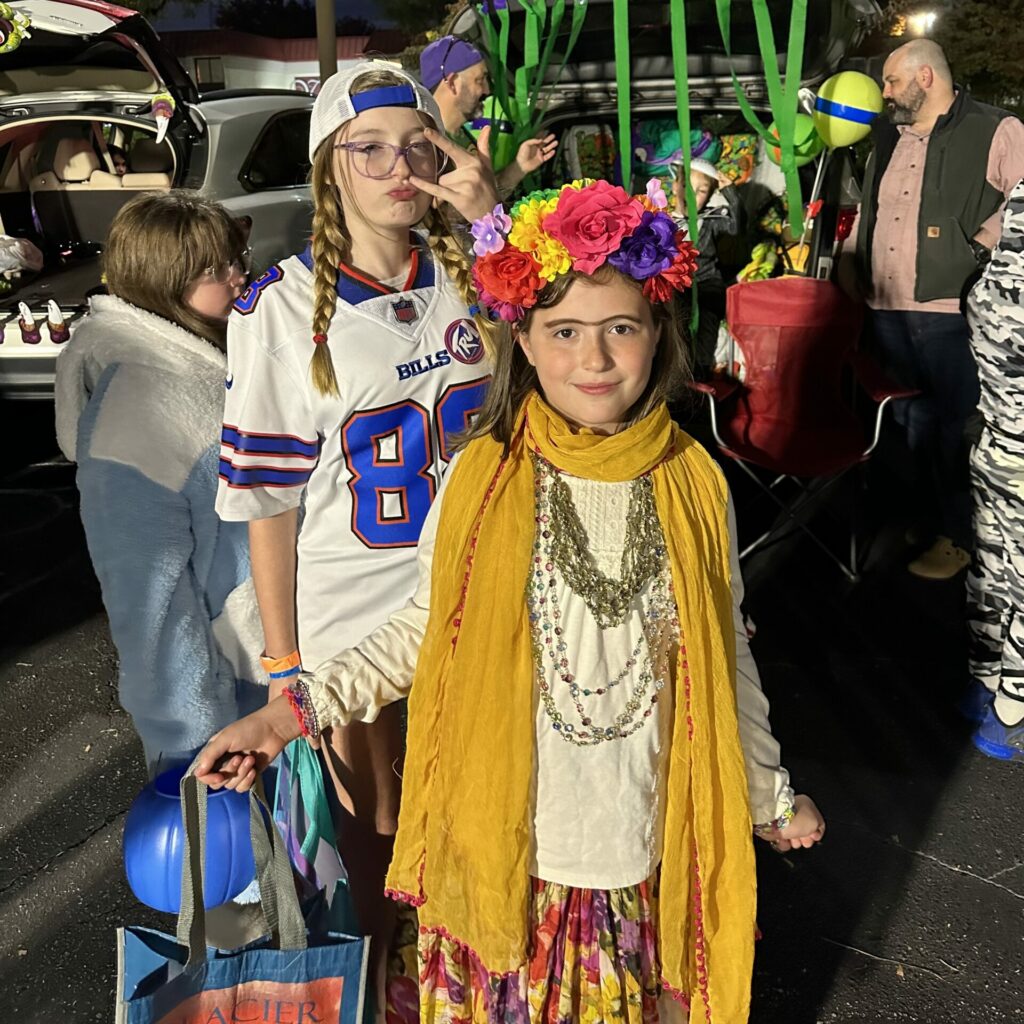 of course there was also actual trick or treating on actual halloween. the grand finale, if you will. we went to maddie's house and took advantage of her neighborhood location. her pal dev joined the fun. 🙂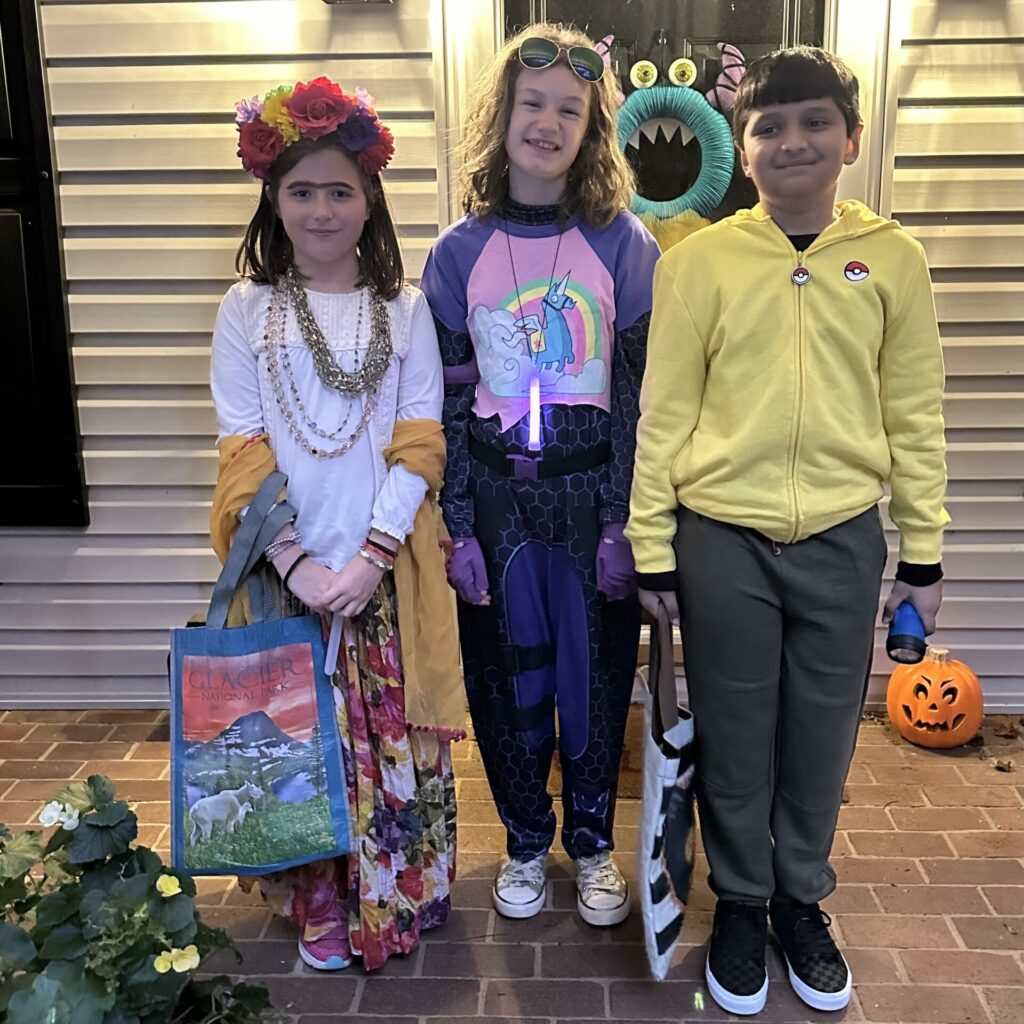 ok. now for some non-halloween items of note. it's been sort of a blah year for the bills. there were flashes of greatness. but mostly it's been painful. but that hasn't stopped us for pulling out all of the stops to show our fandom. for example, making logo pancakes for breakfast when they played (and lost) in england and had a 9:30 am game. and busting out the josh's jaqs for another game, in hopes of landing on a new successful superstition.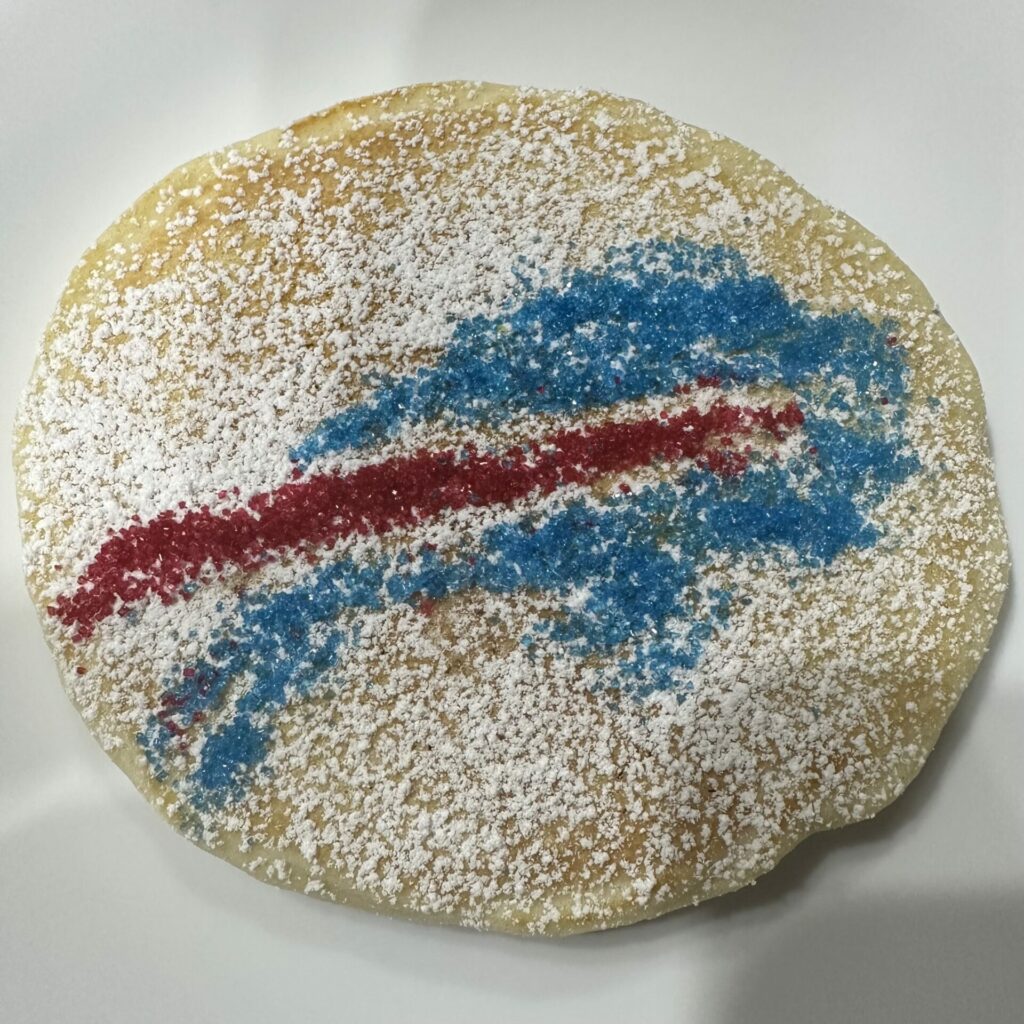 while the kids try to rally the bills via sugar and poisonous food dyes, i stuck with standard western new york fare, the ever so versatile buffalo wing. (they don't work either). october is a tough month for sticking to my nutrition goals, but meal prepping really helps keep me on track. and makes for some aesthetically pleasing photos. the knee surgery set me back a bit on the exercise front, but i have been working back slowly and grumpily.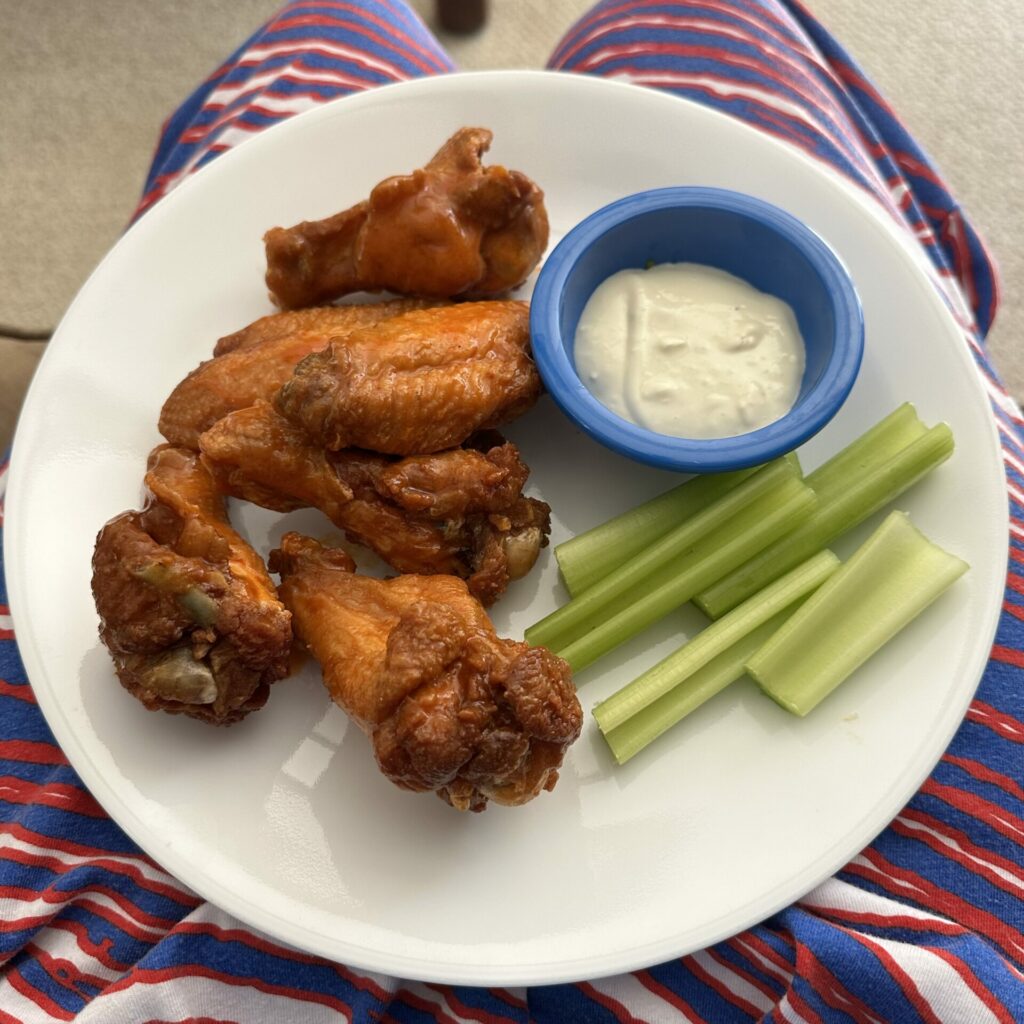 let's take a moment to discuss the hazelnut and her school. she's the only lidkid who has really had the full elementary school experience. (isaac went to kindergarten and second grade, but we home and road schooled the rest of his and all of anna's elementary years). anyways. she LOVES school. and she's pretty good at it. her art teacher submitted her art to the fair and she won a first place ribbon. and it's recorder year, so. well. there's that. she's in chorus this year. and she takes the sweetest school photos ever.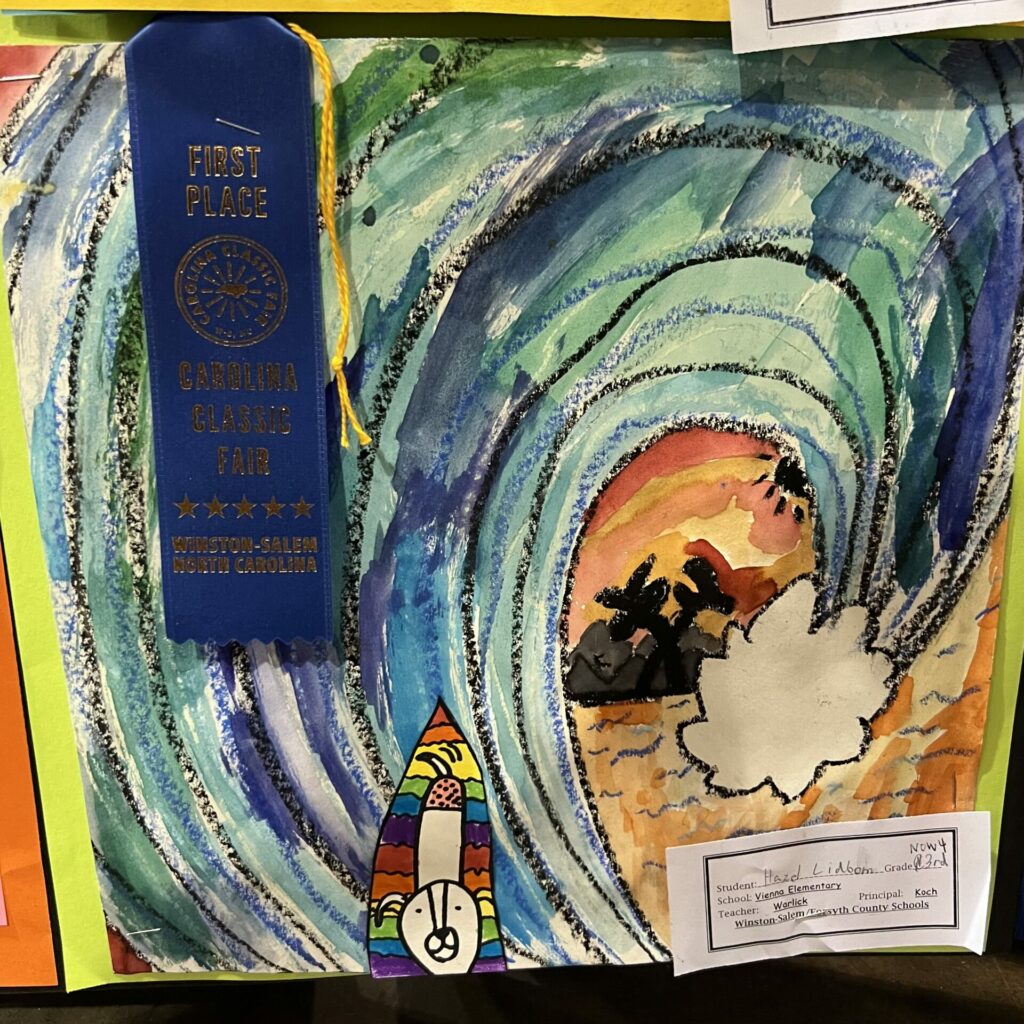 and now, for my little roundup of random and miscellaneous activities.
let's see here. anna has been attending a skills clinic at CP3 academy to get ready for basketball tryouts in november. we hosted a huge bonfire-chili-smores night at our house with lots of the kids friends and their families. it was a lot of fun and i took exactly one photo. (this is also how we got rid of most of the halloween cookies we made). ruby. work. ruby. work.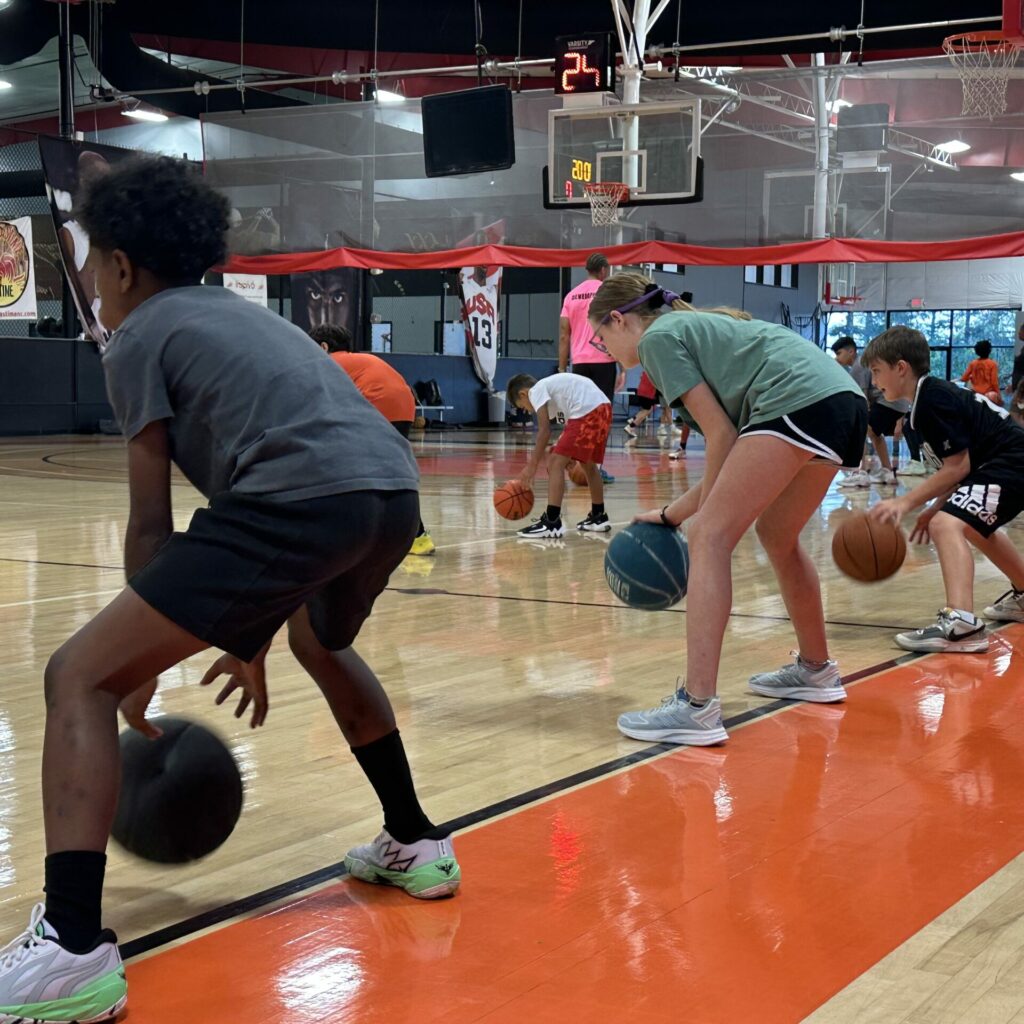 lastly. the end of an era. i've been doing a little bit of purging. you know. getting ready for the influx of new material possessions that will occur during upcoming birthdays and christmas. hazelnut packed up lots of toys to make space for her new bounty, including all of her play food. (we got rid of the kitchen awhile back, but the actual food had more staying power). anyways. it was definitely bittersweet. but i sorted it all out and managed to get some cash for it, so that helps. anyways. just another reminder that these kids are growing fast. sigh.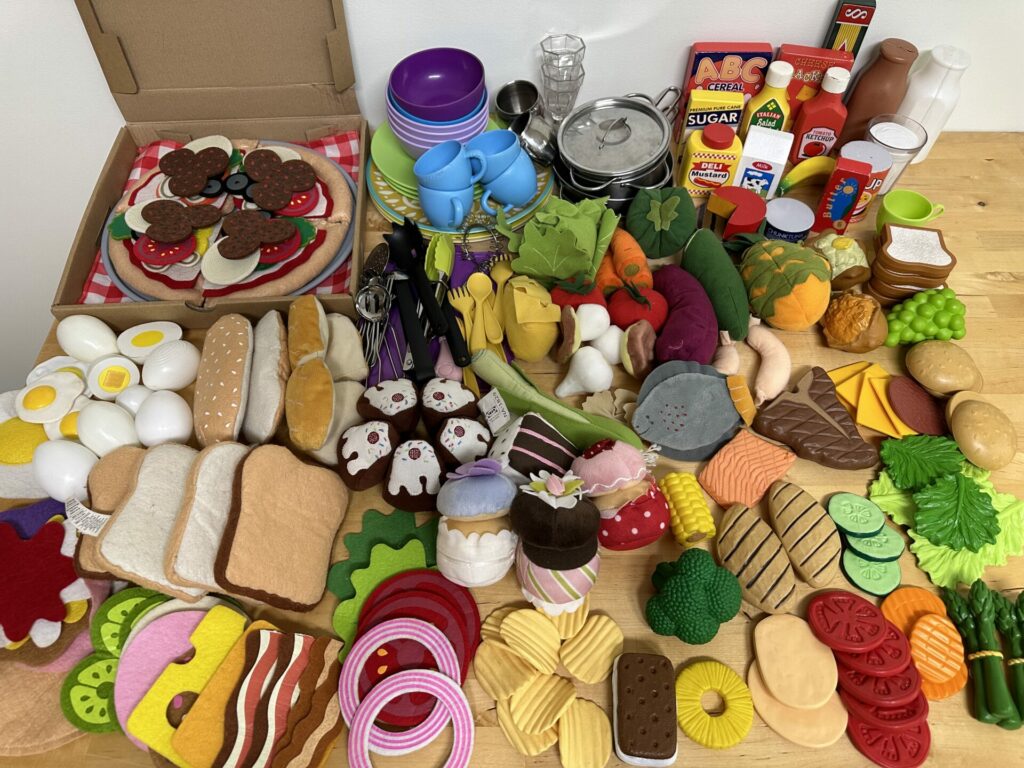 gosh. i really ended on a bummer. ha. onto november. (the best month ever in my opinion).